Mitch Stadium
Introduction
The world of Little League Baseball came to Ceredo, West Virginia in the year 1953 and has taken place every year since. Every year, people in the Ceredo-Kenova area flock to Mitch Stadium to watch their children play America's favourite past time. Legendary Mitch Stadium is the home of the Ceredo-Kenova Little League, and has played host to the 2009 Little League Southeastern Regional Tournaments, the 1968 Little League Divisional Tournament, and the 9-10 Year-Old Tournament of State Champions since 2005, bringing 8 southeast state champions to our community every year.
Images
A picture of Mitch Stadium.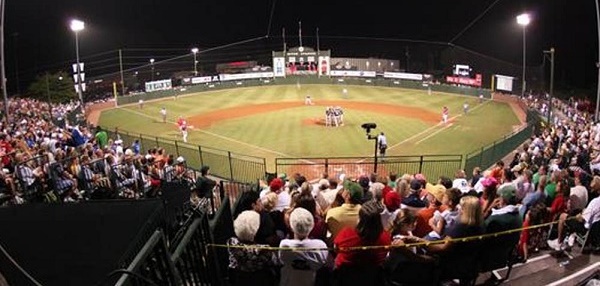 An emblem that was used for the Mitch Stadium Tournament of State Champion from 2010.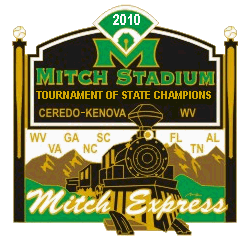 Backstory and Context
The sister cities of Ceredo-Kenova have enjoyed Little League Baseball since it first came to the towns in 1953. A new area to play the games was needed after the 1954 season was over. In order to keep the games going, the league's very first president, Floyd Stark, offered a lot of land to be used. He and a large group of other Little League fans set out to create a new ballpark on the donated land. The construction of the park began and a man named Elmer Mitchell offered his time and effort to help maintain and run the ballpark.
Elmer Mitchell was the pride and joy of the ballpark and became known as "Big Mitch" to the ballpark patrons. He provided his services to the stadium for 27 years straight without falter. He ran the press box, served as the grounds keeper, and even was the concession stand operator. "Big Mitch" truly was a big part of the Little League community spending the majority of his time devoting himself to prosperity of the stadium. His effort was repaid when in 1975 Elmer Mitchell was honoured as the facility's namesake. The ballpark was named the Mitch Stadium in recognition of all of his endeavors for the park. He would continue offering his services up until his passing in 1981.
Sources
"Mitch Stadium to Host Tournament of State Champions." The Herald-Dispatch. The Herald-Dispatch HD Media Company, LLC, 29 July 2011. Web. 04 Dec. 2014. . "MitchStadium.com." MitchStadium.com. Ceredo-Kenova Little League, 2013. Web. 04 Dec. 2014. . "Town Projects." Greetings From The Mayor. Town of Ceredo, WV, 2014. Web. 04 Dec. 2014. .
Additional Information