Lovers' Leap, Hawks Nest State Park
Introduction
Lovers' Leap is located inside of Hawks Nest State Park at the top of a cliff that stands 585 feet above the New River Gorge. After climbing 100 stones steps, you can view the New River Valley from the cliff's edge. Lovers' Leap is situated along the historic Midland Trail, and has been a common location for suicides dating back to the early 1800's; this history has resulted in the naming of the location, as it is rumored that several lovers have leaped from this cliff, for they would rather be together in death than be without love.
Images
There are several hiking trails in the area, including one that will take you to the edge of Lovers' Leap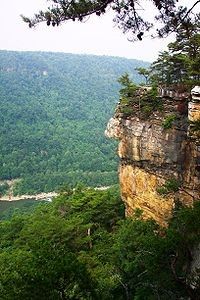 New Deal programs like the CCC created trails in the area that are now part of Hawks Nest State Park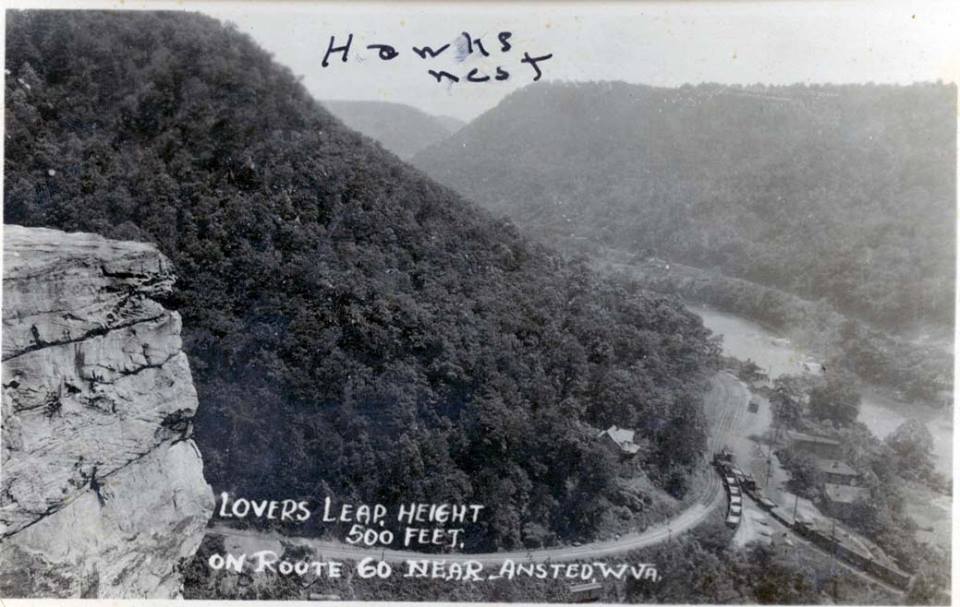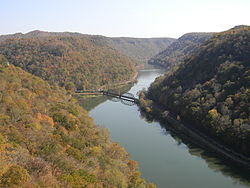 The historical marker is located along the road near the lodge where visitors can walk down and view Lovers' Leap.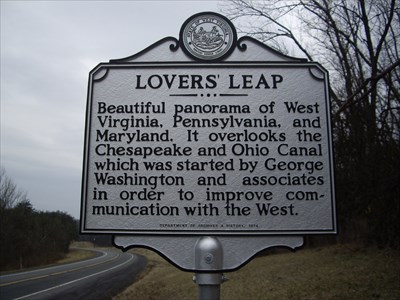 Backstory and Context
Lovers' Leap is located in Ansted, WV. This area is part of the Historic Coal Heritage Trail, and Lovers' Leap itself is inside Hawks Nest State Park. Lovers' Leap stands nearly 500 feet above the New River Gorge.2 This area gets its name from the legends of several couples making the fatal fall or "leap" in hopes of being together forever in the afterlife. Each couple had their own reasons for wanting to jump; however, for some, it has been said that they fell in a tragic accident even after running away to be together. Either way, the legends have resulted in West Virginia's very own, tragic Romeo & Juliet kind of tale.
According to George W. Atkinson in his 1876 book, History of Kanawha County, the original story of Lovers' Leap began with a young Native American couple. It is said that a Shawnee Indian Chief disapproved of his daughter's love for a young brave man within the same tribe.2 In protest of an arranged marriage by her father, the young maiden, along with her true love, escaped the confines of her tipi. The two decided the best thing to do was to run away together. In search of the couple, the chief and his warriors soon cornered the lovers on the cliff now known as Lovers' Leap. Rather than be separated in life, they decided to be together in death.
Another very similar story is that of a pioneer couple from Lewisburg, WV. Supposedly, they jumped from the cliff of Lovers' Leap because the girl's parents forbid the relationship. Another version of the same story is that the girl became dizzy while taking in the grand view and stumbled forward and off the cliff. Her lover, not being able to catch her in time, leaving him heartbroken, decided to jump off the cliff to be with his lover for all eternity.
Although the history of this spot may be somewhat tragic, the view from Lovers' Leap is still considered a romantic one. When telling the legends of Lovers' Leap, Sandy Spradling quotes Atkinson's book as he writes about the young pioneer couple mentioned earlier:
Their steps were directed west ward, with the hope of finding another settlement, there to be duly united in wedlock according to the style and customs of frontier life. On arriving at this romantic spot, beholding the lofty precipice, and being deeply impressed with the scenery sublime, they stood entranced upon its summit.1
Lovers' Leap presents a gorgeous view, and according to Kathryn Stewart's article, "this trail starts at Hawk's Nest State Park office and travels down steep wooden steps to the overlook."2
Sources
1. Spradling, Sandy. "The Legend of Loves' Leap." WVGenWeb Archives. N.d. Web. 31 Mar. 2016. http://files.usgwarchives.net/wv/fayette/history/loverslp.txt 2. Stewart, Kathryn. "Lover's Leaps." Blue Ridge Outdoors. 20 Jan. 2013. Web. 31 Mar. 2016. http://www.blueridgeoutdoors.com/go-outside/hiking/lovers-leaps/ 3. http://www.waymarking.com/waymarks/WMGM02_Lovers_Leap
Additional Information