Davis Park, Downtown Charleston
Introduction
Named for railroad magnate and US Senator Henry Gassaway Davis, one of the two founders of Davis & Elkins College, this Charleston municipal park is sited on land donated by Davis to the city in 1905. It served a park adjacent to the state capitol until it burned down and was moved in 1921. Now the land serves the community as a beloved green space in downtown Charleston and features an equestrian statue of Senator Gassaway.
Images
U. S. Senator Henry Gassaway Davis, (1823-1916), about 1904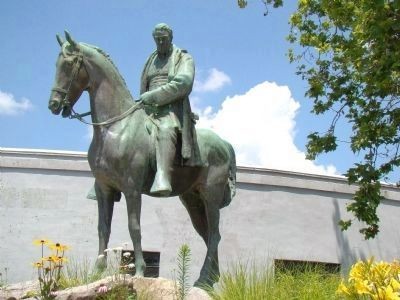 U. S. Senator Henry Gassaway Davis, (1823-1916), about 1904. This is roughly the age at which he donated the land for Davis Park.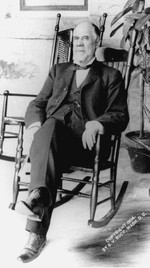 A postcard view of Davis Park from Capitol Street. The YMCA is the white building on the right. Courtesy of the West Virginia Encyclopedia.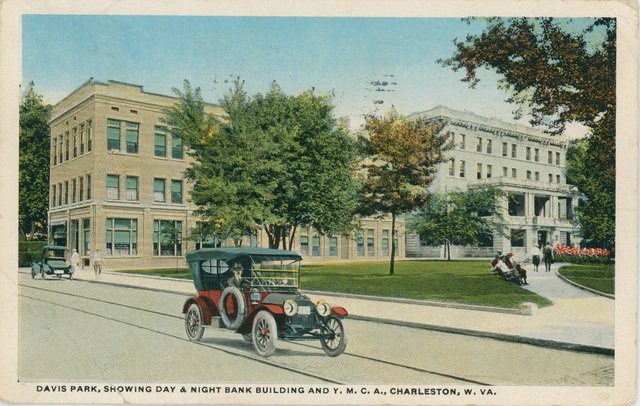 The old State Capitol building, which burned down in 1921. View is from Davis Park, looking across Capitol Street. Courtesy of Jerry Waters, MyWVHome.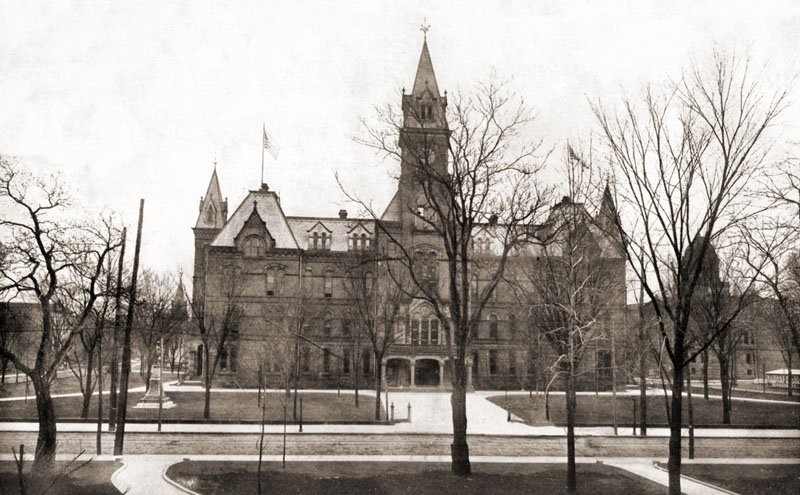 A bronze equestrian statue of Henry Gassaway Davis, erected n 1927. Courtesy of Mountain State News.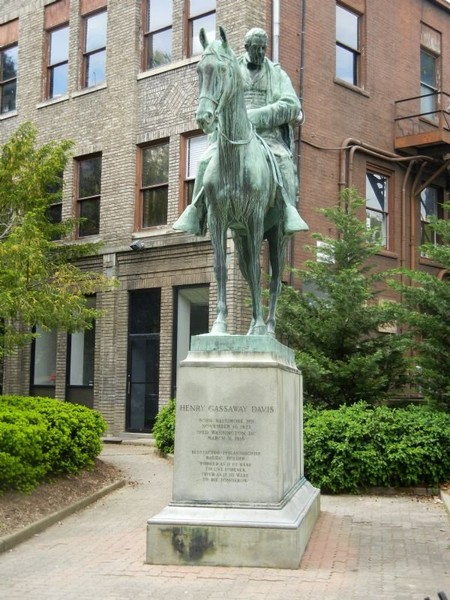 A Davis Park banner hanging on the premises. Courtesy of Mountain State News.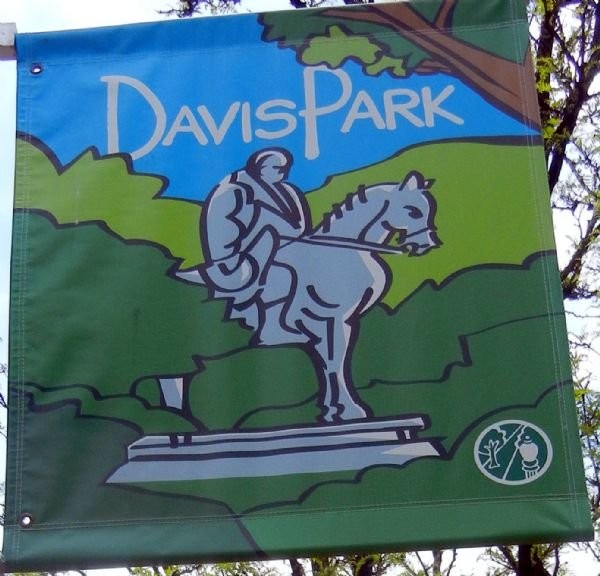 A closer look at the YMCA, which was demolished in 1981.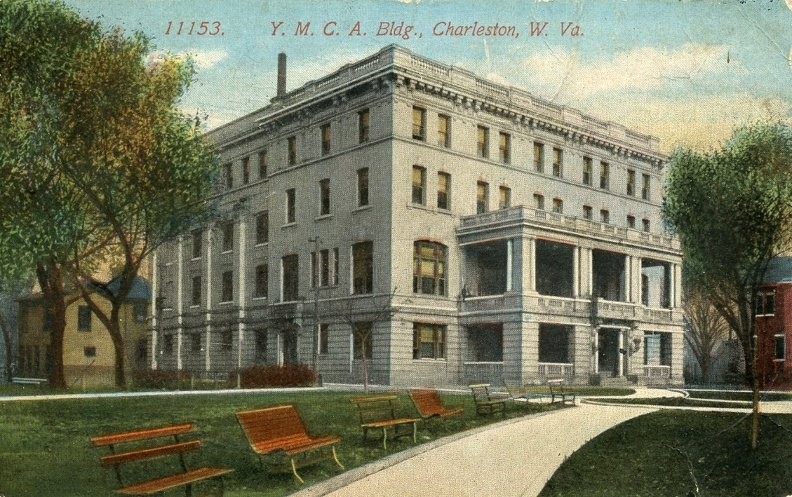 The gazebo which stands on the old site of the YMCA in what is now part of Davis Park. Photo by John Johnson.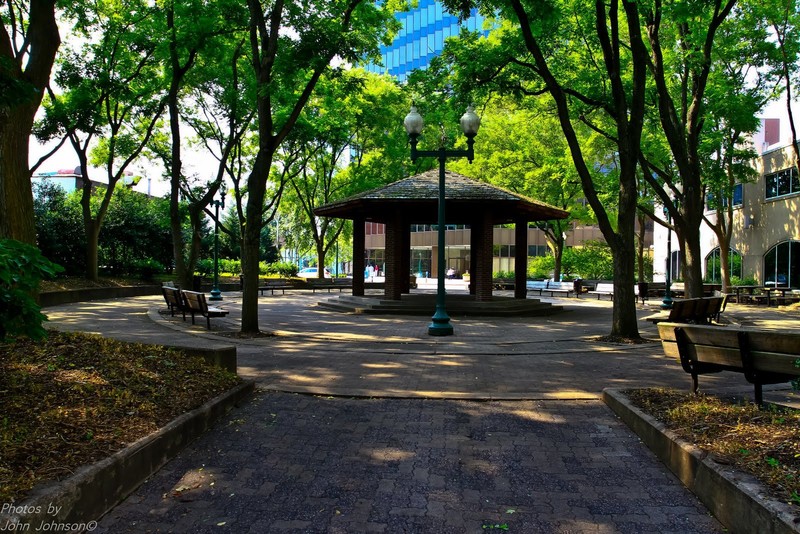 Backstory and Context
By the time he donated the land for the park that would later bear his name, Henry Gassaway Davis was already 80 years old. From humble beginnings as a railroad brakeman, he later built his fortune over the decades as a railroad tycoon, banker, mining magnate, U.S. Senator for three consecutive terms, and even as a one-time candidate for Vice President of the United States. Indeed as Alton Parker's running mate in the 1904 Presidential election (in which the pair lost badly to Theodore Roosevelt), Davis still holds the record for oldest Vice Presidential candidate in U.S. history.
Besides this substantial record for business and politics, Davis also accumulated a long ledger of philanthropic achievements, contributing to schools, churches, charitable organizations, and even orphanages in large sums. The Davis Free School in Piedmont, Davis and Elkins College in Elkins, Davis Memorial Hospital in Elkins, and the Children's Home Society in Charleston are simply among the more grandiose examples.
As a Senator he watched Charleston take shape around the new State Capitol. Spending more time in Charleston after his third Senate term ended, he found cause to donate land next to the Capitol building for use as a public park.
Then in 1906 he purchased more land adjacent to the new park and donated it for the purpose of constructing the first Young Men's Christian Association (YMCA) in West Virginia. The new YMCA looked upon the state Capitol building from across the present Davis Park grounds until an accidental fire burned down the Capitol in 1921. The YMCA was later torn down in 1981--a public gazebo now occupies the grounds where it once stood.
The park underwent a redesign in the 1980s to reincorporate space that had previously been given over to the YMCA, as well as land freshly donated from a defunct gas station by local citizen Mary Price Ratrie. In 2012, community organizations came together again to solve problems that had persisted since the 1980s refurbishment. Hedges were removed to improve visibility and reduce maintenance costs. The Kanawha Garden Club also contributed substantially to the revisions, collaborating with the city to replace non-native plant species with West Virginia trees, shrubs, and flowers.
Despite the moving of the State Capitol in 1921, Davis Park continues to serve as an important gathering place, often at the epicenter of current Charleston events. In 2011, protesters aligned with the Occupy Wall Street movement camped in the park for two weeks before reaching an agreement with the city to move to another space. In June 2017, a demonstration called Free The Nip Top Freedom Rally, intended to "destigmatize the female body" and demonstrate that "nipples and breasts are not sexual objects," organized in the park before marching through the city.
The Charleston Area Alliance also sponsors a summer performance series at the gazebo called "The Brown Bag Concerts," designed to provide outdoor lunchtime entertainment to the many downtown office workers in the area and showcase the talent of local musicians
In a corner of Davis Park resides a statue of Mr. Henry Gassaway Davis mounted on horseback, erected in 1927. The life-size bronze representation is identical to one that stands at Sycamore Street and Randolph Avenue in Elkins, West Virginia.
Sources
1. Ross, Thomas Richard "Henry Gassaway Davis." e-WV: The West Virginia Encyclopedia. 15 October 2012. Web. 21 September 2015.
2. Pepper, Charles M.. The Life and Times of Henry Gassaway Davis 1823-1916. New York. The Century Co., 1920. 220
3. "Centering About Charleston: Oil and Gas and Railroad and Lumber Activities." Industrial Development and Manufacturer's Record. Industrial Development and Manufacturer's Record, May 30, 1907.
4. Brown Bag Concert in Davis Park. Charleston Area Alliance. Accessed September 26, 2017. http://charlestonareaalliance.org/events/details/brown-bag-concert-in-davis-park-10-18-2017-1919.
5. Davis Park's New Look. Why Charleston. April 13, 2012. Accessed September 26, 2017. https://whycharlestonwv.com/headline/davis-parks-new-look/.
6. Charleston History Through Postcards. West Virginia Encyclopedia. Accessed September 26, 2017. https://www.wvencyclopedia.org/exhibits/24?section=4.
7. "Occupy protesters to leave Davis Park for new space." Charleston Gazette-Mail(Charleston), November 01, 2011. http://www.wvgazettemail.com/News/201111010237
8. Coyne, Caity. "Dozens go topless, braless in Charleston to normalize female bodies." Charleston Gazette-Mail(Charleston), June 24, 2017. http://www.wvgazettemail.com/news/20170624/dozens-go-topless-braless-in-charleston-to-normalize-female-bodies
Additional Information