Sullivan Square
Introduction
Welcome to Sullivan Square, named for Lucy Sweet Sullivan, Baldwin City's first woman mayor in 1889. Lucy lived in a grand old house on this site, along with her husband and family, for most of her years in Baldwin City. The Sullivan house and property became a center for many social and civic activities in the community. Today, Sullivan Square is a city park and events space. Learn more about the mural benches featured around the park here: https://www.lumberyardartscenter.org/baldwin-city-mural-program-overview/
Images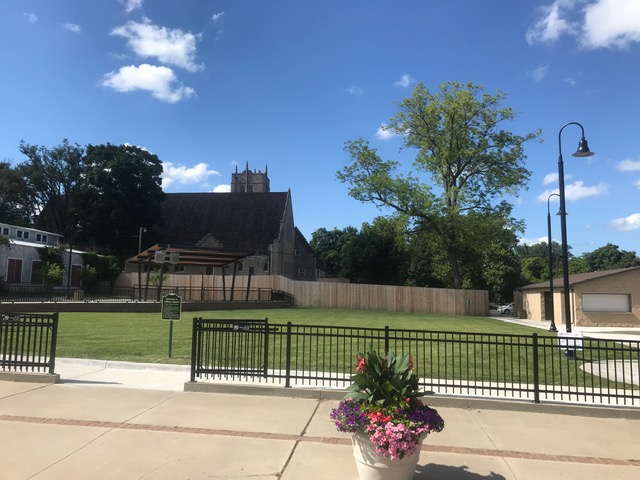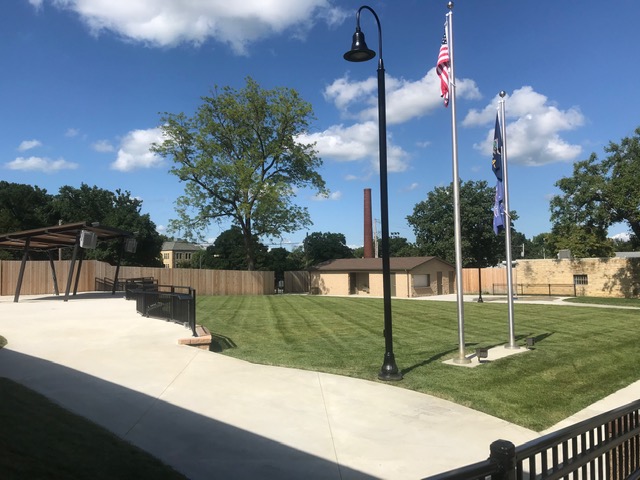 Backstory and Context
John and Lucy Sullivan moved to Baldwin City in 1876. They had been married for more than
twenty years and had raised eight children by that time. John, a Methodist pastor, had moved his
family at least four times since their arrival in Kansas in 1870. This was typical for Methodists;
the church had a long tradition of itinerant, or changing, appointments for their ministers. By
1876, however, the Sullivan children were ready to attend college, and Lucy's brother, William
Henry Sweet, was a professor at Baker University. This likely influenced their decision to settle
in Baldwin City.
In 1879, Lucy and John Sullivan purchased the house once located here from Elijah Sells, an
agent to the Osage tribe for the Department of the Interior, for $1600. It was a two-story frame
house with a large covered porch and lawn. A barn and well were also located on the property.
The Sullivans became prominent citizens of Baldwin City. William Henry Sweet was appointed
president of Baker in 1879, and with so many family ties to the university, the Sullivans were
active in local events. No dormitories existed on Baker's campus at this time, and local home
owners, including the Sullivans, often rented rooms to students. The Sullivan home would have
been the center of many social activities for these reasons, and "Uncle John" and "Aunt Lucy,"
as they were called, were happy to be involved in local life.
In 1907, Lucy passed away and left Sullivan House to Baker University; after that, it was used
for several different purposes. In 1909, the local Y.M.C.A. was housed there, and during the
influenza pandemic in 1919, the building became Baker University's first infirmary. Later,
Sullivan House would become the residence for Baker's presidents, until the present-day
residence, Collins House, was built in 1950. Sullivan House was eventually sold to private
owners and moved from this location to another site east of Baldwin City.
Sources
        DeCaro, Sara. "Sullivan Square."
         Clio: Your Guide to History. September 16, 2020.
         Accessed September 17, 2020. https://www.theclio.com/entry/114859
Local History Collection, Lucy Sullivan file, Baker University Archives
Unknown. ""The Sullivan House occupied last year by the YMCA has been repaired and the interior painted."." Baldwin Ledger (Baldwin City) August 5th 1910. .1.
Unknown. ""Will Have an Infirmary"." Baker Orange (Baldwin City) September 22nd 1919. .1.
Additional Information