Palmyra Post Office
Introduction
Palmyra Post Office was a multi-functional building and a useful stop for travelers along the Santa Fe Trail. Also called Blood's Grocery, travelers could buy supplies here as well as mail a letter. The town of Palmyra predated Baldwin City by fifteen years, but eventually dwindled as growth shifted to the areas surrounding Baker University and the railway depot.
Images
Palmyra Post Office stands next to Old Castle Museum on the northeast end of Baker University campus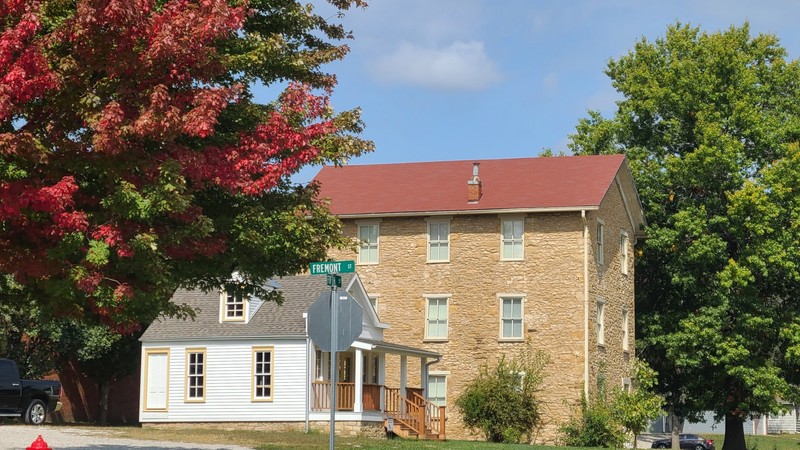 Backstory and Context
When Baldwin City came into existence in 1870, there was already another town nearby. Palmyra, Kansas was founded in 1855, before Kansas officially became a state, and was located on the Santa Fe Trail, just north of what is now Kansas Highway 56. Travelers stopping in Palmyra could stay at its hotel, have their wagon repaired, or buy supplies in this building, a general store built by a man named Newman Blood in 1857. His store also served as the town's post office.
Palmyra would have still existed when Lucy Sullivan, who eventually became Baldwin City's first female mayor, moved to town in 1876. Trains were a faster and cheaper means of travel than wagon trails, however. A railroad depot was built in Baldwin City in 1867, and more people chose to live and open businesses close to it. The Santa Fe Trail also closed in 1880. This meant that fewer people lived in Palmyra, and eventually, the town died out. Lucy Sullivan became the mayor of a growing Baldwin City in 1889.
Today, this post office is the only remaining building from the town of Palmyra. It was moved to this location to save it from destruction in the 1960s, and is believed to be the oldest wood-frame building associated with the Santa Fe Trail in Kansas. It is listed on the Register of Historic Kansas Places.
Sources
DeCaro, Sara. Baker University Archivist and Museum Director.
Palmyra Post Office files, Old Castle Museum Collection, Baker University Archives.
Additional Information