John A. Davis House
Introduction
Now the location of Theatre Albany, the John A. Davis House is historically significant for its architecture and association with Davis, who was a prominent local and state figure and owner of the house after the Civil War. Constructed around 1853, the house is an outstanding example of Italianate Villa architecture, which is uncommon in Georgia. Its brick construction is also notable since brick was somewhat rarely used in the antebellum period. The house features a two-story portico with large Corinthian columns supporting a large entablature, and a wrap around porch with smaller Corinthian columns. Attached to the house is the theater (which contains the stage and auditorium) built in the 1960s.
Images
The John A. Davis House was built in 1853. It is a fine example of Italianate Villa architecture and has been the home of Theatre Albany since 1964.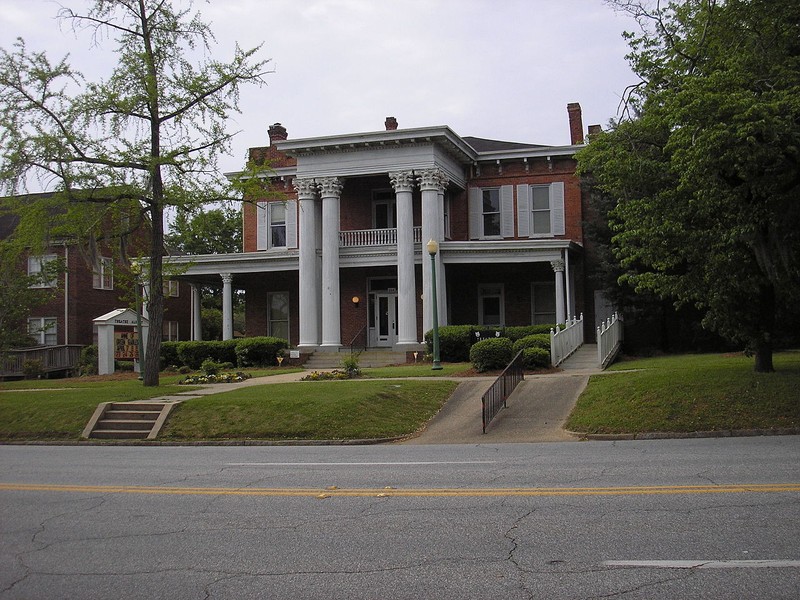 Backstory and Context
John A. Davis was a well-regarded lawyer and banker. He was born in Georgia (where exactly is unclear) and moved to the southwest part of the state when he was still young. As a young man, he studied law and opened a law practice here in Albany. In 1851, he married his wife, Laura, with whom he would have eight children. Davis held a number prominent roles in his lifetime including serving in the Commissary Department of the Confederate States of America, as local counsel for the Central of Georgia Railroad, Dougherty County's representative to the state constitutional convention of 1887, and chairman of the Executive Committee of the Georgia Banker's Association. He also organized the First National Bank of Albany in 1886.
At the house, Davis also hosted many gatherings with state and national figures, including the most famous guest, former Confederate President Jefferson Davis. He visited Albany in 1884 and went to the house where he met and shook the hands with those waiting in line to greet him. In the coming years, John A. Davis became involved with the Chautauqua Movement, a national movement in the late 19th and early 20th centuries that promoted adult education. As for the house itself, it remained in the family until about 1915 when it became a masonic meeting hall. It operated as such for four decades before a local resident bought it in 1964 to save it from demolition.
He immediately sold it to Theatre Albany, which was established in 1932 as Albany Little Theatre, Inc. Over the years, the theater has hosted a wide range of shows including Broadway plays and musicals, original works, classic drams, and contemporary plays. The house was added to the National Register of Historic Places in 1980 for its Italianate Villa architecture and connection to John A. Davis.
Sources
Thomas, Kenneth H. & Cloues, Richard. "John A. Davis House." National Park Service - National Register of Historic Places Nomination Form. October 16, 1980. https://npgallery.nps.gov/GetAsset/59b1bf01-64b0-498a-97bf-2d214f3ef77f.
Image Sources
Wikimedia Commons: https://commons.wikimedia.org/wiki/File:John_A._Davis_House.JPG

Additional Information