New Albany Hotel
Introduction
Now an apartment building, this historic building is the former New Albany Hotel. It was erected in 1925 and is notable for its architecture and impact on the city's economy in the 1920s and 1930s. As for design, the building is a fine example of Georgian architecture. Interesting features include decorative Dutch Cross bond brickwork on the sixth floor, a pedimented parapet, quoins (stones blocks at the corners of walls), arched windows with fanlights, and a porch with Doric columns. The building was added to the National Register of Historic Places in 1982.
Images
The former New Albany Hotel was built in 1925. It is an excellent example of Georgian architecture.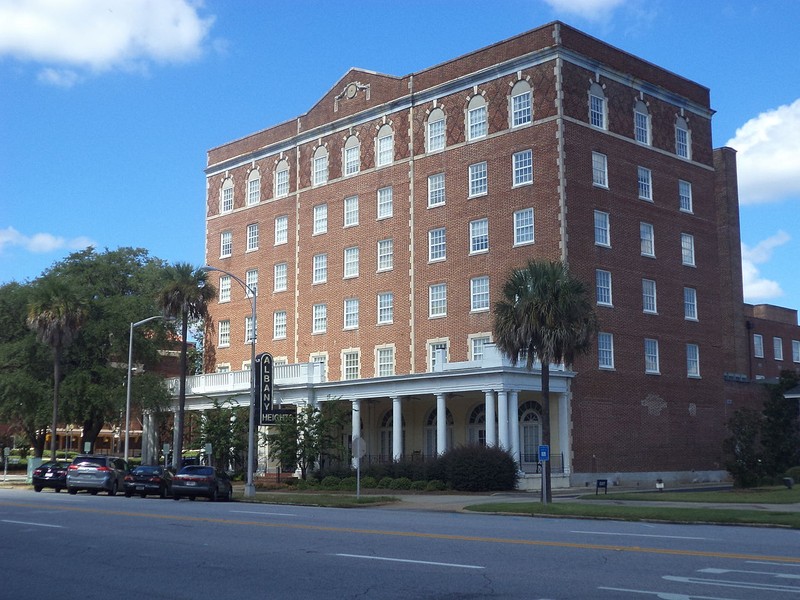 Backstory and Context
When the hotel was built, Albany had become an important economic center in the region, thanks in large part to railroading. By the 1920s, the city boasted seven railroads and 35 trains ran each day. The hotel was built to accommodate the influx of tourists and businessmen who arrived in the city. It was the second hotel erected in the 1920s; the other was Hotel Gordon. The New Albany Hotel, which was built on a site where a wood-frame hotel had been located since before 1886, boasted modern amenities including telephones in each room, private bathrooms, and hot and cold water. There was also a restaurant and ballroom, as well as space for businesses on the first floor. During the late 1920s and through the 1930s, the hotel was one of the more important social gathering places in the city. It reopened as an apartment building in 2018.
Sources
Brooks, Carolyn. "New Albany Hotel." National Park Service - National Register of Historic Places Nomination Form. June 17, 1982. https://npgallery.nps.gov/GetAsset/99851f87-19fd-4f8f-bee8-2217f9a18f75.
Fletcher, Carlton. "One year makes huge difference at the Flats at 249." Albany Herald. February 4, 2018. https://www.albanyherald.com/one-year-makes-huge-difference-at-the-flats-at-249/article_90720ffd-3536-57f9-b52d-120edef51cab.html.
Image Sources
Michael Rivera, via Wikimedia Commons: https://commons.wikimedia.org/wiki/File:New_Albany_Hotel.JPG

Additional Information