Rollin Sprague Building/Old Stone Store
Introduction
Architectural style: Mid-19th Century: Greek Revival The Rollin Sprague Building/Old Stone Store is a two-story gable-front building with walls of coursed cobblestone construction, which is located on the northeast corner of Main and Third Streets in Rochester's central business district. A number of businesses have occupied the building since its construction around 1849. The building's current facade, its fourth, replicates a Late Victorian pressed metal facade constructed in 1899. Although the structure has undergone a number of changes, it still retains most of its original coursed cobblestone construction and some Greek Revival trim. Historic Use: Commerce/Trade: Business Current Use: Commerce/Trade: Specialty store Owner Type: Private Main Building Foundation: Stone Wall: Stone Period of Significance: 1849-1948 Area of Significance: Commerce and Architecture Arch/Builder: Thomas Anscomb Date Built: 1849
Images
Rollin Sprague building, west elevation, 1877.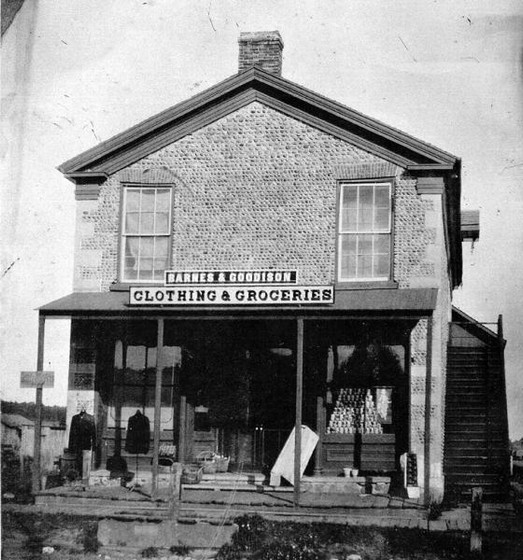 Rollin Sprague building, 1960.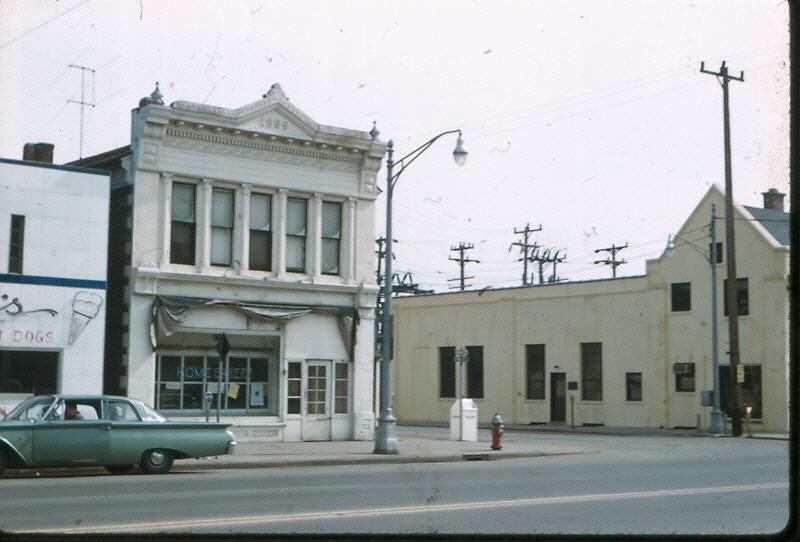 Rollin Sprague Building, 1902.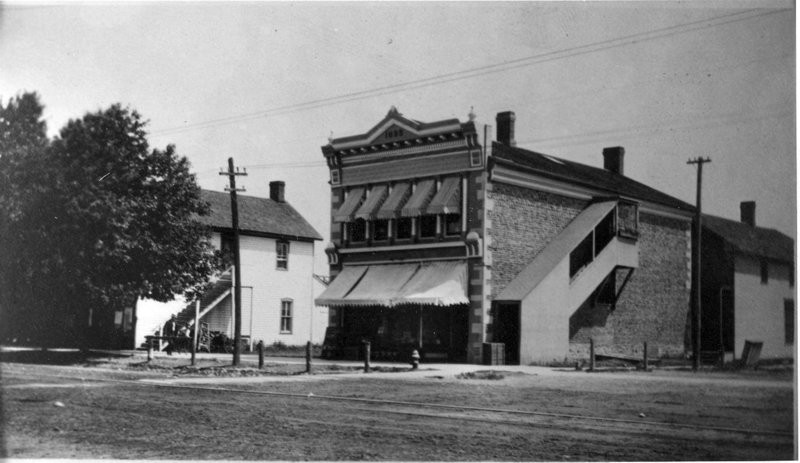 Rollin Sprague building, west elevation, 1977.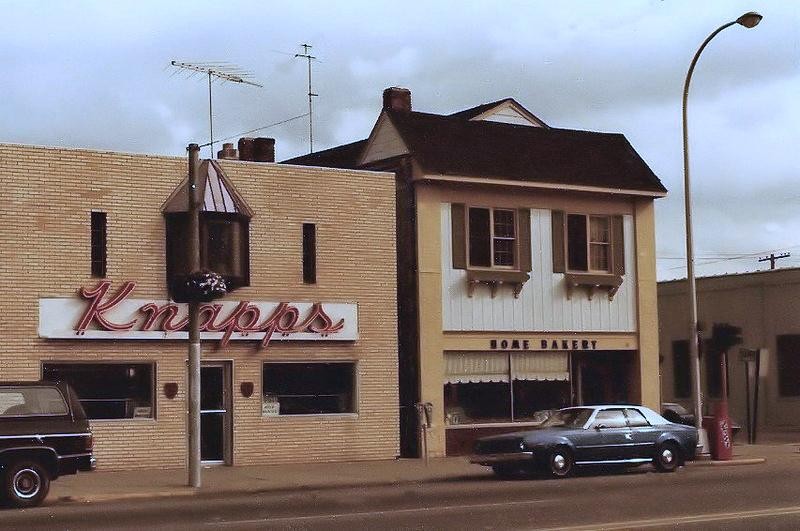 Rollin Sprague building, west and south elevations, 2011.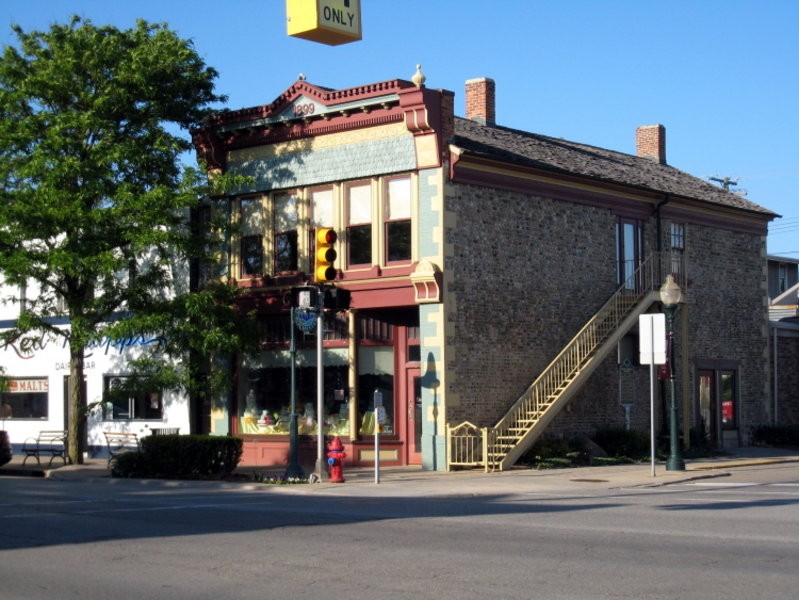 Looking north along Main toward Third Street, south elevation of Rollin Sprague building in background, 1916.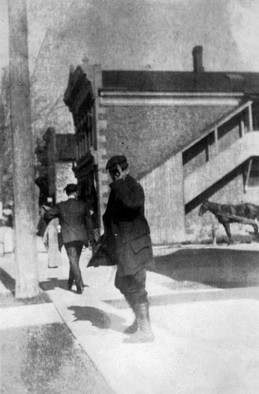 Rollin Sprague building, west and south elevations, 2014.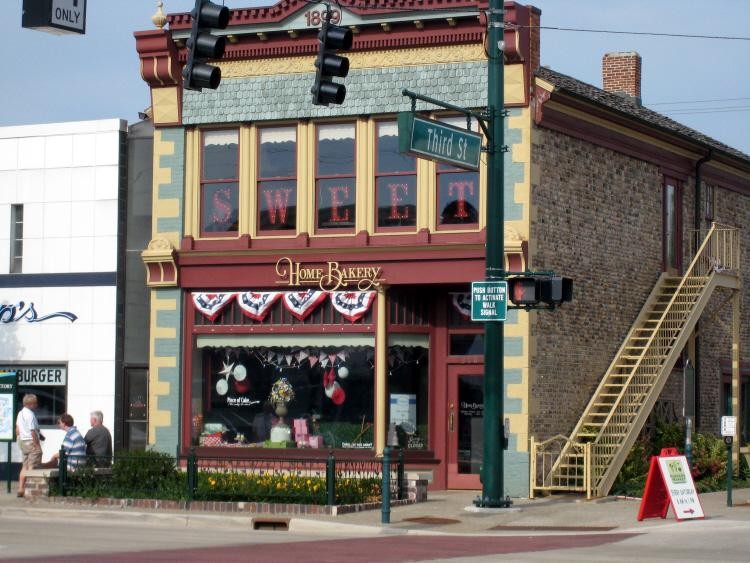 Backstory and Context
Significant Persons: Sprague, Rollin, 1806-1872 and Anscomb, Thomas M., d.1866. 
Statement of Significance:
The "Old Stone Store" is the oldest commercial building in downtown Rochester, Michigan. Built around 1849, the store is one of only about forty-five buildings thus far identified in Michigan of the coursed, cobblestone construction technique. It is the only example in Rochester.
1899 date on cornice reflects the year in which the building's facade was substantially renovated from its original appearance. The building was restored to the 1899 appearance in 1995. 
History:
This two-story coursed cobblestone building was constructed for Dr. Rollin Sprague, whose family came to the Rochester area from Ontario County, New York, in 1821. Sprague operated a dry goods and general merchandise store, and after his death in 1872, his widow, Adaline Cooper Sprague continued the business until about 1877. It was commonly referred to locally as the "Old Stone Store."
According to a 1923 memoir by members of the Sprague family, the store was built by an English-born stone mason named Thomas Anscomb, who lived in nearby Troy Township at the time. Anscomb used quick lime and stones gathered from the Sprague farm on South Hill in the construction. The Sprague store is the only surviving example of this technique in the Rochester area and one of only a few dozen known to exist in all of Michigan.
Following the Sprague proprietorship, the Old Stone Store was operated as a general store by the partners William H. Barnes and Samuel C. Goodison, under the name Barnes & Goodison.
The property was listed for sale in the Detroit Free Press in 1897, with the following advertisement:
"A RARE CHANCE -- For sale, the old stone store, with stock of goods, situated in Rochester, Mich.; goods consist of clothing, hats, caps, boots and shoes, and groceries of all kinds; has done a prosperous business for the last twenty-one years; must be closed out to settle an estate."
Following Barnes & Goodison, the building housed at various times in history the Rochester Era newspaper, a grocery store, restaurant, a used car sales office, an Oakland Dairy ice cream store and a bakery. Since the 1950s it has been the "Home Bakery."
In 1899, a major renovation of the Rollin Sprague building took place, during which the entire front of the building was remodeled and an ornate Victorian cornice was installed. During that renovation, the Rochester Era reported: "The stone store was built fifty-five years ago last summer and a new roof has been put on, in connection with other improvements - the second one ever on the building. The shingles from 'ye olden tyme' were much more substantial than those made now-a-days. If a modern roof lasts twenty years it does well - quite a difference from fifty-five years."
The store is also said to have been built on the site of a native American burial ground, according to Samuel Durant's 1877 History of Oakland County. On page 140-141 of that work is noted the following:
"The aborigines who used to make their home about Rochester, buried their dead in three different places within or near the present limits of the village. One was on the site now occupied by the store of Mrs. Rollin C. Sprague."
In 1899, while workmen were deepening the cellar under the building, two skeletons were unearthed. It is unknown whether the bones discovered at that time belonged to native people.
The building housed an Oakland Dairy store in the 1930s and '40s, and was converted to use as a bakery in 1947 by partners Harry Schaefer and Donald Bennett, who combined their names to call the business
Scha-Ben's bakery. It was later named Home Bakery.
The facade of the "Old Stone Store" was restored to its turn-of-the-twentieth century appearance in 1995 and the interior has been substantially upgraded. 
Sources
1. "A Gruesome Find," Rochester Era, August 11, 1899.
2. "Work has commenced on the repairs to the stone store...," Rochester Era, August 4, 1899.
3. "The work of tearing out the stone store front was completed yesterday afternoon, and the new brick and glass front will put in at once," Rochester Era, August 18, 1899.
4. "The new steel and glass front of the stone store is being put in this week," Rochester Era, October 8, 1899.
5. Rochester Era, November 17, 1899, p.1.
6. "A pool and billiard room has been opened in the beautiful stone store. Too bad to put so fine a building to such a use," Rochester Era, February 16, 1900.
7. "The Sprague Family," Rochester Clarion, May 18, 1923, p.1.
8. Durant, Samuel W. History of Oakland County, Michigan (Philadelphia: L. H. Everts, 1877), pp. 140-141.
9. "Developments on Main Street," Rochester Clarion, May 1, 1931, p.1 [opening of Oakland Dairy store]
10. "Scha-Ben's Bakery to Open May 1st," Rochester Clarion, April 24, 1947, p.1.
11. "Bakery Renovated to Show Off Historic Home," Rochester Reminder, October 19, 1995, p.A9.
12. "A rare chance [classified advertisement], Detroit Free Press, February 5, 1897, p.8.
13. Almon Mack and Alvira Mack his wife to Rollin Sprague, August 11, 1835, consideration $77.50, lots 14 and 114, Original Plat of the Village of Rochester, Oakland County Record of Deeds, liber 9, page 508.
Image Sources
Courtesy of Swords Family Archive

Courtesy of Marjorie and the late Walter Dernier

Rochester Hills Public Library

Courtesy of Thomas F. Kelly

Deborah Remer