Samuel Harris Fountain
Introduction
This granite drinking fountain was donated to the village of Rochester by Samuel Harris (1836-1920), who was a member of the 5th Michigan Volunteer Cavalry during the Civil War. Following the war, Samuel Harris went on to a successful career as a businessman in Chicago, but he did not forget his comrades in Rochester. He returned to his boyhood home for every reunion of the 5th's Company A, and in 1917, he presented the village with a pillared granite fountain, which was given a place of honor at Fourth and Main streets. Increasing traffic and other considerations caused the city fathers to relocate it to Walnut Boulevard and Fourth Street in July 1931, and then in 1951 to Halbach Field. In 1959, the fountain was moved to its fourth location, in front of the American Legion Hall. In 1980 it was removed to the historic acre of Mt. Avon Cemetery. In 2008, through the efforts of the Rochester Historical Commission, the fountain was moved to a permanent place of honor east of the Rochester Municipal Building, near the World War II Honor Roll.
Images
Samuel Harris Fountain, 2012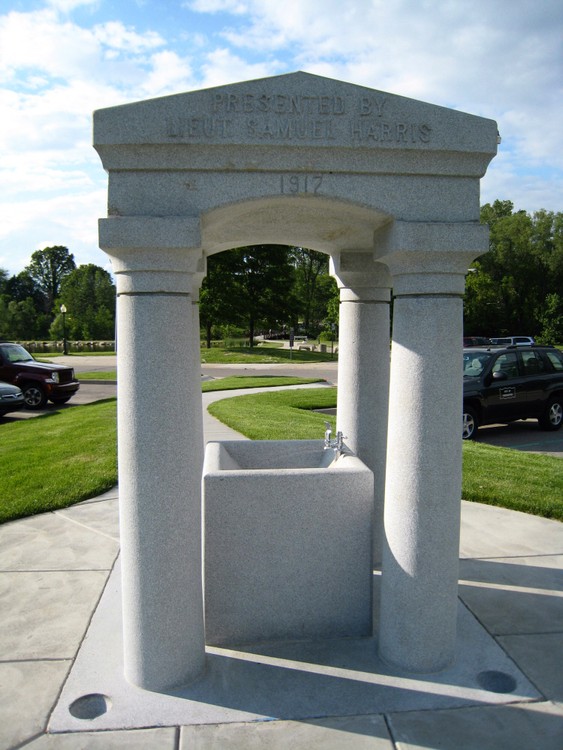 Samuel Harris Fountain, drawing in Rochester Era, February 23, 1917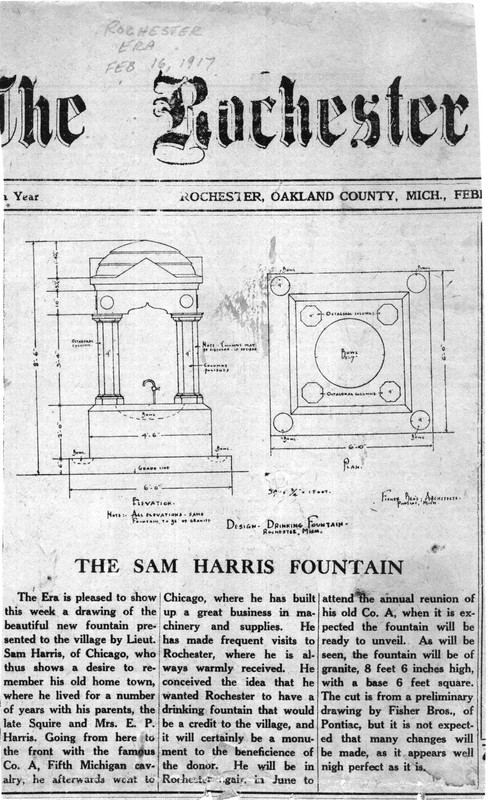 Samuel Harris Fountain, 2020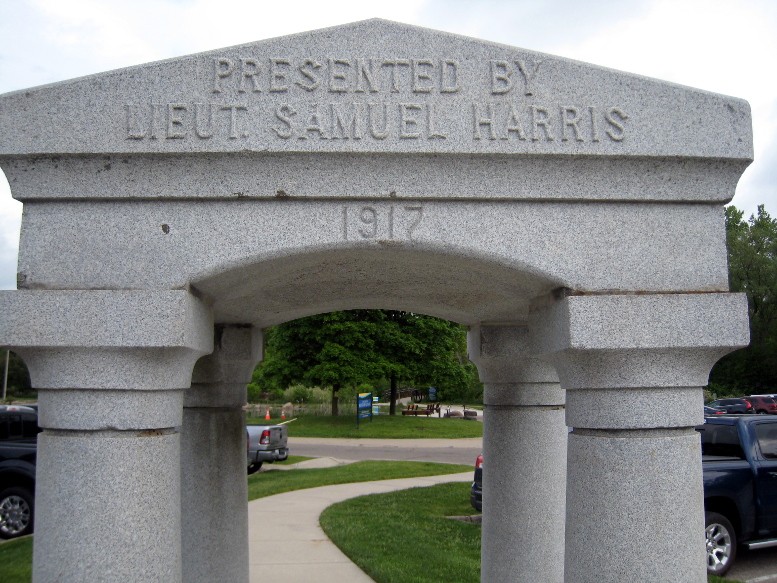 Informational monument near Samuel Harris Fountain, 2020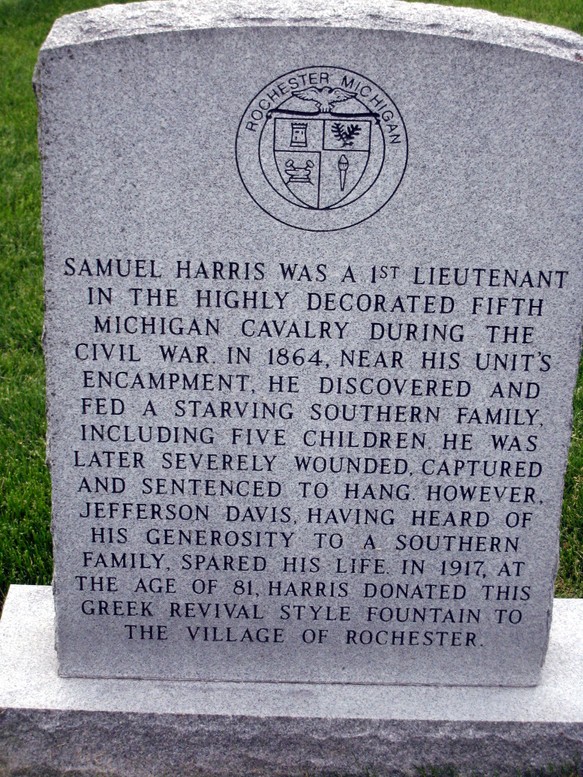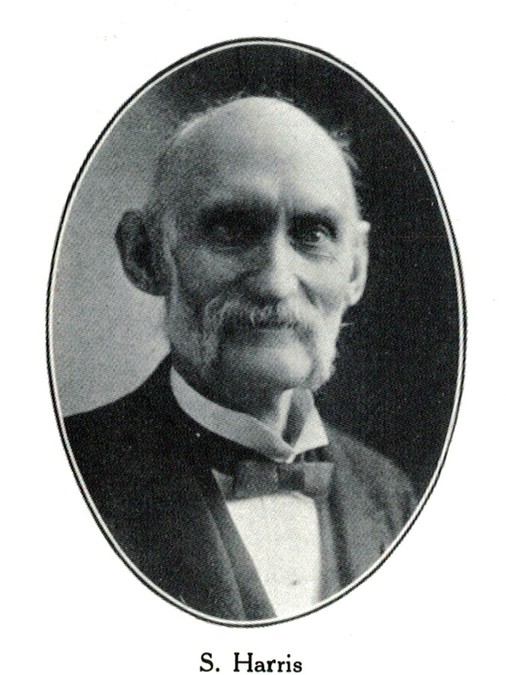 Backstory and Context
Author-Uploaded Audio
Samuel Harris, later in life a successful Chicago businessman, donated this granite fountain to his hometown of Rochester. The Rochester Era made the announcement of the gift on February 16, 1917, with these words:
[begin quote]
The Era is pleased to show this week a drawing of the beautiful new fountain presented to the village by Lieut. Sam Harris, of Chicago, who thus shows a desire to remember his old home town, where he lived for a number of years with his parents, the late Squire and Mrs. E. P. Harris. Going from here to the front with the famous Co. A., Fifth Michigan cavalry, he afterwards went to Chicago, where he has built up a great business in machinery and supplies. He has made frequent visits to Rochester, where he is always warmly received. He conceived the idea that he wanted Rochester to have a drinking fountain that would be a credit to the village, and it will certainly be a monument to the beneficence of the donor. He will be in Rochester again in June to attend the annual reunion of his old Co. A, when it is expected the fountain will be ready to unveil. As will be seen, the fountain will be of granite, 8 feet 6 inches high, with a base 6 feet square. The cut is from a preliminary drawing by Fisher Bros., of Pontiac, but it is not expected that many changes will be made, as it appears well nigh perfect as it is.
[end quote]
On April 21, 1917, the Michigan Contractor & Builder announced that contracts had been let:
[begin quote]
Rochester—W. A. Fox has let the contract for the construction of the Sam Harris fountain to the Sheldon Granite Co., of Highland Park. The fountain will be located on Main street. It will be colonial style, of gray Barrie granite. Four 12-inch columns will support the overhead work.
[end quote]
In July of 1917, the fountain was unveiled at the corner of Fourth and Main streets in a public ceremony attended by Samuel Harris and his family. Harris remarked that he was especially pleased that the fountain had been placed on the corner where he and his boyhood friends, Major Lyman G. Wilcox and J. J. Snook, had played as children. In honor of the fountain's donor and his former comrade in arms, J.J. Snook offered an original poem entitled "A Loving Tribute." The day after the fountain was unveiled, the Harris family celebrated the burning of the mortgage at the First Congregational Church, an event Harris had made possible by matching the donations of the members with a $2,700 personal gift which retired the debt.
As a soldier during the Civil War, Harris had been captured by the Confederate forces and held in prison in Richmond, Virginia. His life was spared only because the daughter of Jefferson Davis learned that Harris had earlier showed compassion to a friend of hers. Winnie Davis asked her father to show leniency toward Harris, and because of her plea, he was spared death by hanging.
Harris died in Chicago in 1920. The Chicago Tribune published the following tribute upon his death:
[begin quote]
Samuel Harris, who was saved from a death sentence in Libby prison during the civil war by Winnie Davis, daughter of the confederate president, whom he had befriended, died yesterday afternoon in his home at 2312 West Jackson boulevard. He had been a resident of Chicago for forty-three years.
Mr. Harris was born in White River Junction, Vt., Sept. 15, 1836, and from the time of his arrival in Chicago was engaged in the manufacture of machinists' tools and supplies. He was president of the firm of Samuel Harris & Co.
[end quote]
Sources
"Historic Fountain Bound for New Ground," Rochester Eccentric, January 25, 2007.
Harris, Samuel. Personal Reminiscences of Samuel Harris. Chicago: The Rogerson press, 1897.
"The Sam Harris Fountain," Rochester Era, February 16, 1917, p.1.
Michigan Contractor & Builder 10:46 (April 21,1917), p.7.
"Gifts to Town Honor Mother," Pontiac Press Gazette, July 31, 1917, p.10.
"Soldier Jeff Davis' Daughter Saved is Dead at Home Here," Chicago Tribune, May 5, 1920, p.9.
"Remove Fountain on Friday Night," Rochester Clarion, December 5, 1930, p.1.
"Councilmen Explain Fountain Removal," Rochester Clarion, December 19, 1930, p.1.
"Samuel Harris Memorial Fountain Re-Erected: Now Rests on Permanent Ground Opposite Baptist Church," Rochester Clarion, July 3, 1931, p.1.
"Harris Memorial Recalls Exploits of Rochester Cavalry in Civil War," Rochester Clarion, May 14, 1959, p.8.
"Civil War Fountain Gets Eviction Notice," Rochester Clarion, December 31, 1964, p.1.
"Town Takes Marker For 'Granite,'" Rochester Eccentric, November 22, 1973, p.2.
Image Sources
Deborah Larsen

Deborah Larsen

Deborah Larsen

Deborah Larsen

Rochester: A Sketch of One of the Best Towns on the Map, 1907 [public domain]

Additional Information