Lowndes County Courthouse
Introduction
The Lowndes County Courthouse is considered one of the most impressive courthouses in Georgia. Built in 1905, it is a striking example of Neoclassical architecture, combining the Greek and Moorish Revival styles. The three-story building features a grand main entrance with a large portico and four 25-foot-tall Corinthian columns; a central, two-stage tower with a lanterned dome, urns, Ionic columns, and balustrades; four smaller domes on the corners; and urns placed on the edge of the roof. When it completed, the courthouse symbolized the Valdosta's stature as an established city.
Images
Lowndes County Courthouse was built in 1905 and is a fine example of Neoclassical architecture.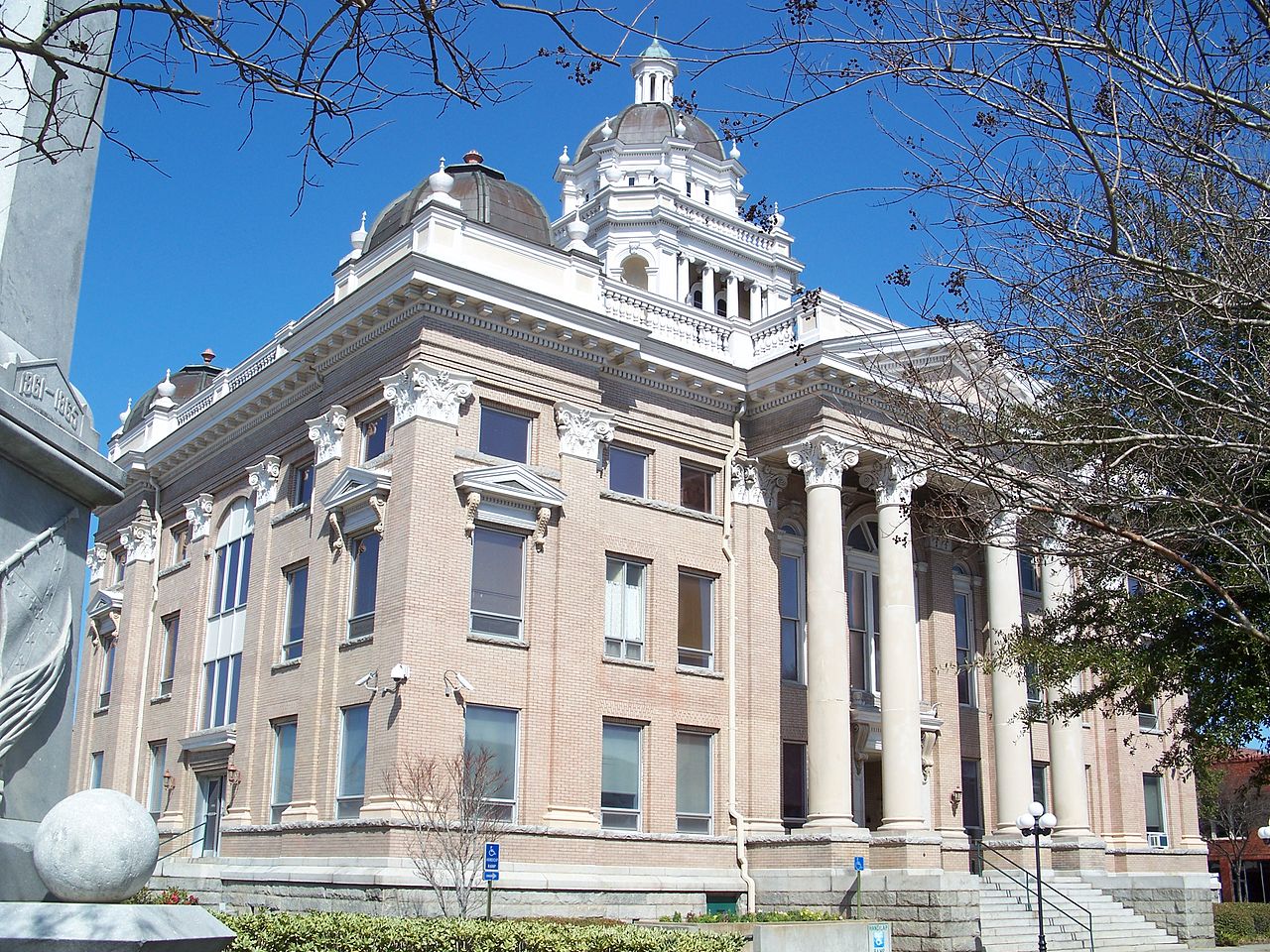 Backstory and Context
Several courthouses were built for the county. The first, a structure that cost $215 dollars, was erected in 1828 in the town of Franklinville three years after the county was established. In 1833, the second was built in the town of Lowndesville, which was later renamed Troupville and became the county seat around this time. The third courthouse was built in Troupville in 1837. City officials hoped the Atlantic and Gulf Railroad would build a line through the town but that did not happen. As a result, the town relocated and renamed the present city of Valdosta in 1860. County offices were located in what was apparently resembled a barn structure. In 1875, a brick courthouse (the county's sixth) was built. Efforts to build the current courthouse began in 1900.
By then, the population had grown enough to justify the construction of a new courthouse. Work began in 1903 and was completed two years later. Interestingly, towards the end of the project, a carpenter mistakenly sealed himself inside the large dome and had to be freed. Over the years, the courthouse has undergone some alterations. In 1962, the adjoining annex was built and in 1970 the courthouse was renovated. It was then restored in 1985. In 1980, it was added to the National Register of Historic Places. There are a number of monuments and memorials on the courthouse grounds.
Sources
"Lowndes County Courthouse." Lowndes County Historical Society and Museum. Accessed December 1, 2020. http://valdostamuseum.com/exhibitions/online-exhibits-2/places/lowndes-county-courthouse.
"Lowndes County Courthouse." Thematic National Register Nomination - Georgia Courthouses. September 18, 1980. https://npgallery.nps.gov/GetAsset/ea161480-a98f-4584-af16-1cbc758fa2b7.
Peeples, David. "Lowndes County." New Georgia Encyclopedia. January 4, 2004. Last Updated July 30, 2018. https://www.georgiaencyclopedia.org/articles/counties-cities-neighborhoods/lowndes-county.
Image Sources
Wikimedia Commons: https://commons.wikimedia.org/wiki/File:Valdosta_GA_crths02.jpg

Additional Information