First Presbyterian Church
Introduction
Erected in 1910, First Presbyterian Church is historically significant in the areas of architecture, religion, and social history. In terms of design, it is the only Greek Revival-designed church in Valdosta. Like other Greek Revival buildings, the church incorporates typical elements of this style including a portico with Corinthian columns supporting a pediment, round-arched entries, and rectangle and arched windows (some of which have stained glass). The church is home to a congregation established in 1864 and was added to the National Register of Historic Places in 1987.
Images
First Presbyterian Church was built in 1910 and is the only church in Valdosta designed in the Greek Revival.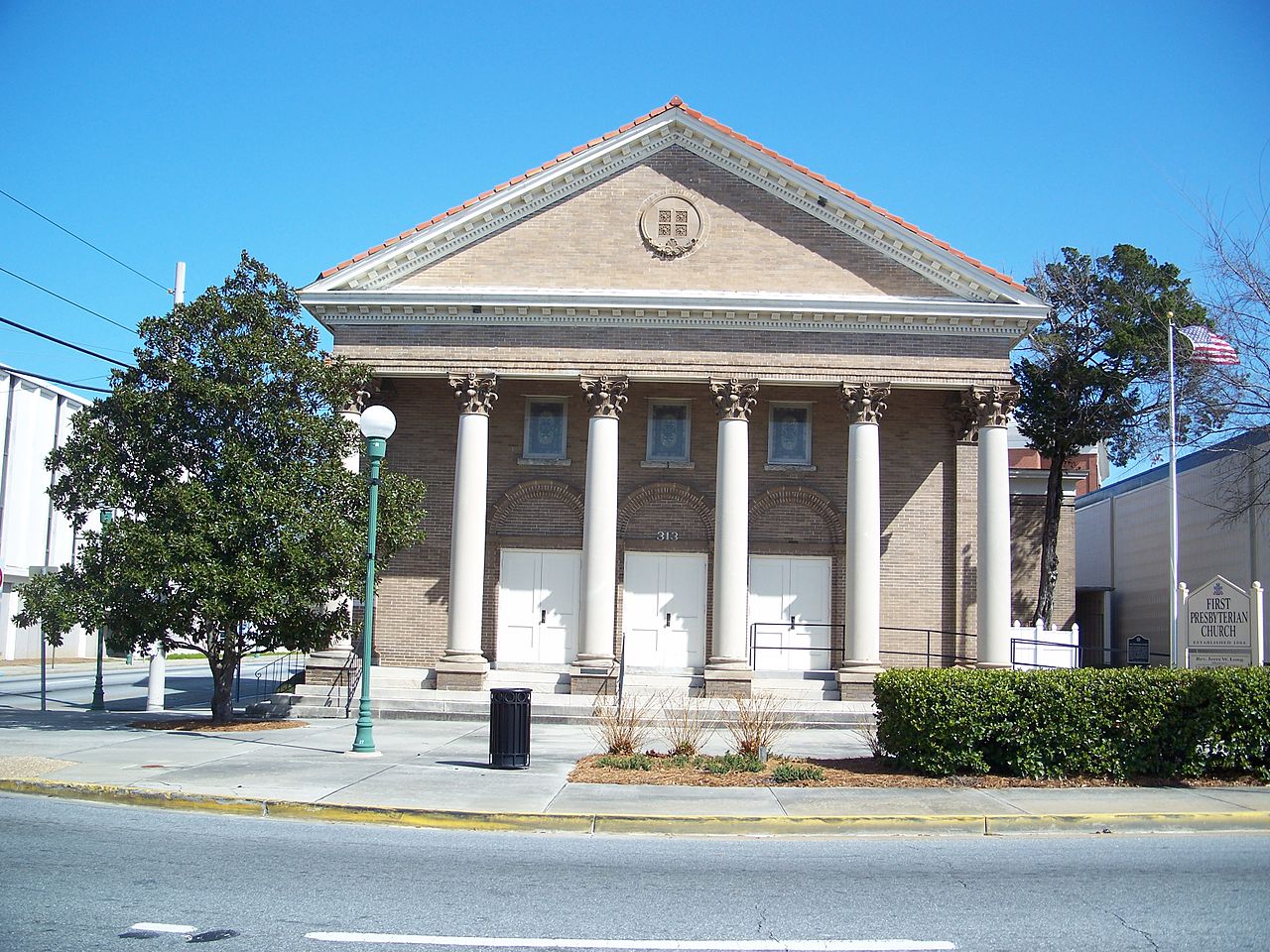 Backstory and Context
Presbyterians arrived in Valdosta during the Civil War. They had arrived from Midway, Georgia, where they settled in the 1700s. The congregation was founded on December 3, 1864. The first church building was constructed the next year. It is unclear when the second church was built but construction of the third and current one began 1907.
In addition to architecture, the church also has connections to the city's social history. Two members, James O. Varnedoe and Judge J.G. Cranford both served as mayor. Cranford's wife and a local African American educator in, Rev. James L. Lomax, established an integrated school called Daily Vacation Bible School at the church in 1927, which was integral in establishing stable race relations in Valdosta. Lomax was an elementary and high school principal. As a prominent local figure, he played an important role in the religious, civic, education, and fraternal life of the city's African American community.
Sources
"Our History." First Presbyterian Church. Accessed December 1, 2020. http://firstpresvaldosta.org/history.
Wilson-Martin, Catherine. "First Presbyterian Church." National Park Service - National Register of Historic Places Nomination Form. November 2, 1987. https://npgallery.nps.gov/NRHP/GetAsset/NRHP/87001912_text.
Image Sources
Wikimedia Commons: https://commons.wikimedia.org/wiki/File:Valdosta_GA_1st_Presby_Church01.jpg

Additional Information