Kensington Volunteer Fire Department
Introduction
The Kensington Volunteer Fire Department was established in the late 1890s in response to multiple severe fires in the Kensington area that could not be put out. The current building at the intersection of Plyers Mills Road and Connecticut Avenue was constructed in 1947, after moving out of the Town Hall/Armory. The Fire Department also had two memorials to the tragedies of 9/11, with a gnarled steel beam from New York to memorialize firefighters who lost their lives, and a limestone boulder from the Pentagon to memorialize victims of the Pentagon and all those on Flight 93.
Images
Exterior of the current day Station No. 5 KVFD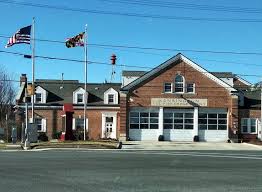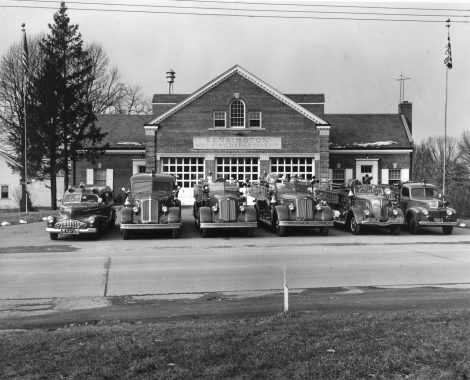 Backstory and Context
The first fire department in the Kensington area was established by the town council in 1899 as a response to a large fire on October 26, 1899, that destroyed the Montgomery Press (newspaper) office and the Town Hall. At the time, Kensington had no water system and no way to stop fires.
There were many problems with the early fire department, including the fact that most roads were not paved, meaning streets turned to mud. In 1918, an old schoolhouse caught fire and although the firefighters arrived at the scene, the mayor did not allow them to hook up to the town's new water system because he believed it needed to be saved for reserve for nearby homes.
A tension between the firefighters and the town formed, including around a newly purchased 1922 Ford truck with water pump, the 2nd motorized firefighting apparatus in the county. The town owned the truck and appointed the Fire Marshall, and volunteers had to negotiate to be able to train on the truck. In addition, the truck could not be used outside the town without special permission from the mayor, which angered more volunteers. Led by Eugene Raney, in 1922, volunteer firefighters broke away from the town and formed their own station. Although not originally recognized by the town, by 1925, the town officially recognized the department, and in 1927, they moved into the Armory/Town Hall. As the area continued to grow, the KVFD moved into its current building in 1947, and 3 more stations in the vicinity were incorporated.
Sources
"Landmarks." Kensington Historical Society. Accessed January 1st 2021. https://www.kensingtonhistory.org/landmarks/.
History, Kensington Volunteer Fire Department. Accessed January 1st 2021. https://kvfd.org/history/.
Image Sources
kvfd.org

https://www.kensingtonhistory.org/landmarks/

Additional Information