Fallen Partner
Introduction
W.D. Hopen created Fallen Partner in 1990. Hopen, a native of Sutton, West Virginia, was commissioned by the West Virginia Chapter of the Fraternal Order of Police to sculpt the work. The completed piece depicts a male law enforcement officer dressed in a police uniform and bearing a shield and gun. The figure was cast from bronze, while the base is granite. At the base of the sculpture is a plaque, which lists well over one hundred law enforcement officers who have lost their lives in the line of duty. In 2019, the sculpture was restored by Evergreene Architectural Arts to reverse weathering and other damage. The memorial remains a frequent location for events honoring law enforcement.
Images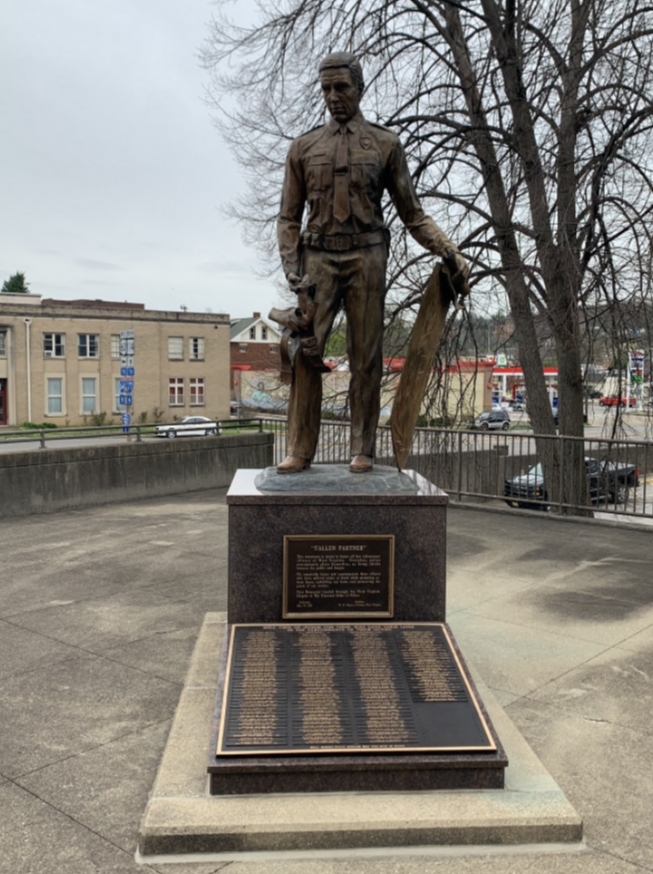 Sources
Fallen Partner, (sculpture), Smithsonian Institution. Accessed January 13th 2021. https://collections.si.edu/search/results.htm?q=record_ID:siris_ari_310479.
Fallen Partner, West Virginia Archives and History. Accessed January 13th 2021. http://www.wvculture.org/history/monuments/wvpolicemem.html.
Maccaro, Matt. Fallen West Virginia officers honored at state Culture Center memorial, MetroNews. May 3rd 2016. Accessed January 13th 2021. https://wvmetronews.com/2016/05/03/fallen-west-virginia-officers-honored-at-state-culture-center-memorial/.
West Virginia State Capitol Sculptures, Evergreene Architectural Arts. Accessed January 13th 2021. https://evergreene.com/projects/west-virginia-state-capitol-sculptures/.
Image Sources
Office of Public Art, Charleston WV. Accessed January 13, 2021. https://gisweb.cityofcharleston.org/storymaps/arttour/#.

Additional Information