Box Brown Plaza
Introduction
Richmond's ports are steeped with African American history, as many enslaved African Americans entered the city aboard ships while free and enslaved persons worked on the river or canals, as well as the neighboring iron works and tobacco houses. The docks were initial arrival points for slaves before they were held in nearby slave pens and jails and sold at nearby auction houses. One of the most recent monumental spaces built in Richmond, the Box Brown Plaza commemorates the efforts of Henry Brown to achieve freedom. Brown became one of the most famous slaves in Richmond's history after he escaped his master in Virginia, boxed himself inside a crate, and paid to have the crate shipped from Virginia to Philadelphia while he was inside. The Plaza includes a memorial for Brown: a metal duplicate of the box in which he was shipped stands as a testament to the bravery it took to pursue freedom.
Images
This memorial is one of several monuments to African American history that have been created in Richmond in the past decade.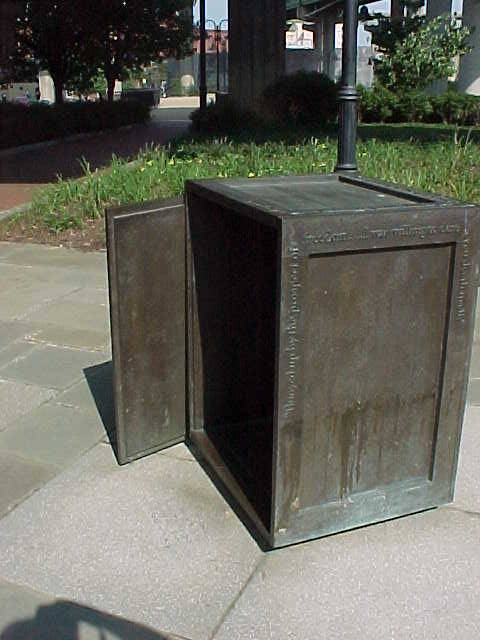 Visitors to the monument can imagine what Brown's journey might have entailed as he stayed in a box this size for 27 hours while he awaited his fate.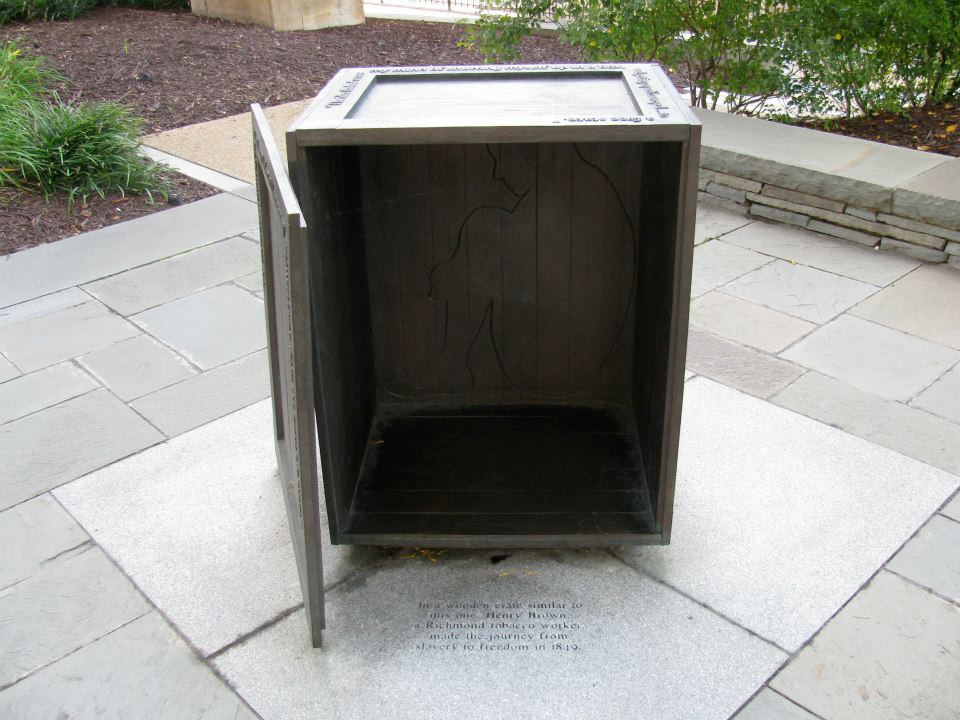 Backstory and Context
Henry "Box" Brown was one of many slaves who sought freedom in the North. His wife, Nancy, was owned by a different slave master, along with their children. Nancy and the children were sold to a different plantation in North Carolina. Overcome with grief, Henry Brown decided to seek liberation from slavery. Henry enlisted the help of Samuel Alexander Smith, a white sympathizer, who in turn sought help with James Miller McKim (and William Still). McKim was a white abolitionist and member of the Philadelphia Anti-Slavery Society.
Samuel Alexander Smith assisted Henry Brown in mailing himself to the Philadelphia Anti-Slavery Society. After what must have been a very rough 27 hours, Brown arrived at James Miller McKim, William Still, Professor C.D. Cleveland, and Lewis Thompson. Upon opening the box, Brown greeted them, "how do you do gentlemen"? He then proceeded to recite a psalm. The men then coined him "Box" Brown.
Henry "Box" Brown used this obscure, dramatic event to make himself known. He appeared before the New England Anti-Slavery Society in May 1849, and left no doubt among the audience that slaves desired freedom. Abolitionists, including Fredrick Douglas, attempted to persuade Brown to keep his method of liberation a secret, but he (Brown) felt it too sensational a story to keep quiet. Brown became a performer; in 1849, he began working on a moving panorama about slavery, and in April 1850, "Mirror of Slavery" was exhibited in Boston. With the passing of the Fugitive Slave Act, it was no longer safe for Brown to remain in the United States, so he fled to England, where he continued his creative pursuits.
Sources
"Box Brown Plaza," Riverfront Historic Canal Cruises, last updated Jan. 10, 2013,http://www.rvariverfront.com/monuments/boxbrown.html
Henry "Box" Brown, PBS, accessed July 29, 2017, http://www.pbs.org/Black-culture/shows/list/underground-railroad/stories-freedom/henry-box-brown/

Additional Information