The Hippodrome Theater
Introduction
Otherwise known as the "Hipp," this theater was the heart of the Second Street entertainment district known as "the Deuce." The Hippodrome theater was one of Richmond's premier theaters following its 1914 opening and evolved from a vaudeville theater to a movie theater in its early decades. It was also part of the Jackson Ward district in Richmond that earned the nickname "The Harlem of the South." The theater served African American patrons and provided a dignified space for Black performers in the era of segregation. Since its establishment, the "Hipp" has survived adversity including a 1945 fire and declining business that might have spelled the end of the historic building. Thanks to local community members and preservationists, the Hippodrome operates as a restaurant and a venue for live performances and private events.
Images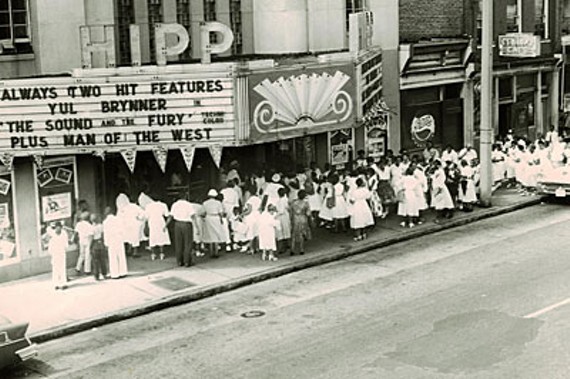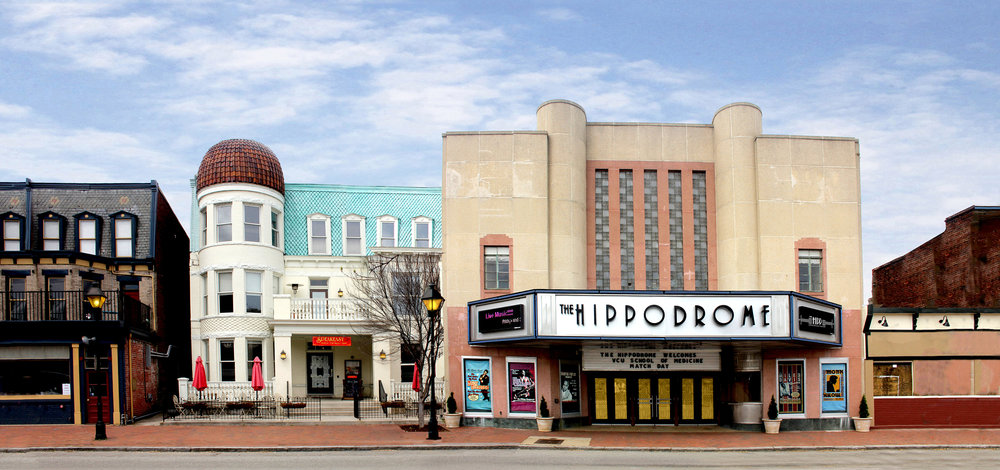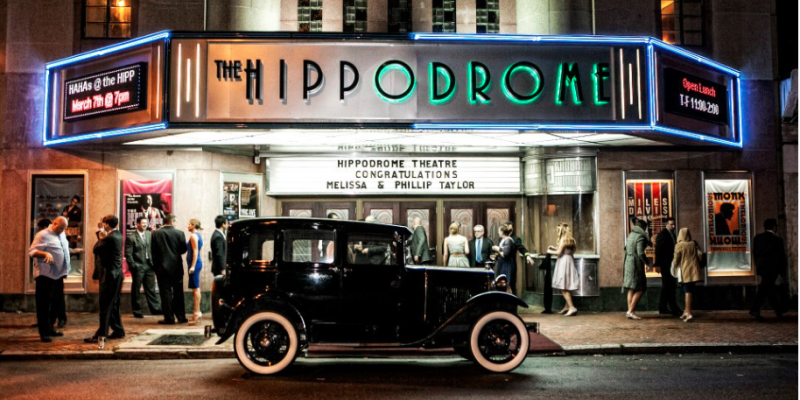 Backstory and Context
The Jackson Ward district in Richmond Virginia was one of the largest and most economically successful and self-sustaining African American communities in the South. Jackson Ward was added to the list of National Historic Landmark Districts in 1976. The district was home to entrepreneurs like Maggie Lena Walker, the first African American woman to open a bank. It was also home to civil rights activists like Oliver Hill Sr. and Spottswood Robinson.
At the center of this community was the second street, otherwise known as "The Deuce" and home to many Black-owned businesses such as the Hippodrome Theater and Egglestone Hotel. The theater was originally built in 1914 as a project led by Walter Coulter, Amanda Thorpe, and Charles Somma. Somma helped build and operate numerous theaters in and around Richmond, including the Byrd Theater. He remained the primary owner of the Hippodrome until 1937 when the theater was purchased by Abe Lichtman.
The theater reopened in 1947 following the fire of 1945. During these years, the theater hosted entertainers such as Cab Calloway, Duke Ellington. Louis Armstrong, Ella Fitzgerald, Nat King Cole, James Brown and hometown favorite Billy "Bojangles" Robinson.
The theater and other historic buildings such as the adjacent Taylor Mansion are owned by Ronald Stallings. Stallings inherited over one hundred pieces of Jackson Ward Property after his father's death including St. Luke Penny Bank and a few other more historically significant buildings in the community. Over the last three decades, Stallings has worked to restore and rebuild the district with several redevelopment projects including the $12 million investment in the Hippodrome.
Sources
"About The Hipp." Hippodrome Richmond, Hippodrome Richmond, hippodromerichmond.com/about-the-hipp/.
Cook, Steve. "Our Rich Theater History – How Much Do You Know?" Richmond Navigator, Richmond Navigator, 16 Jan. 2017, richmondnavigator.com/features/our-rich-theater-history-how-much-do-you-know/#.Wt8hcdPwaqQ.
"The Hippodrome Theater and The Taylor Mansion." The Hippodrome Theater and The Taylor Mansion - Virginia Is For Lovers, The Commonwealth of Virginia7, 7 Oct. 2017, www.Virginia.org/listings/TheArts/TheHippodromeTheaterandTheTaylorMansion/.
"Hippodrome Theatre." Cinema Treasures, Cinema Treasures, cinematreasures.org/theaters/11522.
Majer, Jeff. "Ben Episode 6. Anderson/ Hippodrome Theater." History Replays Today, History Replays Today, 15 Aug. 2013, historyreplaystoday.org/tag/jackson-ward/.
Perlman, Ellen. "Escapes: Tracing Black History in Richmond's Jackson Ward Neighborhood." The Washington Post, WP Company, 2 Feb. 2012, www.washingtonpost.com/lifestyle/travel/escapes-tracing-Black-history-in-richmonds-jackson-ward-neighborhood/2012/01/27/gIQAwanMkQ_story.html?noredirect=on&utm_term=.2aeb3c0042ec.
Riggan, Phil. "Hippodrome Theater Bringing J-Ward Back." Richmond Times Dispatch, Richmond Times Dispatch, 19 Jan. 2012, www.richmond.com/arts-entertainment/hippodrome-theater-bringing-j-ward-back/article_30893654-2db3-5588-b949-887cf281d52d.html.
Slipek, Edwin. "Hipp Replacement." Style Weekly, Style Weekly, 24 Apr. 2018, www.styleweekly.com/richmond/hipp-replacement/Content?oid=1691421.
Virginia Foundation for the Humanities. "Jackson Ward Historic District." African American Historic Sites Database, African American Historic Sites Database, www.aahistoricsitesva.org/items/show/221?tour=14&index=17.
Williams, Michael Paul. "Getting to Know: Jackson Ward." Richmond Times-Dispatch, Richmond Times Dispatch, 17 Oct. 2016, www.richmond.com/discover-richmond/getting-to-know-jackson-ward/article_a1a487b1-e2ab-5a50-8f4c-efaec150582c.html.
Willis, Samantha. "A Haven on the Deuce." Richmondmagazine.com, Richmod Magazine, 29 Aug. 2016, richmondmagazine.com/news/features/a-haven-on-the-deuce/.
Additional Information