Saenger Theatre
Introduction
Built in 1929, Saenger Theatre is a historic entertainment venue in downtown Biloxi. It was erected by brothers Julian and Abraham Saenger, who were based in New Orleans and operated a large chain of theaters in the U.S., Puerto Rico, Jamaica, Panama and Cuba. In terms of architecture, the theater was designed in the Classical Revival style. The main facade of the building features four stone Ionic pilasters (columns) supporting a stone entablature, decorative brickwork, four stone urns, and the large theater sign. As of early 2021, the theater appears to be closed for renovation.
Images
Saenger Theatre was built in 1929 and remains an enduring cultural landmark in Biloxi.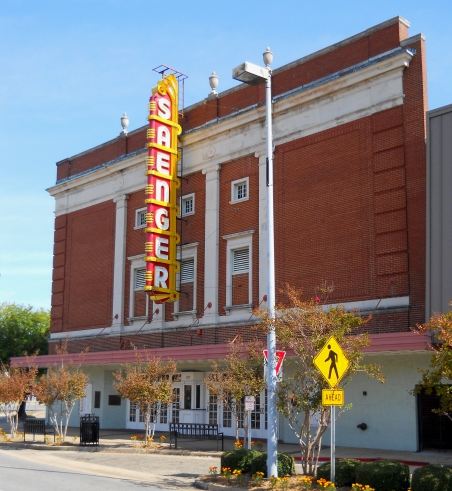 Backstory and Context
Before the Saenger brothers got into the theater business they operated the family drug store in Shreveport, Louisiana. They built their first theater (The Saenger) in New Orleans in 1911 and established the Saenger Amusement Company the next year. Initially, the theater hosted vaudeville acts but after a year the brothers started showing short movies as well. In the coming years, the company grew steadily. The brothers built theaters in neighboring states and bought a competitor called the Fichtenberg Amusement Company. Over time, the company grew to over 300 theaters and expanded abroad.
The Saenger Theatre in Biloxi was designed by architect Roy A. Benjamin. When it opened, it could seat 1,500 seats (one source states 1,245 seats) and apparently had excellent acoustics. Other notable features included three levels of dressing rooms and a backstage electric control panel. In addition to films, the theater hosted traveling shows and vaudeville acts. Eventually, films became the dominant form of entertainment at the theater. This continued until 1974 when a fire forced it to close. The city acquired the building the next year and began to renovate it. It became a contributing property of the Biloxi Multiple Resource Area, which was added to the National Register of Historic Places in 1983. The theater sign was installed in 2001 and is a duplicate of the original. Over the years, the theater has hosted a variety of concerts, performances, and community events.
Sources
Brunt, Julian. "Saenger Biloxi Theatre." Cinema Treasures. Accessed January 9, 2021. http://cinematreasures.org/theaters/929.
"Saenger Theatre." City of Biloxi. Accessed January 9, 2021. https://biloxi.ms.us/residents/parks-recreation/facilities/Saenger-Theater.
Cody Wild and Kathryn O'Dwyer. "Saenger Amusement Company." New Orleans Historical. Accessed February 9, 2021, https://neworleanshistorical.org/items/show/967.
Landry, Chet. "Historic Saenger Theater still slated for renovations." WLOX. June 16, 2019. https://www.wlox.com/2019/06/17/historic-saenger-theater-still-slated-renovations.
P'Pool, Ken. "Saenger Theater." State of Mississippi Historic Sites Survey. April 20, 1983. https://npgallery.nps.gov/GetAsset/d37cb608-a832-4296-a8ed-328eb6a8a761.
Image Sources
Wikimedia Commons: https://commons.wikimedia.org/wiki/File:SaengerTheater_Biloxi.jpg

Additional Information