Farmington No. 9 Mine Memorial
Introduction
The memorial honors the 78 miners killed in an explosion on November 20, 1968.
Images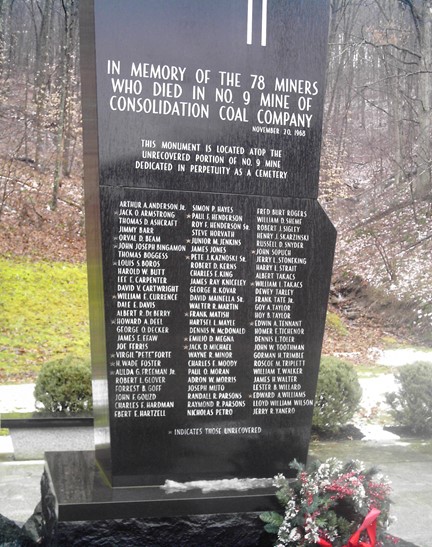 Backstory and Context
On November 20, 1968, a catastrophic explosion rocked the Consol No. 9 coal mine outside of Farmington, West Virginia. Seventy-eight miners perished in that accident. While the cause of the explosion was never determined, it served as a catalyst for a series of landmark mine safety laws that were passed to protect miners.
In 1969, the Federal Coal Mine Health and Safety Act mandated regular inspections of coal mines and fines for all violations found. Eight years later, in 1977, the Federal Mine Safety and Health Act strengthened and expanded rights for miners, required mine rescue teams to be established, and created the Mine Safety and Health Administration.
In 1968, 311 coal miners lost their lives in work-related accidents. Another 182 miners were killed in metal and nonmetal mining accidents. And annual mining fatalities continued to be measured in the hundreds for more than a decade.
Mine safety has improved significantly since then, not only because of the laws and regulations that were passed, but also because of the efforts of industry and changing mining practices. These days, total mine fatalities are measured in the low double digits.
The list of those who died are as follows (an asterisk ( * ) indicates the unrecovered):
Arthur A. Anderson Jr.
Jack O. Armstrong*
Thomas D. Ashcraft
Jimmy Barr
Orval D. Beam*
John Joseph Bingamon*
Thomas Boggess
Louis S. Boros*
Harold W. Butt
Lee E. Carpenter
David V. Cartwright
William E. Currence*
Dale E. Davis
Albert R. DeBerry
George O. Decker
Howard A. Deel*
James E. Efaw
Joe Ferris
Virgil "Pete" Forte*
H. Wade Foster*
Aulda G. Freeman Jr.*
Robert L. Glover
Forrest B. Goff
John F. Gouzd
Charles F. Hardman
Ebert E. Hartzell
Simon P. Hayes
Paul F. Henderson*
Roy F Henderson Sr.
Steve Horvath
Junior M. Jenkins*
James Jones
Pete J. Kaznoski Sr.*
Robert D. Kerns
Charles E. King
James Ray Kniceley
Charles Korsh Jr.
George R. Kovar
David Mainella Sr.
Walter R. Martin
Frank Matish*
Hartsel L. Mayle
Dennis N. McDonald
Emilio D. Megna*
Jack D. Michael*
Wayne R. Minor
Charles E. Moody
Paul O. Moran
Adron W. Morris
Joseph Muto
Randall R. Parsons
Raymond R. Parsons
Nicholas Petro
Fred Burt Rogers
William D. Sheme
Robert J. Sigley
Henry J. Skarzinski
Russell D. Snyder
John Sopuch*
Jerry L. Stoneking
Harry L. Strait
Albert Takacs
William L. Takacs*
Dewey Tarley
Frank Tate, Jr.
Goy A. Taylor
Hoy B. Taylor
Edwin A. Tennant*
Homer E. Tichenor
Dennis L. Toler
John W. Toothman
Gorman H. Trimble
Roscoe M. Triplett
William T. Walker
James H. Walter
Lester B. Willard
Edward A. Williams*
Lloyd William Wilson
Jerry R. Yanero
Pete Zogel, Jr.
Sources
https://www.msha.gov/mine-disaster-1968-farmington-explosion-anniversary
https://marioncvb.com/company/farmington-no-9-mine-disaster-memorial/
http://www.wvculture.org/history/disasters/farmington03.html
Additional Information