Statue of a Coal Miner at Mary Lou Retton Youth Park
Introduction
The life size statue of a coal miner to honor coal miners in each county who lost their lives in West Virginia. Stone structures of each county surround the statue of a "coal miner who lost his life in the mine."
Images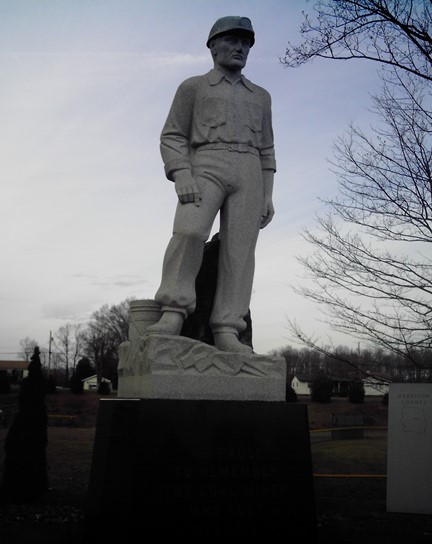 Backstory and Context
Mining is a dangerous profession overall, but between 1890 and 1912, West Virginia mines had the highest miner death rates in the country. During World War I, West Virginia miners faced higher death rates than even soldiers in the American Expeditionary Force fighting in Europe.
Many West Virginians soon became part of an economic system controlled by the coal industry. Miners worked in company mines with company tools and equipment, which they were required to lease. The rent for company housing and cost of items from the company store were deducted from their pay. The stores themselves charged over-inflated prices, since there was no alternative for purchasing goods. To ensure that miners spent their wages at the store, coal companies developed their own monetary system. Miners were paid by scrip, in the form of tokens, currency, or credit, which could be used only at the company store. Therefore, even when wages were increased, coal companies simply increased prices at the company store to balance what they lost in pay.
Miners were also denied their proper pay through a system known as cribbing. Workers were paid based on tons of coal mined. Each car brought from the mines supposedly held a specific amount of coal, such as 2,000 pounds. However, cars were altered to hold more coal than the specified amount, so miners would be paid for 2,000 pounds when they actually had brought in 2,500. In addition, workers were docked pay for slate and rock mixed in with the coal. Since docking was a judgment on the part of the checkweighman, miners were frequently cheated.
In addition to the poor economic conditions, safety in the mines was of great concern. West Virginia fell far behind other major coal-producing states in regulating mining conditions. Between 1890 and 1912, West Virginia had a higher mine death rate than any other state. West Virginia was the site of numerous deadly coal mining accidents, including the nation's worst coal disaster. On December 6, 1907, an explosion at a mine owned by the Fairmont Coal Company in Monongah, Marion County, killed 361. One historian has suggested that during World War I, a U.S. soldier had a better statistical chance of surviving in battle than did a West Virginian working in the coal mines.
In response to poor conditions and low wages in the late 1800s, workers in most industries developed unions. Strikes generally focused on a specific problem, lasted short periods of time, and were confined to small areas. 
The Mary Lou Retton Youth Park, located in Fairmont, WV off of Mary Lou Retton Drive and Old Monongah Road, is named after the 1984 Olympic gold medalist from Marion County. Included in its rolling 25-acre area are a wealth of facilities, such as five baseball fields, one football field, basketball court, picnicking areas, playground and swings, restroom facility, pavilion, and the North Central West Virginia Miner's Memorial. The park is also home to the Fairmont Senior High School baseball team, Fairmont Little League, and the American Youth Football Association.
Sources
https://www.npr.org/series/5133863/west-virginia-mining-disasters
http://www.wvgenweb.org/wvcoal/txt.html
https://marioncvb.com/company/coal-miner-monument/
http://pages.swcp.com/~dhickman/wvcmf/wvcmf.html
http://www.wvculture.org/history/archives/minewars.html
Additional Information