A.C. Smith Building
Introduction
The A.C. Smith Building was built in 1894 and named after its patron, A.C. Smith. Smith was a local merchant who was well-established in the broader Clarksburg community. From 1895 until the 1930s, the building housed the Smith, Brown, & Company Dry Goods Store. Since then the structure has been rented to a number of local businesses. Architecturally, the A.C. Smith Building is remarkably ornate. Though the palette is confined to a deep muted blue, almost every free inch of the façade is covered in Italianate leaf moldings. Bounded in the top cornice are letters spelling "A.C Smith." The first-floor storefront has been slightly altered over the years, though the upper floors appear the same as they did in the early twentieth century.
Images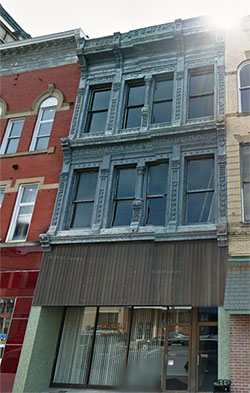 Sources
Pauley, Michael J. Clarksburg Downtown Historic District, National Register of Historic Places. February 17th 1982. Accessed March 26th 2021. http://www.wvculture.org/shpo/nr/pdf/harrison/82004794.pdf.
Image Sources
Clarksburg Visitors' Bureau. Accessed March 26th, 2021. https://www.clarksburgvisitorswv.com/historicbuildings.aspx.