Merchants Bank Building
Introduction
The Merchants and Mechanics Bank was established as a branch of a bank in Wheeling in 1860, and was originally housed in a storefront of the Despard Block. In 1894, the Merchants Bank building was constructed and included three storerooms, all of which are still in their original state today. The Merchants Bank building is a striking New-Romanesque Revival structure, significant for its architectural integrity. In 1961, Merchant Bank's assets were purchased by Union Bank, and the building was then purchased by its present namesake, Community Savings and Loans.
Images
The Merchants Bank Building, now known as the Community Bank Building.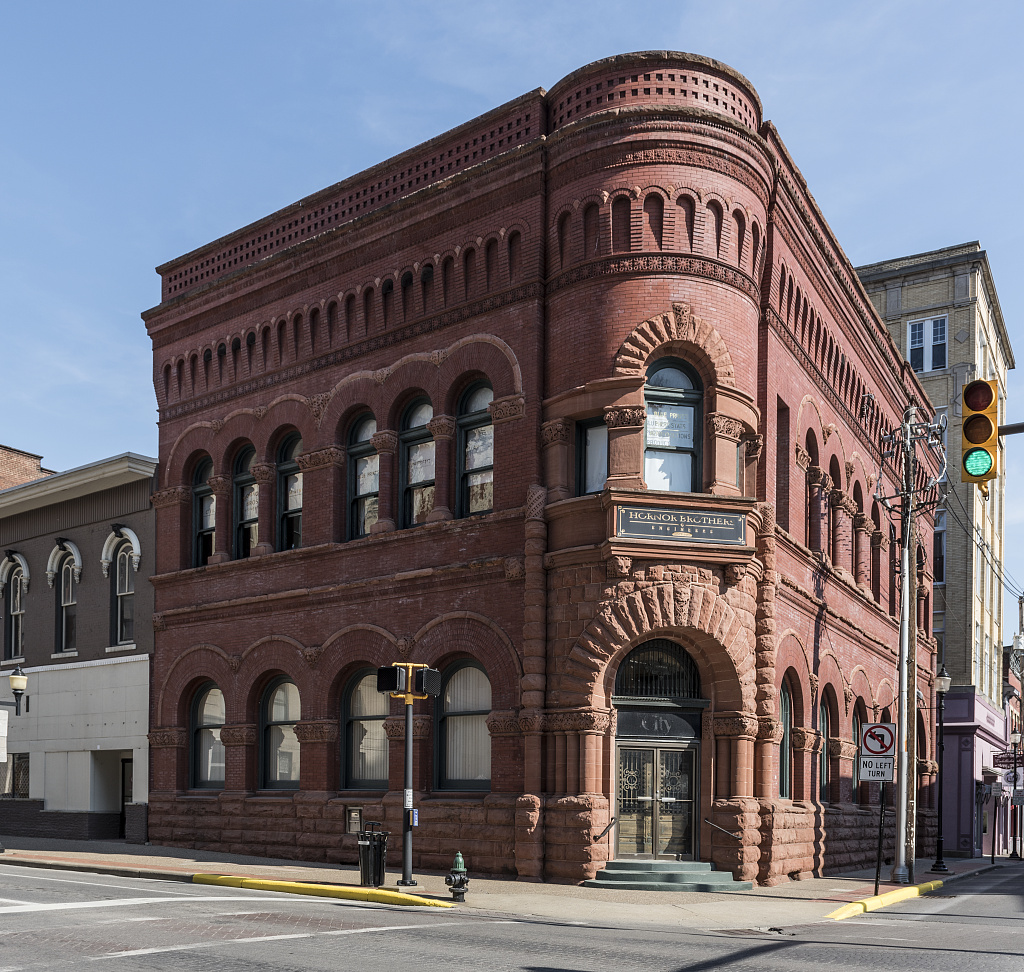 The Merchants Bank Building in 1902, prior to expanding.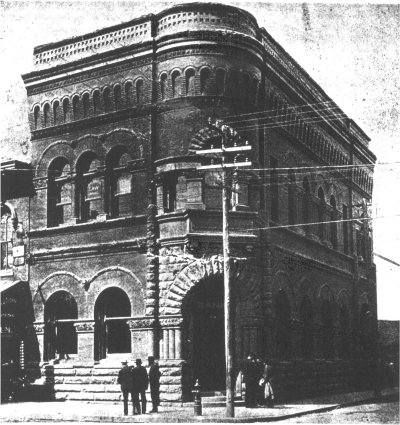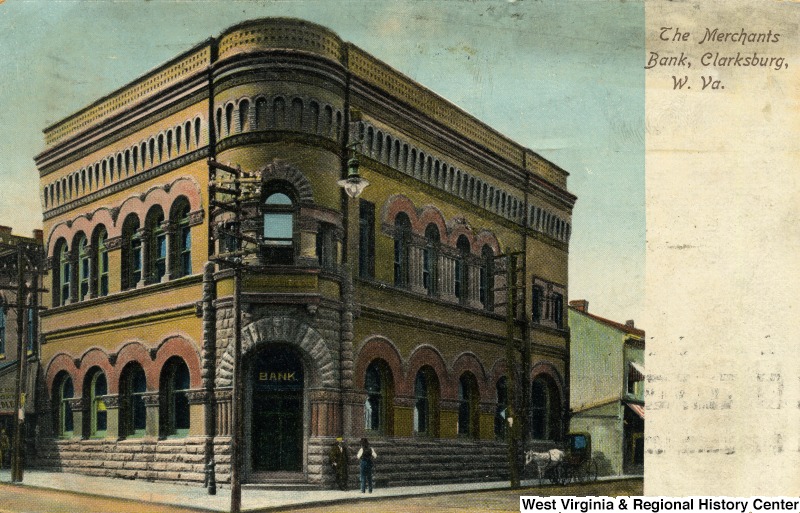 The interior of the Merchants Bank Building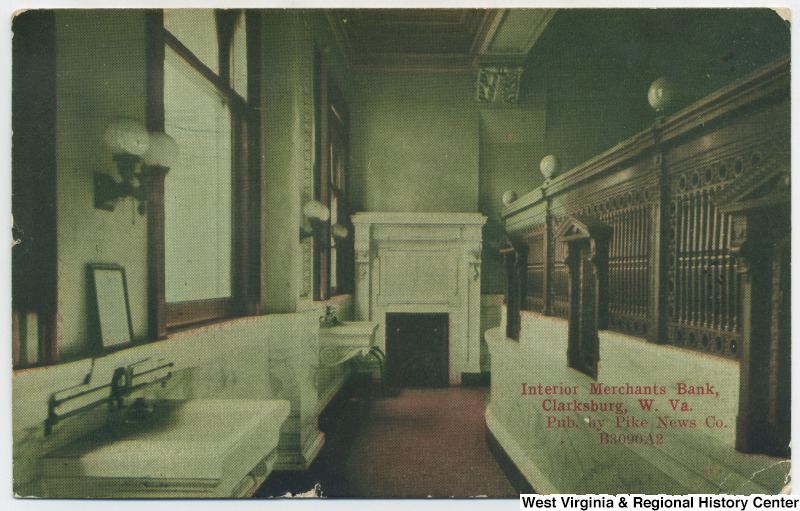 An advertisement for the Merchants National Bank from 1902.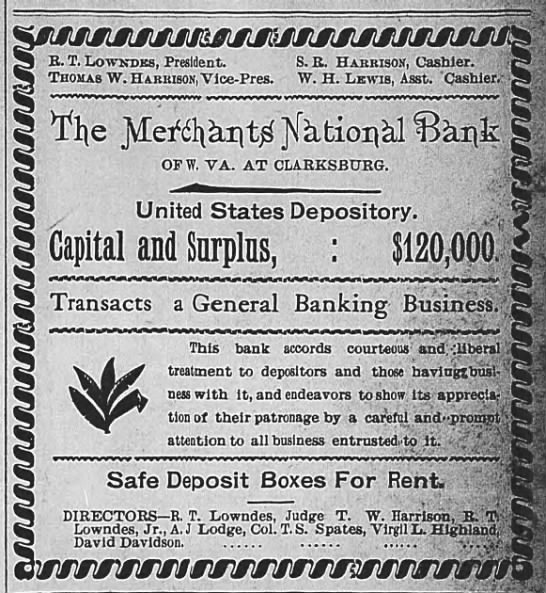 Backstory and Context
J.G. Jackson of Clarksburg, then Virginia, was the attorney for the Muskingum Bank in Zanesville, Ohio in 1814, and also owned stock in the Bank of Marietta in Marietta, Ohio. Jackson was aware that a charter to establish a bank in Clarksburg would be in the files of the assembly in Richmond due to the salt works in the area. The Virginia Saline Bank was established by Benjamin Wilson Jr. and John Webster in a stone building on the south side of West Main Street between Water and Second Streets in Clarksburg in 1812. Jackson joined Wilson and Webster to promote his investment in salt works in Clarksburg, and to strengthen a bank that was three hundred miles away from the state capital. The Virginia Saline Bank served as a wildcat bank, a bank that was chartered by state law without any federal oversight. However, it was eventually sued by the United States because the bank had no funds. 
When a bank in Wheeling received a charter from the Virginia Assembly, a bank branch was established in Clarksburg in 1860 under the name of Merchants and Mechanics Bank. Nathan Goff served on the Merchants and Mechanics Bank board with Luther Haymond as the cashier. When Clarksburg was threatened with invasion by the Confederate Army during the Civil War, Luther himself carried assets and records of the bank to Grafton for safe-keeping.
Merchants Bank has existed on the same block in Clarksburg since its establishment in 1860; the first location of Merchants Bank was in a storeroom in the Despard Block. The Merchants Bank Building was constructed in 1894 on the corner of the Despard Block, at the junction of West Main and Third Streets. Charles L. Hickman, a prominent Clarksburg architect who was a founder of the National Council of Architectural Registration Boards, designed the building. The three-story structure is built in a Neo-Romanesque Revival style. This style is exemplified by large, rough-cut masonry, rich brick tones, rounded arches, and decorative dentils, all of which can be seen on the Merchants Bank Building. The building's location on a street corner allows for its unique defining feature, a rounded entryway facade. 
The Union Bank purchased the assets belonging to Merchants Bank in 1961, and the building was sold to Community Savings and Loan. The Merchants Bank building, now the Community Bank building, has retained an integrity of function as it continues to serve as the home for local Clarksburg banks. In addition to its economic role in Clarkburg's history, the structure is also an architecturally striking Neo-Romanesque Revival building.
Sources
Chambers, S Allen. Clarksburg, SAH Archipedia. January 1st 2012. Accessed March 23rd 2021. https://sah-archipedia.org/essays/WV-01-0007-0005-0001.
Community Bank & Trust, Clarksburg, WV. Accessed February 01, 2017. http://www.thinkalphafirst.com/artwork.php?art_id=8.
Davis, Dorothy. Clarksburg: A Bicentennial Album 1785-1985. Clarksburg, WV. Clarksburg Bicentennial Committee, 1986.
Historic Sites, Clarksburg. Accessed March 23rd 2021. http://www.clarksburg.com/historic.htm.
Pauley, Michael J. Clarksburg Downtown Historic District, National Register of Historic Places. February 17th 1982. Accessed March 23rd 2021. http://www.wvculture.org/shpo/nr/pdf/harrison/82004794.pdf.
Image Sources
Newspapers. Accessed March 30th 2021. https://www.newspapers.com/clip/31132664/the-clarksburg-telegram/.

Additional Information