Shaare Sholem Cemetery
Introduction
Shaare Sholem is a Jewish cemetery primarily serving the Jewish community of eastern european descent. The oldest burials date back to the late 1890's.
In the late 1880s St. Joseph had a large influx of Jewish immigrants from Russia who were fleeing the anti-Semitic violence that was washing across Eastern Europe at that time. This conservative community quickly founded Shaare Sholem temple, and in the 1890s they established the Shaare Sholem cemetery. In 1919, the congregation purchased an additional tract of land with plans to expand the size of the cemetery; however, neighboring residents objected to the expansion and the debate became quite heated. In 1949, architect Eugene Meier released the sketches for the chapel which was dedicated as the David Friedman Chapel in 1963. This community flourished and grew in St. Joseph for several decades and as one walks through the well-kept grounds you see many familiar names on the stones. Though most of the members of St. Joseph's once large Jewish community have left the city, some come back in death and many are buried at Shaare Sholem. 
Images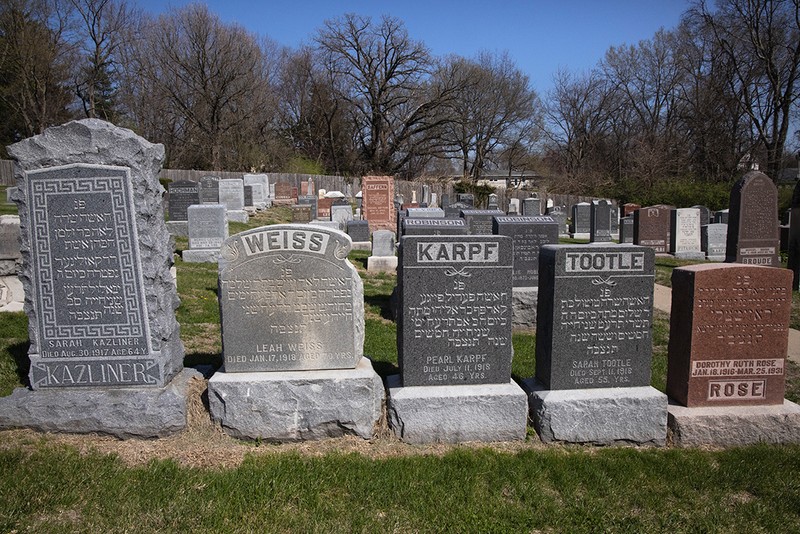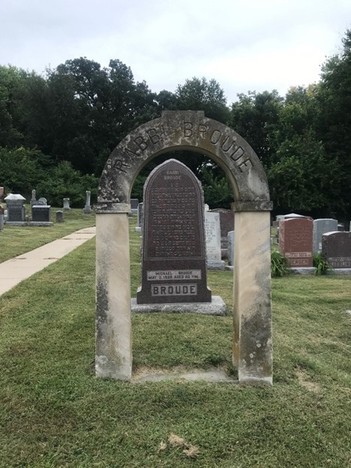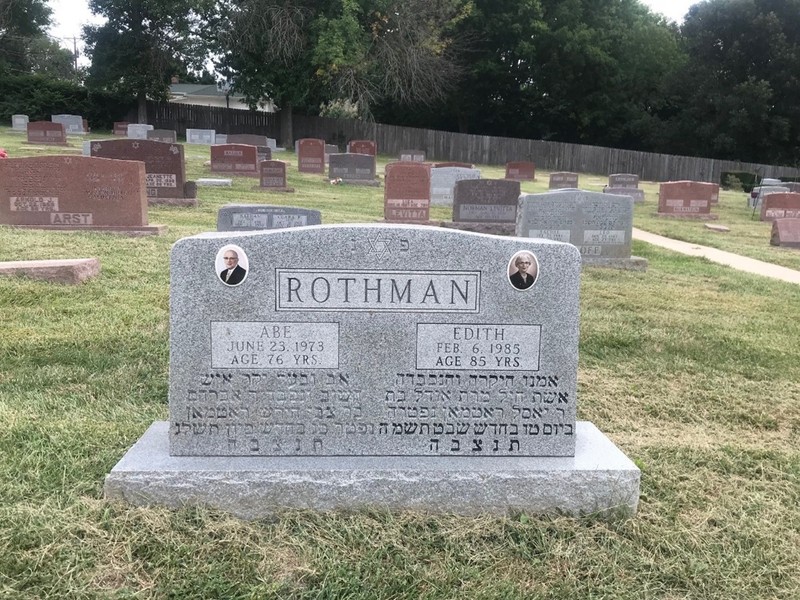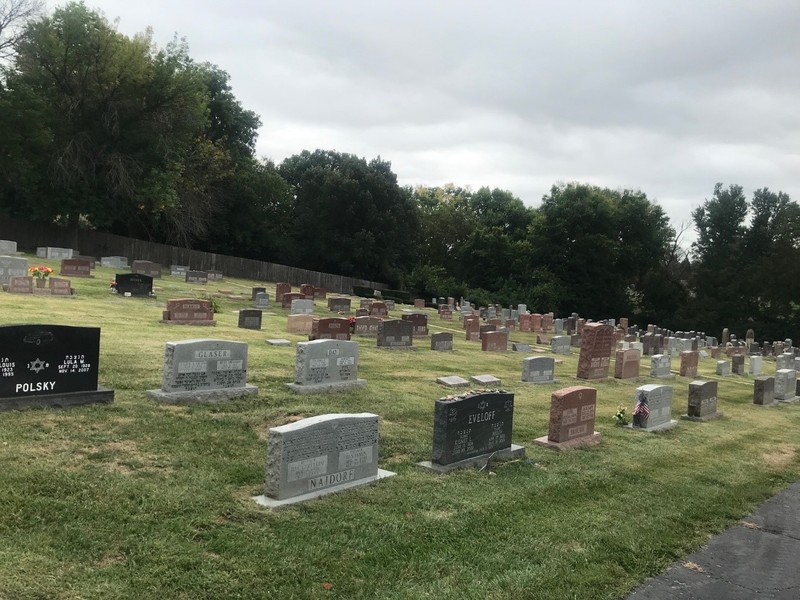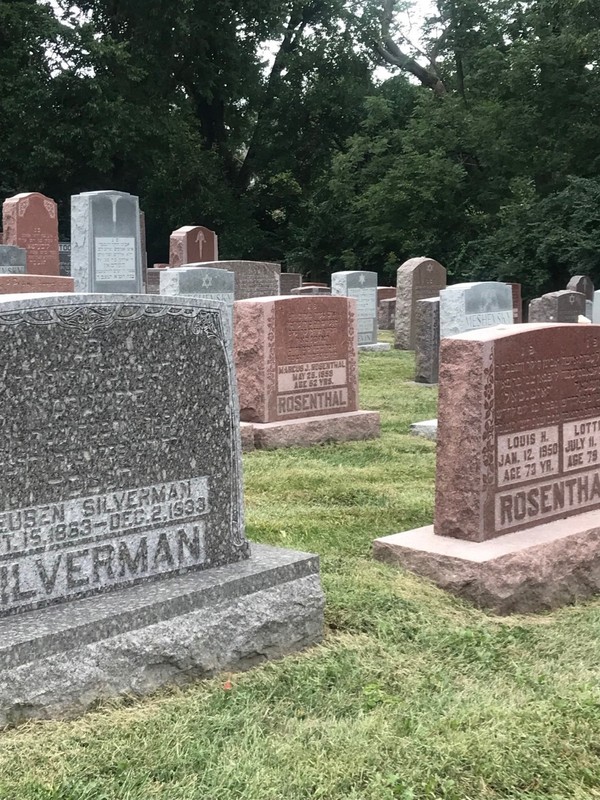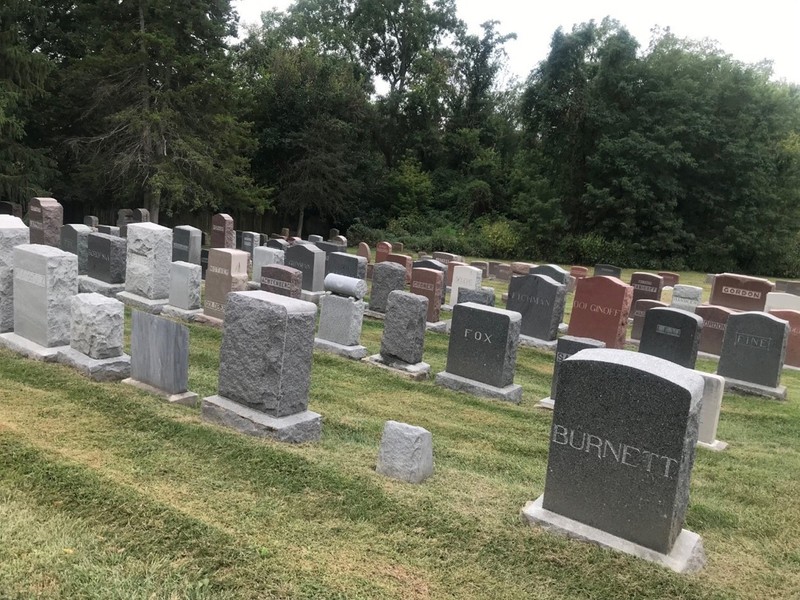 Backstory and Context
In the Late 1880's Jewish immigrants primarily from Russia began arriving in St. Joseph, fleeing waves of violent anti-Semitism that washed across Eastern Europe. This community quickly founded the conservative Jewish temple of Shaare Sholem. With this temple came the development of Shaare Sholem cemetery in the mid 1890's. Despite humble beginnings as refugees, this community flourished within St. Joseph for many years, and this is evident when walking through the cemetery. While rather modest in design, the headstones are often impressively large. One will also see many familiar names associated with prominent businesses in town, such as Einbender or Leibowitz (which is still in business today.) 
Many of the individuals associated with the Felix Street Commercial Corridor and the 600 Block of S. 10th Street entries are buried at Shaare Sholem. Those who had businesses on Felix Street are Abe Leibowitz, Jacob Rositzky, Jacob Saferstein, Abraham and Sylvia Einbender, and Joseph and Lillian Optican. The neighbors on S. 10th Street who have graves here are Esther Kalis, the Dolginoff family, the Gordon family, the Borofsky family, and Harry Vegder.
Others of note who are buried here include Rabbi N. Braude and Rabbi H.D. Borofsky.
While both cemeteries are aesthetically quite different, one will notice several commonalities that are typically not seen outside of Jewish cemeteries. Many headstones will have small rocks or pebbles placed on top of them. This is a practice done to show respect, and to remind the dead that the living have not forgotten them. The other is the Cohanim or Kohanim hands. These hands are a symbol of the priestly tribe of Aaron, Moses' brother, which is passed down from generation to generation. The Cohanim is depicted as two hands joined at the thumbs, and sometimes forefingers.   
Sources
Kim Schutte. Eastern European Immigration Patterns. 
https://www.cbtbi.org/wp-content/uploads/2016/10/Guide-to-Jewish-Cemetery.pdf
Douglas Keister, Stories in Stone (New York: MJF Books, 2004), 157. 
"Property Owners Protest," St. Joseph News Press, Feb. 3, 1919.
"Property for Cemetery," St. Joseph News Press, July 11, 1919.
"No More Cemeteries Allowed Within City," St. Joseph News Press, Sept. 20, 1922.
"To Unveil Monument," St. Joseph News Press, May 1, 1930.
"Rabbi H.D. Borofsky Will Be Buried This Afternoon," St. Joseph News Press, July 13, 1930.
"Shaare Sholem Congregation to Build Chapel, St. Joseph News Press, Nov. 20, 1949.
"Dedication for Chapel," St. Joseph News Press, April 24, 1963.