Maxwell Family Cemetery
Introduction
Founded in the mid 1800's, this cemetery served the pioneer Maxwell family. The Maxwell's were original settlers of the St. Joseph area, arriving shortly after the Platte Purchase. The church, road, and cemetery are all named after this original family. The cemetery is still used by descendants of the family.
Images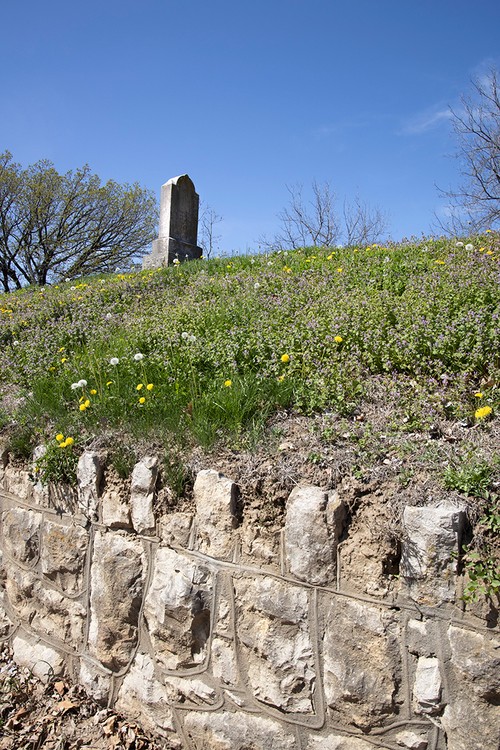 Backstory and Context
In 1837, 24 year old Logan Maxwell, his 19 year old wife Sarah, and their infant daughter traveled by wagon to an area 2 miles north of what is now Krug Park. The only other settler nearby was Joseph Robidoux at what was known as Blacksnake Landing, later St. Joseph. The Platte Purchase had only taken place the year prior, so the land had yet to be surveyed and there was no Land Office yet established. Logan claimed his land essentially using squatter's rights, and soon built a log cabin that would stand until the late 1920's. Logan's brother, James, came the following year, and a third brother, Edward, followed shortly after. The Maxwell brothers claimed adjoining plots of land, and became the first in the area to grow tobacco. It is said that the brothers dried their tobacco in a shed owned by Robidoux, burying the money they earned selling it to an itinerant preacher passing through. Once the land office in Plattsburg opened in 1843 the Maxwell's were able to legally purchase their land.
The cemetery has been used by the Maxwell family since the mid 1800's, and is still in use today- the latest burial being in 2004. Over 80 members of the Maxwell family are buried there. One of the earliest burials in the cemetery is that of little Tobie Maxwell, infant son of Logan and Sarah. Edward S. Maxwell, another son of Logan and Sarah, was a member of the Paw Paw Militia during the civil war.
The neighborhood that developed around the Maxwell's is now known as Maxwell Heights, and the family had a lasting effect on the community. Devout Presbyterians, the Maxwell's founded Oak Grove Presbyterian Church, which is now Maxwell Heights Presbyterian that stands on Maxwell Road across from the cemetery. Logan Maxwell also helped develop a school which was in use until it was replaced with Lindbergh Elementary.
Sources
Maxwells Have Deep Roots in City's History, St. Joseph News-Press, (St. Joseph, MO) 7/8/1989
Relic of Early Days, St. Joseph News-Press, (St. Joseph, MO) 2/5/1927
Maxwells Have Deep Roots in City's History, St. Joseph News-Press, (St. Joseph, MO) 7/8/1989
Portrait and Biographical Record of Buchanan and Clinton Counties, Missouri; Containing Biographical Sketches of Prominent and Representative Citizens, Together with Biographies and Portraits of All the Presidents of the United States, 654-55. Chicago: Chapman Bros., 1893
Additional Information