Squires Hall
Introduction
Squires Hall has stood at the University of North Dakota since 1964. It was named in honor of former Dean of the College of Liberal Arts Vernon Squires in 1964.
Images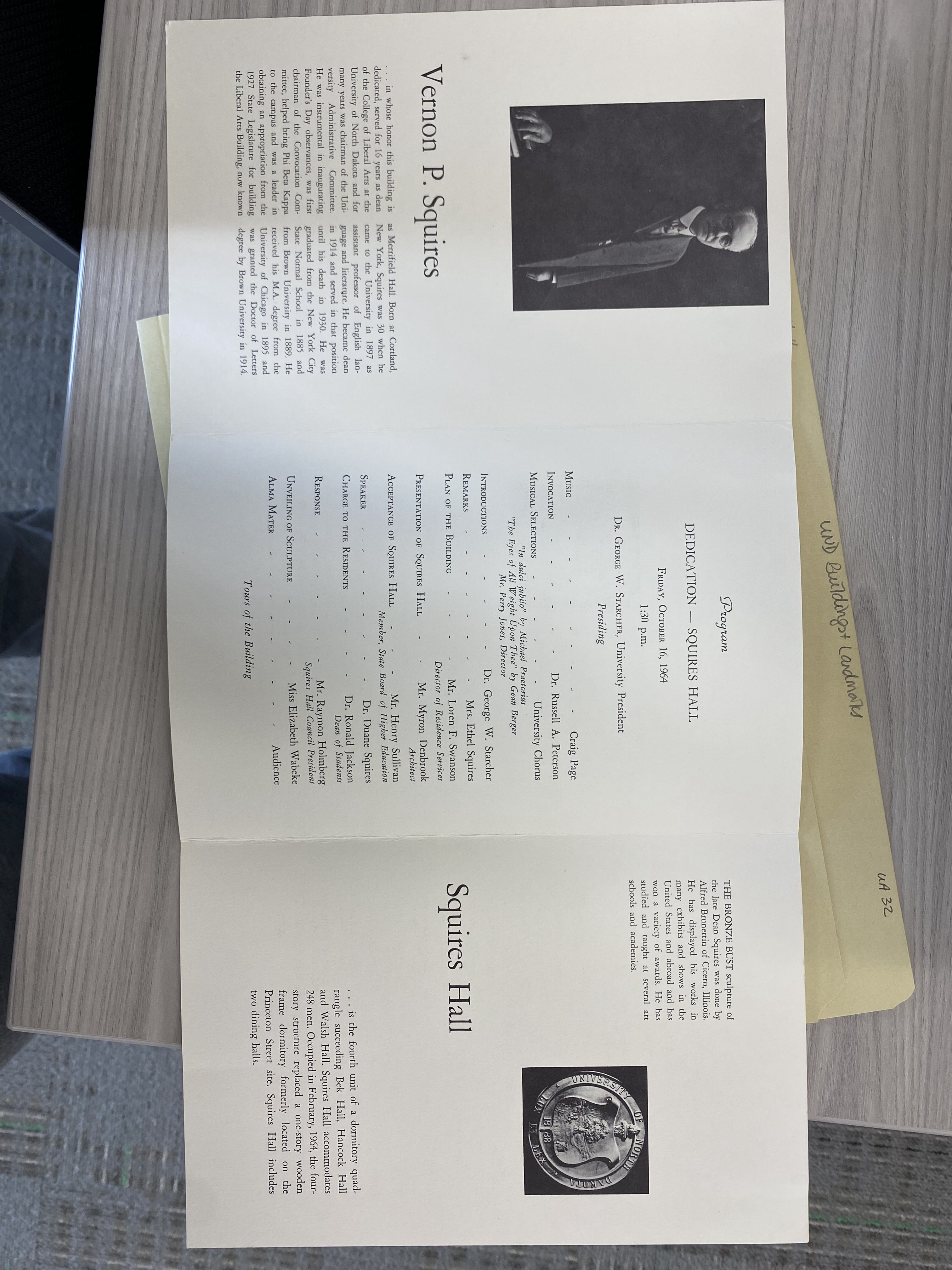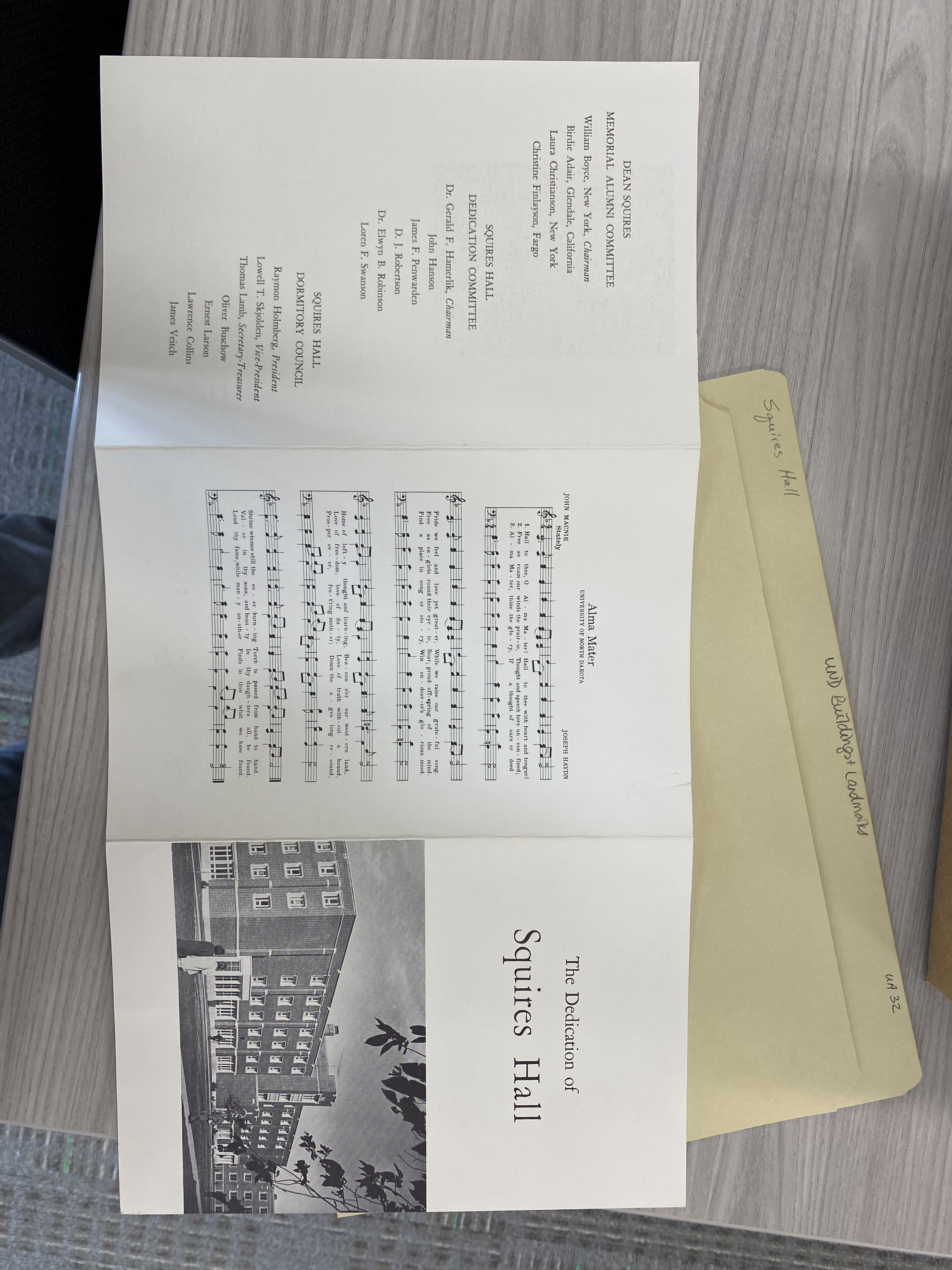 Backstory and Context
Vernon Purinton Squires was born on November 4, 1866, in Cortland, New York. He received a B.A. from Brown University in 1889 and a M.A. from the University of Chicago in 1895. He joined the faculty of UND as an Assistant Professor of English in 1897. He was Dean of the College of Liberal Arts from 1915. He met his wife from University of North Dakota when he was a professor and Ethel was a student. Together they had 2 daughters, Emily and Hope, and four sons: J. Duane, Vernon, Alden and Donald. All but Donald graduated from UND. Vernon later died on August 16, 1930.
Ethel Claire Wood, wife of Vernon Purinton Squires, was born in Sandwich, Illinois, on March 27, 1882. When Ethel was born her family moved to Wahpeton, North Dakota. She graduated as valedictorian from Wahpeton High School in 1899. She next attended the University of North Dakota. Her first day at UND was her first day in Grand Forks. She was very confused and lost finding her way throughout campus so she asked directions from a young man picking up mail for UND at the train station. The young man happened to be Vilhjamur Stefansson, who would later become a famous Icelandic Artic explorer and ethnologis. Steffansson showed her where the President Merrifield's office was. Later she found out her freshman English teacher was Vernon P. Squires. A romance happened to developed and the two became engaged. Ethel graduated from UND in 1901 with a Teaching Certificate. She then taught fourth grade in Devils Lake, North Dakota. She worked in the school system until she married Vernon Squires on July 9, 1902.
In 1964, Ethel delivered remarks when Squires Hall was officially dedicated in memory of her husband. Vernon left an honor and legacy at the University of North Dakota with many achievements. He took on many roles and jobs within the school. Vernon was the Chairman for many years as the University of Administrative Committee for North Dakota. Vernon also helped bring Phi Beta Kappa to campus and was the leader in obtaining an appropriation from the 1927 State Legislature for building the Liberal Arts building, which is now known as Merrifield Hall.
Squires Hall is a Collegiate Gothic style building is covered with ivy and designed for 248 beds over four floors. As of 2021, its features include:
Rooms are suite-style with two rooms sharing a sink, shower and toilet. Rooms include loftable beds, movable desks and built-in closet with movable drawers. Squires is located along the Bekyard, the quad within the Squires/Bek/Walsh residence halls. It also has a dining center on the main level with easy access for all student meals. Common areas include study lounges, TV areas, gaming, a piano and fireplace. Kitchenette, laundry and vending are located on the second level. The features insides of squires include Oak bed frame that adjusts to various levels including loft height. Railing and ladder available from hall office. Mattress size is 36" x 80" (extra-long twin).
Moveable desks with shelving unit. (Desk dimensions 42" by 30" by 24")
Built-in closet and storage space
Wireless and hard-wired internet access in all rooms
Weight room and kitchenette on main floor
Free laundry (included in the room and meal plan rate)
Microwave and study lounge on each floor
Dining Center on ground floor
Escorts needed for guests at all times
Sources
Squires, Ethel W. Papers. , 1952. Archival material.
Source: The Dedication of Squires Hall, UND Archives Buildings and Landmarks UA/032 Box 2`Folder 29: Squires Hall
Squires, Ethel W. Ethel W. Squires Papers. Grand Forks, N.D: Elwyn B. Robinson Dept. of Special Collections, Chester Fritz Library, University of North Dakota, n.d.. Internet resource.
The Phi Beta Kappa Key Vol. 2, No. 6 (JANUARY, 1915)
Additional Information