Pike Place Market Historical District
Introduction
Established in 1907, Pike Place Market continues to serve as Seattle's public market. With over nine acres of fresh food, crafts, and entertainment, Pike's Place is one of the city's most popular tourist destinations. The market is located between 1st Ave and Western Ave and Pike St. and Virginia St. There is a parking garage at 1531 Western Ave.
Images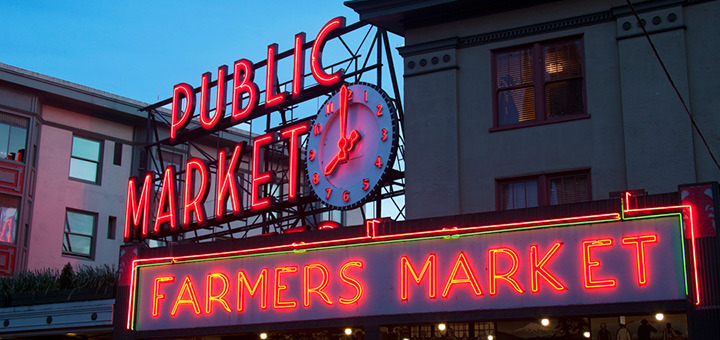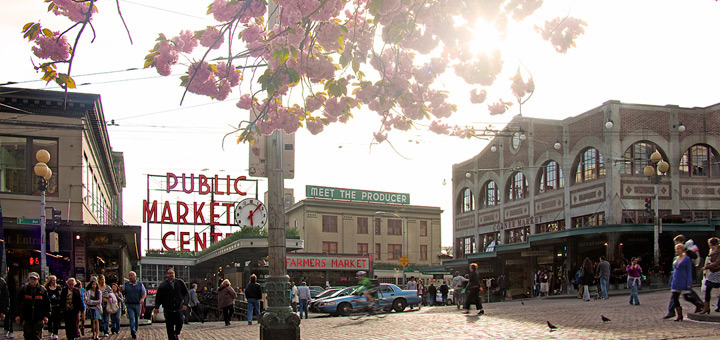 Backstory and Context
A History of Pike's Place from the official website: "At the turn of the century, Seattle was a rough and tumble place and a rapidly growing city. As the population of gold rushers, loggers, fishermen, shipbuilders and merchants grew, so did the demand for produce and goods from the city's neighboring farms. In the decade of 1890-1900, Seattle's population nearly doubled, growing from 42,000 to 80,000 citizens.
Farmers brought their vegetables, fruit, milk, dairy, eggs and meat to the city by horse drawn wagons and by ferry from the nearby islands. The goods were purchases by wholesalers, who sold the goods at a commission at warehouses on Western Ave. In this system, farmers occasionally made a profit but increasingly only broke even or lost money.
In 1906-1907, the price of produce—onions namely—soared, leaving the farmers none the richer and the citizens angry over the price gouging. The uproar led one local official to try to find a solution. In the summer of 1907, Seattle City Councilman Thomas Revelle proposed the city create a public market place where farmers and consumers could meet directly to sell and buy goods and thereby sidelining the wholesalers.
On the public market's first day, August 17, 1907, crowds of shoppers seeking fresh produce and bargains descended upon the new marketplace. The first farmer sold out of produce within minutes. Within a week, 70 wagons were gathering daily to sell along the newly named Pike Place, a wooden roadway that connected First St. to Western Ave.
Councilman Revelle's words of dedication ring true more than a century later:
"The Market is yours. I dedicate it to you and may it prove of benefit to you and your children. It is for you to protect, defend, and uphold and it is for you to see that those who occupy it treat you fairly. … This is one of the greatest days in the history of Seattle."
Developer Frank Goodwin, who had recently returned with a small fortune from the Klondike Gold Rush, saw an opportunity in the flourishing market and began construction of the permanent arcades that make up the heart of today's Market. The Market prospered during the 1920s and 1930s, and was home to a lively mix of Japanese and Italian American farmers, struggling artists, political radicals, and eccentrics.
Italian farmer Joe Desimone purchased the Market's main arcades in 1941 and guided it through World War II, when 1st Avenue attracted thousands of sailors and soldiers along with ration-book bargain hunters. As suburbs and supermarkets sprouted after World War II, the Market fell on hard times, while still supporting an eclectic community of artists and craftspeople.
When the maze of aging buildings was slated for demolition in the 1960s, architect Victor Steinbrueck rallied Seattle to "Save the Market." Voters approved a 17-acre historic district on November 2, 1971, and the City of Seattle later established the Pike Place Market Preservation and Development Authority to rehabilitate and manage the Market's core buildings."1
Sources
1. http://www.pikeplacemarket.org/history
Additional Information