Forest Park Memorial Trees
Introduction
Fifty-three oak trees were planted along Forest Park Drive in April 1919, with 17 more added in later years, to honor the young men Woodhaven lost in the First World War. The trees were at the center of annual Memorial Day parades until 1942, when the parade was rerouted to other parts of Woodhaven. Over the following decades, the celebrations involving the Memorial Trees stopped, and the trees' significance was eventually forgotten. In 2015, the Woodhaven Cultural and Historical Society rediscovered the trees and revived the tradition of tying ribbons around the many Memorial Trees still standing today.
Images
The oak trees lining Forest Park Drive.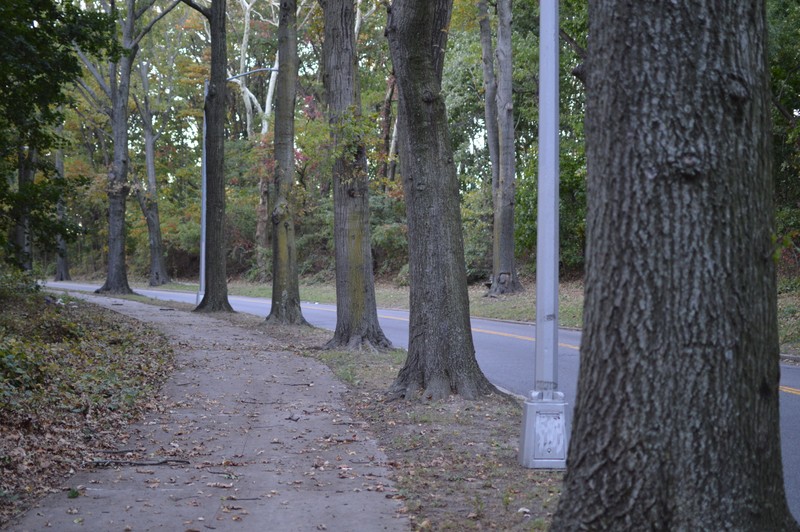 A look at Forest Park Drive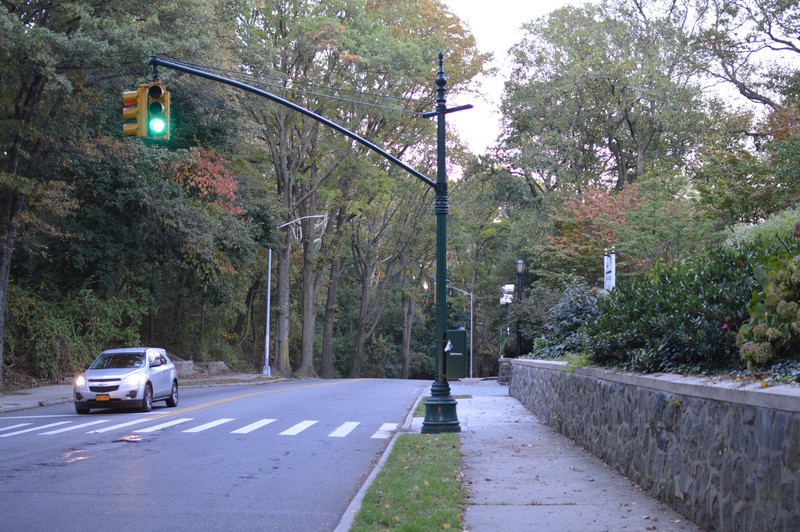 The oak trees approaching Oak Ridge
The street name signs overlooking Oak Ridge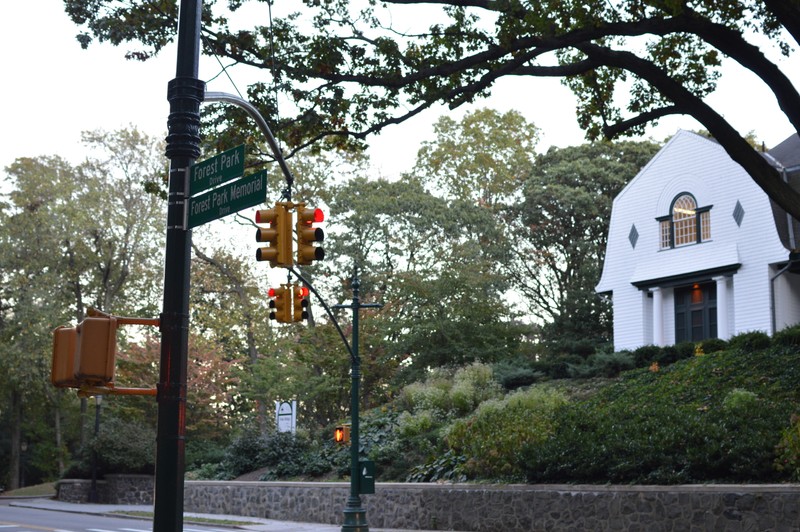 Backstory and Context
Queens' Forest Park, which borders the neighborhoods of Richmond Hill, Kew Gardens, Forest Hills, Glendale and Woodhaven, is home to the Memorial Trees on Forest Park Drive.1 In 1919, The Woodhaven War Heroes Permanent Memorial Committee, a product of the cooperation of several local organizations, met to create a plan to honor the 53 fallen Woodhaven men.2 The committee decided to plant an oak tree for each man around Forest Park's golf clubhouse. The trees would receive silver name plates, and the soldiers were to be immortalized in a granite monument with a bronze plaque containing their names. The trees were planted by the end of April, and a ceremony was held on May 11th, 1919. 17 more trees were planted in later years to include the men who had parents living in Woodhaven, or were reported, by conflicting newspapers, to have been from Woodhaven or Ozone Park or Cypress Hills.2
Subsequent Woodhaven Memorial Day parades would begin at 91st Avenue and 84th Street and end with a ceremony at the Memorial Trees, which were decorated with notes, flowers and red, white and blue ribbons.2 In the 1930s, Woodhaven Boulevard was widened from a single road to ten lanes, and this forced the Woodhaven chapter of the American Legion, a wartime veteran's organization, to move to a new address.3 The granite monument with the plaque was moved from Forest Park to the front yard of the American Legion Post 118 headquarters. From 1942, the Memorial Day parade still began at 91st Avenue and 84th Street, but instead of ending at the Memorial Trees, passed through a new World War II monument.3 The parade ended at the Post 118 building, where a Garden of Remembrance was set up in the yard, as it was dotted with white crosses.
As the parade moved away, and the community grew, the traditions and the history behind the Memorial Trees became lost. Ed Wendell, President of the Woodhaven Cultural and Historical Society, came across an article about the Memorial Trees in the Brooklyn Eagle archives.4 He read that the trees were along the part of Forest Park Drive that ran in front of Oak Ridge. Oak Ridge is the former golf clubhouse turned administrative office of Forest Park. In late 2014, Wendell was able to identify the remaining Memorial Trees by looking at an aerial photo of the area from 1924.5
After more than 70 years, the Memorial Trees were decorated for Memorial Day in 2015. The endeavor was made possible by the Woodhaven Cultural and Historical Society, American Legion Post 118 and Project Woodhaven.6 On May 20th, 2017, Forest Park Drive was officially co-named Forest Park Memorial Drive to not only honor the Memorial Trees, but the other war memorials scattered throughout the park.7
Sources
1. Roleke, John. "Forest Park, Jewel of Queens, New York." TripSavvy. July 19, 2017. Accessed October 31, 2017. https://www.tripsavvy.com/guide-to-forest-park-in-queens-2819304
2. Wendell, Ed. "Forest Park's lost WWI Memorial." Juniper Berry, March 2015. Accessed October 31, 2017. http://www.junipercivic.com/juniperberryarticle.asp?nid=1616#.WfqSZmhSzIW
3. ———. "Forest Park's lost WWI Memorial." Juniper Berry, June 2015. Accessed November 1, 2017. http://www.junipercivic.com/aboutUs.asp#.WfqSmGhSzIU
4. O'Reilly, Anthony. "Part of Woodhaven's history rediscovered." Queens Chronicle, December 11, 2014. Accessed November 1, 2017. http://www.qchron.com/editions/south/part-of-woodhaven-s-history-rediscovered/article_d20af84f-1b22-5287-917d-89fc29471fcb.html
5. Berry, Jess. "Local historian discovers Woodhaven's long-forgotten WWI memorial." Queens Ledger, December 2, 2014. Accessed October 31, 2017. http://www.queensledger.com/view/full_story/26181725/article-Local-historian-discovers-Woodhaven-s-long-forgotten-WWI-memorial
6. Giudice, Anthony. "Woodhaven Memorial Trees to be decorated in Forest Park." QNS, May 19, 2015. Accessed November 1, 2017. http://qns.com/story/2015/05/19/woodhaven-memorial-trees-to-be-decorated-in-forest-park/
7. Kern- Jedrychowska, Ewa. "Forest Park Drive To Be Renamed in Honor of Local Soldiers Who Died in WWI." DNAinfo, May 17, 2017. Accessed November 1, 2017. https://www.dnainfo.com/new-york/20170517/woodhaven/forest-park-drive-forest-park-world-war-i-soldiers-trees-monument
Image Sources
Samiha Shahreen on October 27, 2017

Samiha Shahreen on October 27, 2017

Samiha Shahreen on October 27, 2017

Samiha Shahreen on October 27, 2017

Additional Information