Greenpoint War Memorial
Introduction
The Greenpoint War Memorial stands about 17 feet tall in the center of McGolrick Park, opened in 1891, commemorates local residents that fought in World War I. Built in 1923, this "winged lady" was cast out of bronze. Though bronze is a durable material, the sculpture has seen its fair share of damage and vandalism. Nonetheless, it received constant repairs and continues to stand tall for the fallen soldiers' collective bravery and unquestionable patriotism.
Images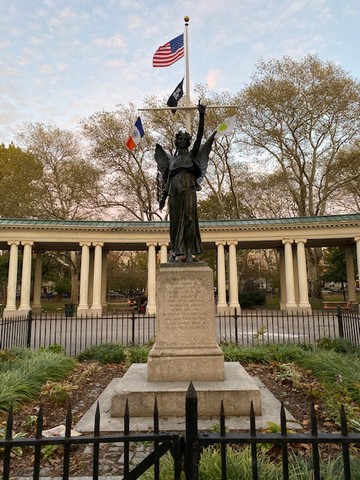 TO THE LIVING AND THE / DEAD HEROES OF / GREENPOINT / WHO FAUGHT IN THE / WORLD WAR BECAUSE / THEY LOVED AMERICA / REVERED ITS IDEALS / UNDER GOD AND / SUPPORTED ITS INSTITUTIONS / AND GAVE THEIR ALL THAT / OUR GOVERNMENT SHALL NOT / PERISH FROM THE EARTH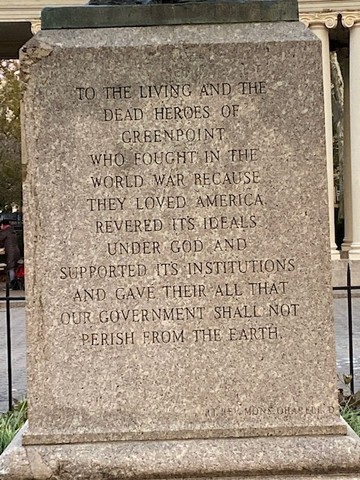 St. Mihiel (Memorial's Right)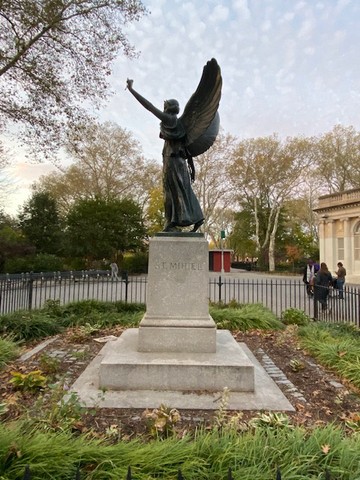 Somme | Chateau Thierpy (Memorial's Rear)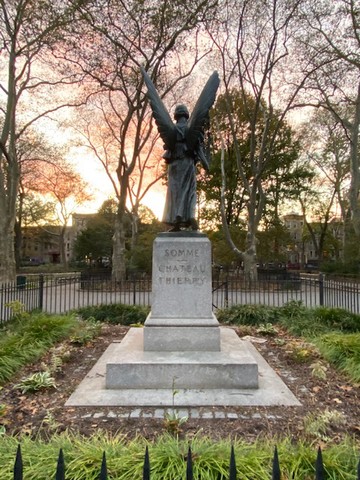 Argonne (Memorial's Left)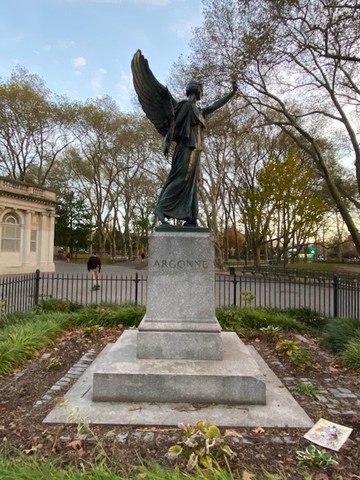 R.T. Rev. Mons. O'Harrel D.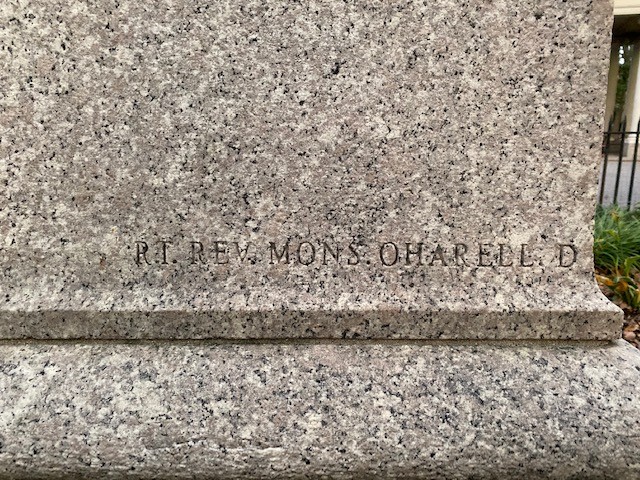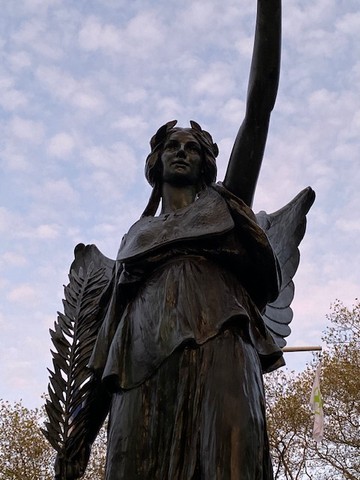 Backstory and Context
Greenpoint, as a community, contributed generously to the national war effort during World War I. One hundred fifty men sacrificed their lives and countless others returned wounded (Cobb). Although this loss was saddening, the soldiers were greatly supported by the community and its leaders. Peter McGuinness, a powerful Greenpoint resident, made sure that the young men risking their lives got the respect they deserved. His association, The Greenpoint Patriotic League, threw massive sendoff celebrations that would parade across the neighborhood. This patriotism helped him get elected as the neighborhood alderman in 1919. In 1923, he used his government power to help push the creation of the Greenpoint War Memorial (Cobb).
The neighborhood's most busy street, McGuinness Blvd, was named after him.
The winged-lady sculpture was created by German-born Carl Augustus Heber in 1923 (New York City Parks). Its bronze figure and granite base cost $7,300 (adjusted for inflation: ~ $110,000 2019 US dollars). The figure carries a laurel and palm frond symbolizing victory and peace, respectively (New York City Parks). It currently stands in the center of the park, though that was not its original location. In 1937, the sculpture was repositioned there.
In 1962, the granite base was damaged by a Christmas tree fire (New York City Parks). Moreover, in 1975 parts of the palm frond were stolen and in 1976 the sculpture was toppled (New York City Parks). Nonetheless, it was repaired and continues to serve its purpose: to commemorate the bravery and patriotism of Greenpoint's soldiers in World War I.
Sources
Cobb, Geoff. Greenpoint and World War I: Farewell Parades, Lives Lost & A Fitting Monument, Greenpointers.com. May 30th 2017. Accessed November 4th 2019. https://greenpointers.com/2017/05/30/greenpoint-world-war-farewell-parades-lives-lost-fitting-monument/.
New York City Department of Parks & Recreation. "Msgr. McGolrick Park" Nycgovparks.org.
https://www.nycgovparks.org/parks/msgr-mcgolrick-park/monuments/1052(accessed November 4th 2019).
US Inflation Calculator.
https://www.usinflationcalculator.com/(accessed November 4th 2019).
Image Sources
Patryk Dudzinski, 11/04/2019.

Patryk Dudzinski, 11/04/2019.

Patryk Dudzinski, 11/04/2019.

Patryk Dudzinski, 11/04/2019.

Patryk Dudzinski, 11/04/2019.

Patryk Dudzinski, 11/04/2019.

Patryk Dudzinski, 11/04/2019.

Additional Information