Private Sonsire Triangle
Introduction
Private Sonsire Triangle is located in the Williamsburg section of Brooklyn, New York at the cross-section of Union Avenue, Roebling Street, and North 11th Street. The Triangle contains a sign to commemorate the service and death of Private Frank Sonsire who fought for the United States Army during World War One. The Triangle was dedicated on June 6th 1938.
Images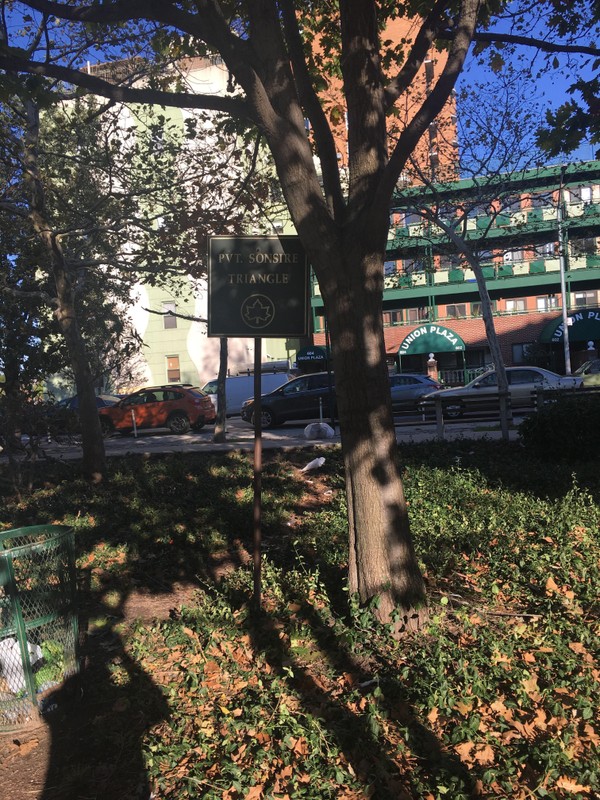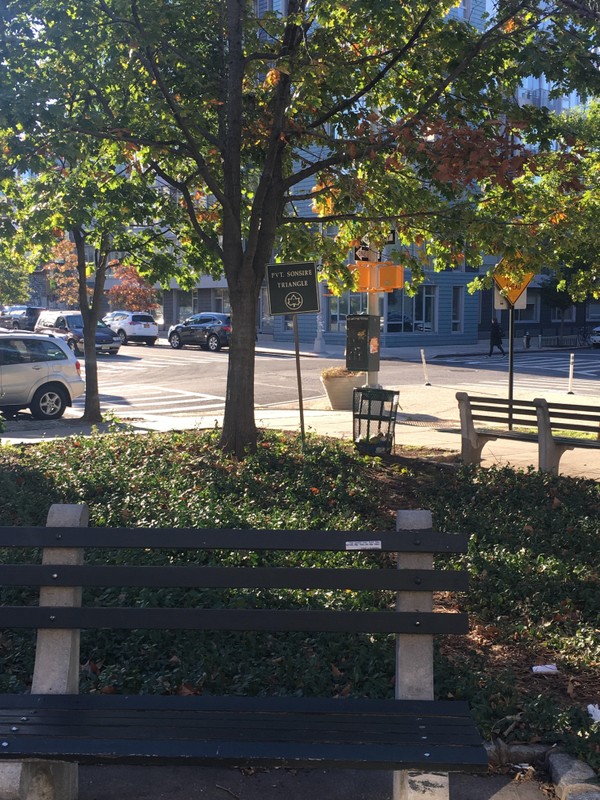 Backstory and Context
Private Sonsire (1889-1918) served in the United states Army during World War One on the Western Front. He was born in Rome, Italy on January 7th 1889 and emigrated to America with his mother Sadie. They settled down in the Williamsburg Section of Brooklyn at 233 North 5th Street. On May 28th, 1918 Frank Sonsire enlisted in the United States Army and began overseas service on July 9th 1918. He was apart of Company D, 316th infantry division and fought in the Lorraine region of France in the defensive operations of Avocourt and Proyon. His final operation was in the Battle of the Argonne in 1918. He died at this battle at Bois de Consemoye on November 9th, 1918. His death came three days after Germany requested a formal truce and two days before the Armistice that announced the conclusion of the war. The final letter received by his sister, Nancy, was written shortly before his death. It read, ""These are not tears, the paper is blurred with rain," he wrote. "We get plenty of rain in France and this letter got wet from the drops. So, don't think I am crying. Soldiers must not cry." The triangle became named in honor of him after a law ordinance transferred ownership of the Park to  the local area in 1938.
At the outbreak of the war, German-American citizens found themselves in a precarious position. Williamsburg was an area with a high concentration of German immigrants and was generally known as, "Little Germany." With the onslaught of the war, many German monuments and landmarks had their names removed. For example, Hamburg Avenue in Williamsburg had its name changed to Wilson Avenue. Along with this, many German news publications were abandoned by readers because of their marked support for Germany during peace time. From 1914 to 1919 the amount of German newspapers fell by about half and readership fell by two thirds. 
Many people with a German background attempted to downplay their German identity by displaying their patriotism for the United states. But, measures like this were not enough for some German American Citizens.  Because of the war and pressure from neighbors in the area to move because of the mistrust many Americans had against people of German decent, many German immigrants became upwardly mobile and began to move from predominantly German neighborhoods like Williamsburg to middle-class neighborhoods like Yorkville and Ridgewood. For the Germans immigrants who could not move to these middle-class neighborhoods, finding work became difficult since many American employers were suspect of people with German backgrounds.  
Sources
Daly, Michael. G.I. NOT ALONE IN SACRIFICE. June 21, 2001. http://www.nydailynews.com/archives/news/g-not-sacrifice-article-1.905013.
Pvt. Sonsire Triangle. https://www.nycgovparks.org/parks/pvt-sonsire-triangle/history.
Gustafson, Andrew. World War I and New York's German Community, Part I. September 20, 2011. http://www.urbanoyster.com/blog--old/world-war-i-and-new-yorks-german-community-part-i.
Gustafson, Andrew. World War I and New York's German Community, Part II. September 22, 2011. http://www.urbanoyster.com/blog--old/world-war-i-and-new-yorks-german-community-part-ii.
Image Sources
Kyle O'Hara (October 31, 2017)

Kyle O'Hara (October 31, 2017)

Additional Information