York Avenue
Introduction
York Avenue is located in the Upper East Side neighborhood of Manhattan, New York, New York. The street is named after one of the most famous American World War I veterans, Alvin Cullum York. York is known for his bravery in the Meuse-Argonne Offensive of 1918. After his service, York maintained a high level of notoriety including being the subject of the film with box-office success _Sergeant York_ (1941).
Images
York Avenue at 73rd Street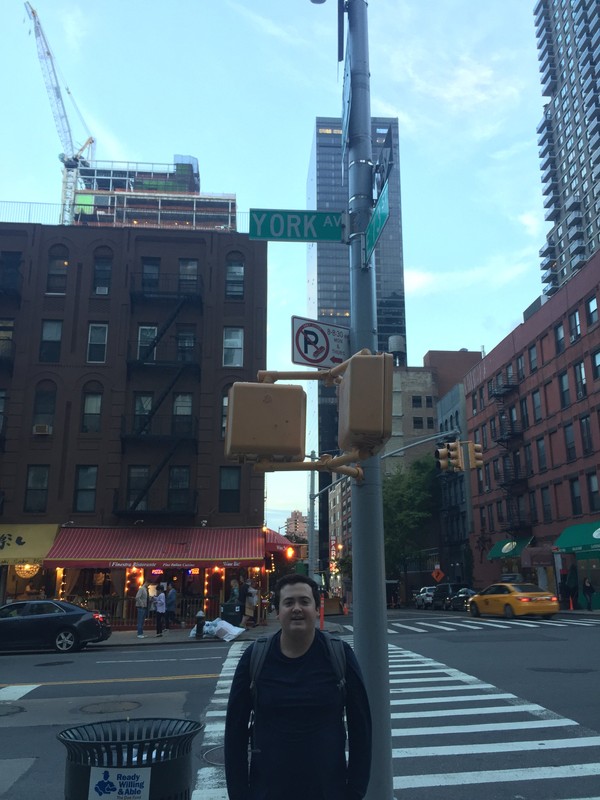 Backstory and Context
York Avenue is located in the Upper East Side neighborhood of Manhattan, New York, New York. Starting at 59th Street and extending up to 92nd Street, York Avenue is named after the American World War I veteran Alvin C. York. Dedicated in 1928, sections of Avenue A and Sutton Place were renamed York Avenue (Pollak). 
Born in Eastern Tennessee, Alvin Cullum York is best known for known for his heroics in October of 1918. Alvin York was a part Eighty-Second Division and fought in the last major Allied battle of the war, the Meuse-Argonne Offensive in Northern France. On October 8th, 1918, York is stated to have personally shot six machine gunners and killed six German lieutenants using his .45 Colt automatic pistol (Birdwell). Along with seven other soldiers, York marched one hundred thirty-two German prisoners of war back to the American Second Battalion command post. (Birdwell). For his heroics, Alvin York was awarded the Medal of Honor and the Distinguished Service Cross, along with being promoted to Sargent.
Sargent Alvin York maintained a great deal of popularity after World War I. This would not be the case if it were not for the Saturday Evening Post article by George Patullo that outlined and spread the news of York and the Eighty-Second Division's heroics (Birdwell). York became the most well known and popular American Veteran of the First World War. He spoke at Carnegie Hall, and even had a film based on his life Sergeant York (1941) (Birdwell). Sergeant York won two Oscars and was the highest grossing film of 1941 (IMDb). In addition to his notoriety, Alvin York dedicated much of his post World War I life to public education though his Alvin C. York Foundation (Birdwell).
Sources
Birdwell, Michael E. "Alvin Cullum York: The Myth, The Man, and the Legacy." Tennessee Historical Quarterly 71, no. 4 (2012): 318-39. http://www.jstor.org/stable/42628278.
Murphy, Daniel P. "Alvin York: A New Biography of the Hero of the Argonne." Journal Of American Culture 39, no. 1 (March 2016): 79-80. America: History and Life with Full Text, EBSCOhost (accessed November 1, 2017)
Pollak, Michael. "The Great Race." New York Times, August 7, 2005. Accessed October 30, 2017. http://www.nytimes.com/2005/08/07/nyregion/thecity/the-great-race.html.
"Sergeant York (1941)." IMDb. Accessed November 01, 2017. http://www.imdb.com/title/tt0034167/.
Image Sources
Pedro Rubiano (October 28, 2017)