John Purroy Mitchel Plaque
Introduction
The John Purroy Mitchel Plaque located 90th Street and 5th Avenue entrance to Central Park honors the city's youngest mayor who served in office from 1914-1917. At the easter side of Central Park's reservoir the memorial contains a bust of Mitchel, alongside a steele and ornamental wall. After failing to be reelected, Mitchel enlisted in the Army aviation corps during World War I. Known and admired for his honesty and strong reform within the city of New York, the memorial recognizes his service to both his city and his country.
Images
A full view of the John Purroy Mitchel Memorial.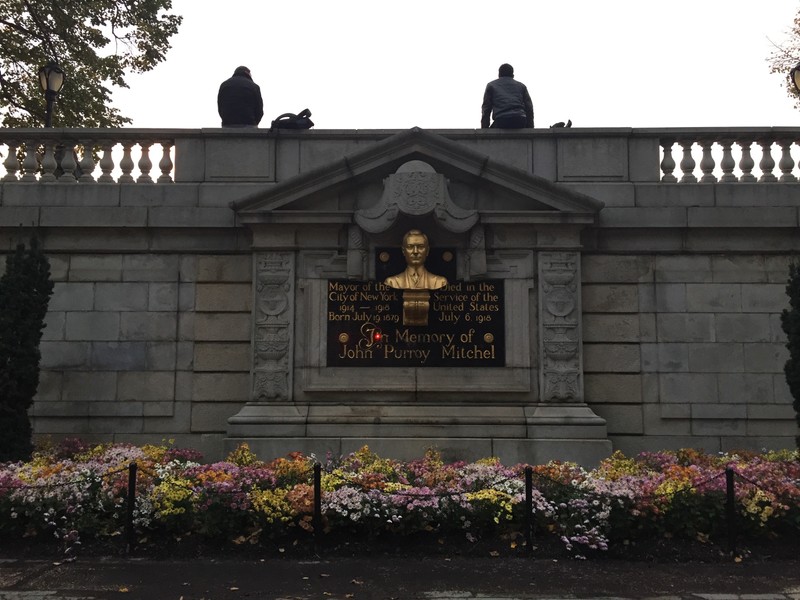 The monument compared to the scale of a human runner in the park.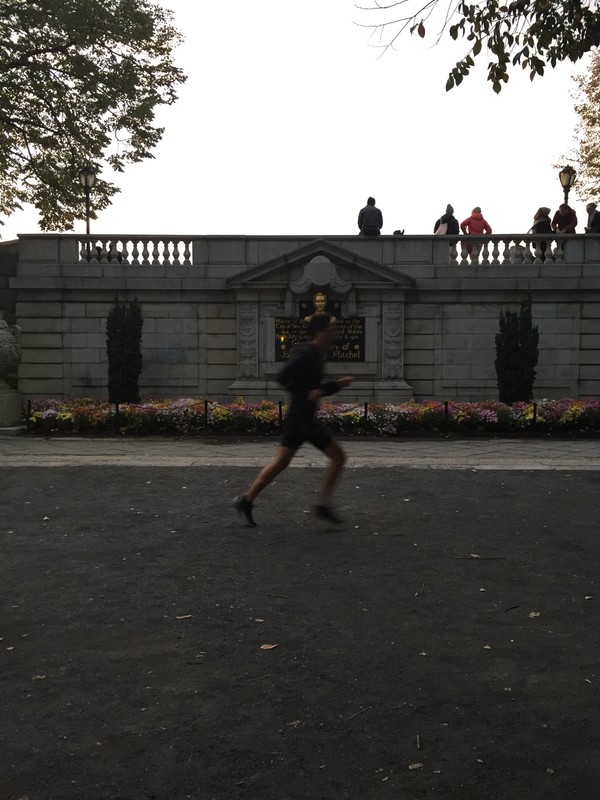 A closer view of the bust and inscription dedicated to Mitchel.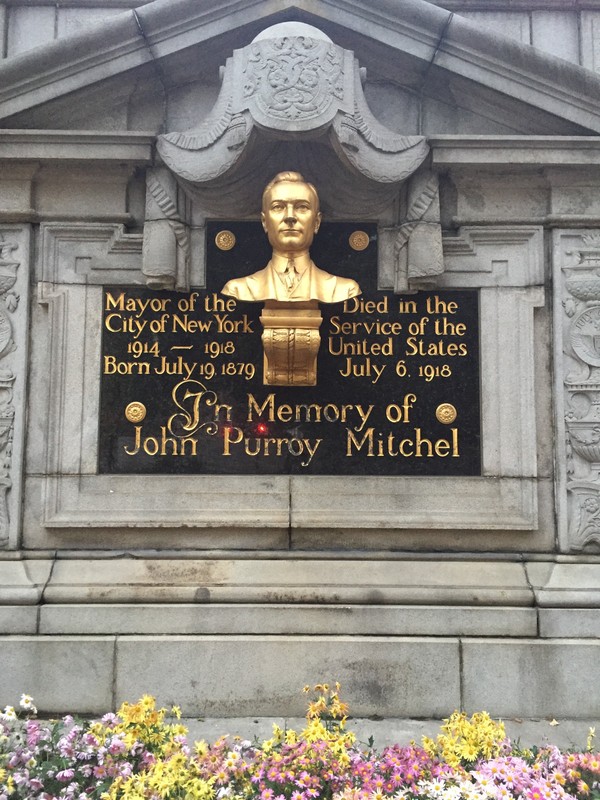 Backstory and Context
History 
John Purroy Mitchel grew up Irish Catholic in the Fordham area of the Bronx. After graduating from New York Law School, Mitchel was a key player in destablishing the Tamany Hall corruption of politics through his investigations of the Manhattan and Bronx Borough Presidents John F. Ahern and Louis Haffen. Due to his investigation, both leaders were removed from office. In 1914 Mitchel was elected mayor, and remains the youngest mayor to have served in New York City. He was in office until 1917, and following the loss of his re-election, Mitchel joined the military, serving in the Army aviation corps in 1918. He died in July of 1918 when he fell from a plane during training. 
Design
The dimensions of the memorial are a height of 12'6" and a width of 12'.
The monument, dedicated in 1928, was constructed using granite, bronze, and slate as materials. The architects for the project included Don Barber and Thomas Hastings for the design of the granite steele surrounding the bust. Adolph Alexander was commissioned to design the bust, which features bronze as a way to highlight Mitchel. The memorial was put up and the architects were chosen by The Mitchel Memorial Committee.
Inscription 
The inscription reads surrounding the bust of Mitchel at the memorial reads: 
"IN MEMORY OF / JOHN PURROY MITCHEL / MAYOR OF THE / CITY OF NEW
YORK / 1914-1918 / BORN JULY 19, 1879 / DIED IN THE / SERVICE OF
THE / UNITED STATES / JULY 6, 1918." 
Sources
"Central Park Monuments: John Purroy Mitchel." NYC Parks. Accessed November 1, 2017.
"John Purroy Mitchel." Central Park Conservatory. Accessed November 1, 2017. 
Image Sources
Hannah Nelson (November 2, 2017)

Hannah Nelson (November 2, 2017)

Hannah Nelson (November 2, 2017)

Additional Information