Sgt. Joyce Kilmer Triangle
Introduction
The triangle commemorates Joyce Kilmer, one of the most famous Americans to die in combat during World War I. Before going off to war, Joyce Kilmer wrote the well-known poem "Trees," which expresses his love for nature, and was widely read. The benches under the trees in the triangle are similar to the atmosphere that Kilmer sat in when writing many of his poems. In addition to his writing, Kilmer is remembered for his extreme bravery and unwavering commitment to the war.
Images
The benches under the trees. This photo was taken by Brendan Walsh on 11/1/2017.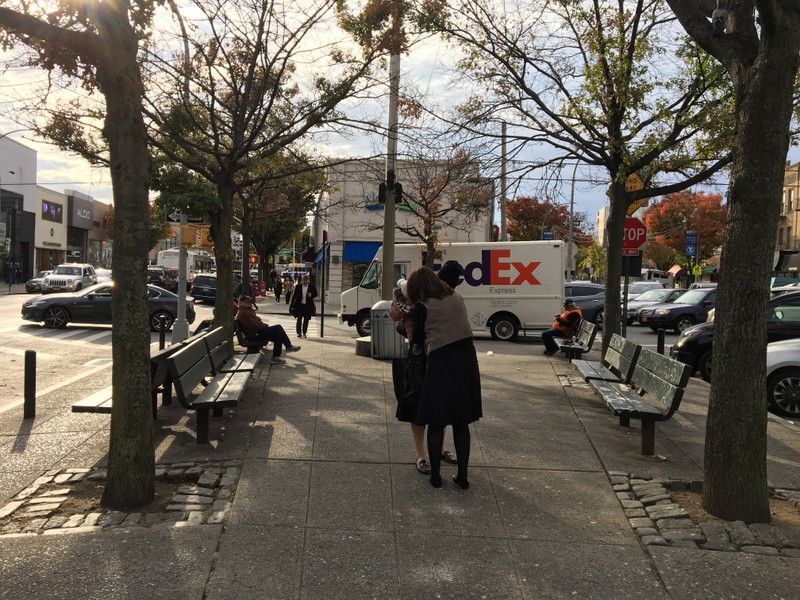 The square is a quite place between two busy thoroughfares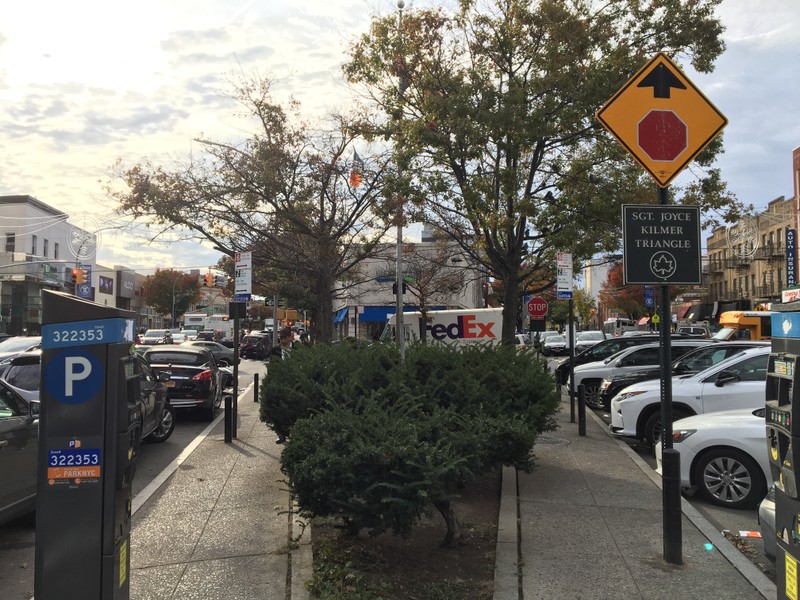 A sign placed by the Parks Department. The square is a quite place between two busy thoroughfares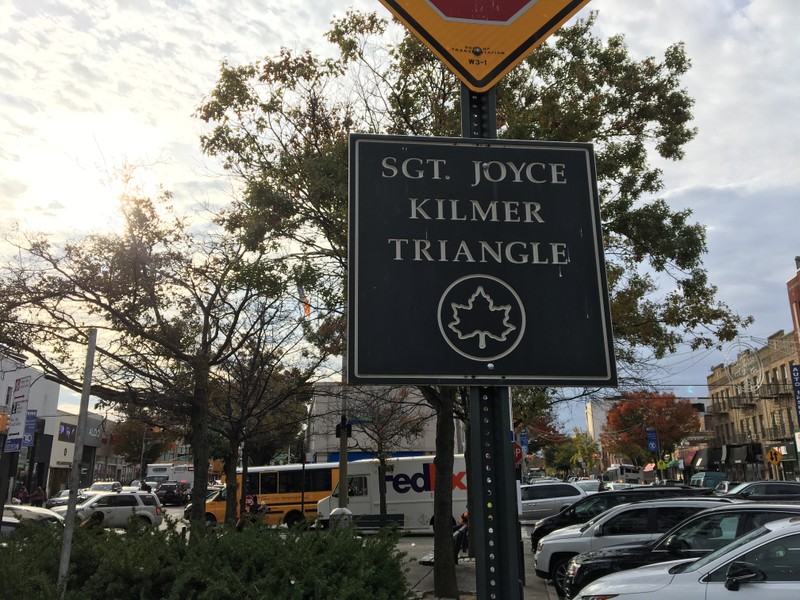 Backstory and Context
The background of Sgt. Joyce Kilmer. 
Born in New Jersey in 1886, Albert Joyce Kilmer spent his 31 years as a devoted family man, writer, and fearless solider. 
After college, Kilmer started out as an editor of a dictionary and then became a freelance writer. Four years before entered the war, Kilmer wrote his most famous poem "Trees1."It became a massive hit and was beloved by many, especially children.2 In "Trees" Kilmer shows both his love for nature and reverence to god. The first two lines of poem are:
I think that I shall never see/A poem lovely as a tree. 
 The poem ends with:
Poems are made by fools like me/But only God can make a tree.3
Kilmer's faith in God became extremely important to him after his young daughter became sick with polio in 1912. He especially found comfort in Catholicism's preachings and soon converted to the religion.4 
In 1917, he joined the 165th Infantry also known as the "Fighting Irish" after being convinced by its chaplain, Father Francis Duffy. Duffy was one of the many Irish immigrants in the unit, most of them either first or second generation.5 These Irish men entered the war due to their love for America, even though it meant fighting alongside the British who they vehemently opposed. 
Having a wife and children dependent on him,6 Kilmer could have been exempted from the first rounds of drafts mandated by the Selective Service Act of 1917.7 However, Kilmer offered to go because he viewed fighting in the war as strongly patriotic. 
During the war, Kilmer didn't hesitate to put himself in harm's way to help his fellow soldiers. Originally starting out in a position that kept him away from the fight, he moved onto a position in the Regimental Intelligence staff that was tasked with gathering information in "No Man's Land," a narrow space between opposing side's trenches.8 
On July 30th, 2018, during a battle on the Ourcq river line, Kilmer was killed dead by a sniper's bullet. On the day he was killed, he was serving as an adjunct to the Major of the First Battalion, replacing the Major's adjunct, who had been killed just the day before.9 One of the people who discovered Kilmer's body was Father Duffy.10 
 The dedication of the square
The City of New York acquired the land rights to the square in 1920, however it wasn't until 1935 that it was dedicated to Kilmer.11 It is interesting that the city waited so long to name the dedication, close to two decades after Kilmer's death and the end of World War I.
It is possible, that the city wanted to refresh peoples' memories about Americans who died in the war because tensions in the world were again heating up. In Germany, the Reichstag passed the Nuremberg Laws, which introduced anti-Semitism into German legislation. Italian troops invaded Ethiopia. Concurrently, the United States passed the Neutrality Act, which put a general embargo on trading arms and war materials with nations at war.12 In reminding New Yorkers of the cost of war, perhaps the city seizing on a national trend towards trying to avoid staying out of yet another deadly war in Europe.
Sources
1. Joanna Buffum, "Poet Joyce Kilmer: Rooted in Mahwah," New Jersey Monthly, July 25, 2013. Accessed November 01, 2017. https://njmonthly.com/articles/jersey-living/poet-joyce-kilmer-rooted-in-mahwah/
2. The City of New York, "Sgt. Joyce Kilmer Triangle," NYC Parks. Accessed November 01, 2017.
 https://www.nycgovparks.org/parks/sgt-joyce-kilmer-triangle/history.
3. The City of New York.
4. Donald R. McClarey, "Joyce Kilmer and the Fighting 69th," The American Catholic, May 26, 2014. Accessed November 01, 2017.
 http://the-american-catholic.com/2014/05/26/53345/.
5.Joanna Buffum.
6.Ibid. 
7. "Selective Service Act of 1917," Wikipedia, October 29, 2017. Accessed November 01, 2017. https://en.wikipedia.org/wiki/Selective_Service_Act_of_1917#Differences_from_previous_drafts.
8. The City of New York. 
9. Ibid. 
10. Joanna Buffum.
11.The City of New York.
12. Marcy McDonald, "1930 Timeline," America in the 1930s. Accessed November 02, 2017. http://xroads.Virginia.edu/~1930s2/Time/1935/1935fr.html.
Image Sources
Brendan Walsh (November 1, 2017)

Brendan Walsh (November 1, 2017)

Brendan Walsh (November 1, 2017)