Iowa Ratifies the 19th Amendment, July 2, 1919
Introduction
Immediately after the Civil War there were discussions about changing the constitutional language about voters in Iowa and in 1868 they took racial language out to allow all men to vote but kept the word "male" in the constitution. The next year the first women's suffrage organizations met in the state and the first statewide convention was held in 1870. Women first attempted to get a constitutional change in 1870 and did so several times over the next few decades. In Iowa a constitutional change required two legislatures to vote on approval and the legislature only met every two years; this made passing women's suffrage difficult. Iowan women did get partial suffrage in 1894 and were allowed to vote in elections on issues. Finally, in 1916, the legislature passed a constitutional amendment allowing women to vote, however it was defeated in the general referendum. When Congress passed the 19th Amendment, Iowa voted to ratify it on July 2, 1919.
Images
Suffrage parade in Boone, Iowa on October 29, 1908. (State Historical Society of Iowa)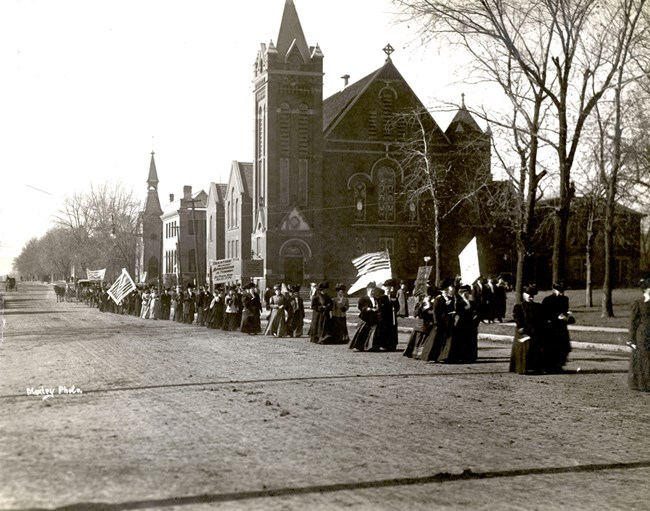 Sources
"Iowa and the 19th Amendment." National Park Service. August 15, 2019. Accessed June 28, 2021. https://www.nps.gov/articles/iowa-and-the-19th-amendment.htm
"The Fight for Women's Suffrage." Iowa Pathways. Iowa PBS. Accessed June 28, 2021. https://www.iowapbs.org/iowapathways/mypath/fight-womens-suffrage.
Image Sources
"Iowa and the 19th Amendment." National Park Service. August 15, 2019. Accessed June 28, 2021. https://www.nps.gov/articles/iowa-and-the-19th-amendment.htm

Additional Information