Hart Plaza and "The Fist"
Introduction
This exhibit gives a look behind one of the most famous statues in Hart Plaza and the man behind "The Fist." Joseph Louis Barrow otherwise known as Joe Louis or The Brown Bomber, was an American heavyweight boxing champion from 1937 to 1949. His reign as a heavyweight boxing champion is the longest in history in any weight division. He successfully defended his title 25 times and even served in the United States Army during World War II. His roots as a boxer began in Detroit, Michigan after his mother remarried and moved him and his sibling there from Alabama. His first professional fight took place on July 4, 1937 and within twelve months he had beaten the previous six heavyweight boxing champions.
Images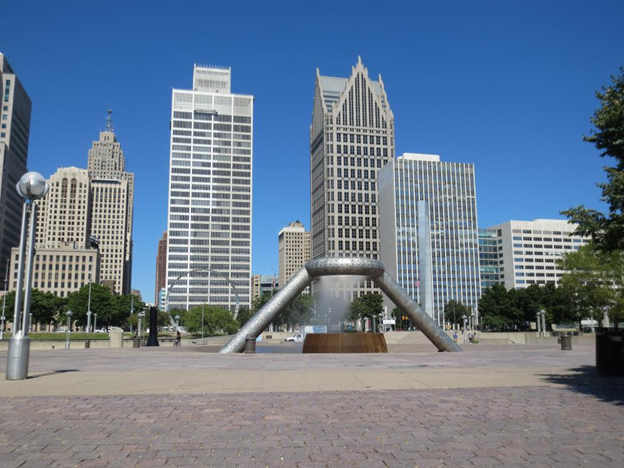 Drawing of a Reimagined Hart Plaza/Downtown Riverfront Area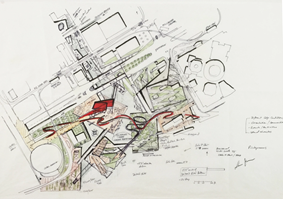 Marquette for Monument to Joe Louis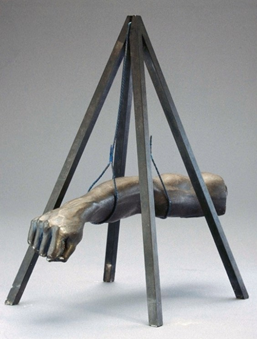 Monument to Joe Louis "The Fist"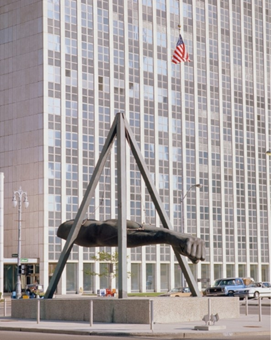 Joe Louis and Max Schmeling before 1938 Match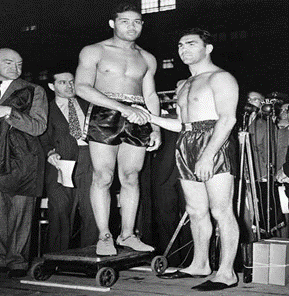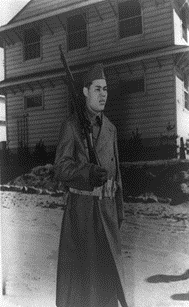 Backstory and Context
Joe Louis the Heavyweight Champion
Joe Louis took up boxing in 1934 and after several years of training began to fight in amateur boxing matches and won 50 of the 54, he fought in. On July 4, 1934 he had his first pro boxing match and he knocked out his opponent in the first round. After that match he became a hero to the African American community and his managers that understood the racial prejudice around the time in the sport realized that Louis did not face the same backlash as outspoken previous heavyweight champion Jack Johnston. Louis was a reserved man and while he entered boxing aware of the world around him as a result of his reserved nature helped inspire many African Americans by doing what he did best, by being a boxer.
In 1936, Louis faced off against famous German boxer Max Schmeling, unfortunately for his fans Louis lost the match. The match had even been sold out Yankee Stadium and many of his fans celebrated the match believing he would win, but after 12 rounds Schmeling walked away victorious. As a result of his loss with Schmeling, Louis trained harder for the following year. He took out champion Jim Braddock in eight rounds and was once again a hero to the African American community. In 1938 with his loss to Schmeling still hanging over him Louis decide on a rematch with Schmeling. However, this match turned into more than a boxing match with the rising tensions between the tensions between the United States and Germany. 
During World War II Joe Louis completed his bootcamp training in the United States Army, but he did not see combat. His image and popularity were used for recruiting other African American soldiers through war bond advertisements, and posters. In a time of segregation when many were against an integrated military, the United Sates understood the importance of integration, so the US was united in the war efforts. The only fighting Louis saw was in the ring as he defended his title and raised money for charity organizations at the time. He refused to fight for a segregated audience and in this way helped further a non-segregated military and a social change within. However, after World War II Joe Louis ran into money problems and as a result came out of retirement, to be a boxing couch. It was through his efforts in raising money during the war, and defeating Max Schmeling, that Joseph Louis Barrows is hailed as a Detroit icon and why a statue was made in his honor that sits in the heart of downtown Detroit.
Hart Plaza and "The Fist"
The Hart Plaza riverfront park opened in downtown Detroit in 1975 and was named after Senator Phillip A. Hart. It now houses incredible sculptures and hosts many festivals and public gathering. Hart Plaza has become a popular venue spot for concerts, festivals, and special event, it is truly the heart of Detroit. However, Hart Plaza has a history that dates back before the parks founding in 1975, it is believed that Antoine Laumet de La Mothe, sieur de Cadillac landed there in 1701. And the area became a source for transportation and communication and continued to grow into an industrial port by the mid-19th century. During the 19th century the site was full of commercial buildings, such as stores and taverns where many clay pipes and tumblers were found by the Wayne State University Anthropology department.  
The Hart Plaza is also where Martin Luther King Jr. first gave his "I Have a Dream" speech on June 20, 1963, which a year later he famously repeated at the Lincoln Memorial. Now it holds a statue of a Detroit native that overcame racial prejudice to be one of the greatest heavyweight boxing champions, who had the longest reign of any boxer in any weight class. This statue is known as "The Fist" and is a monument to Joseph Louis Barrows. Joe Louis, a Detroit native, and boxer in 1938 defeated German boxer Max Schmeling. He helped break down racial injustice in the United States that was prevalent during the time with his influence and became an American hero for defeating German boxer Max Schmeling. How do you think this Detroit downtown monument speaks to the resilience of the city of Detroit, and how has the Hart Plaza shaped Detroit?
Sources
Abbey-Lambertz, K. (2012, February 16). Detroit's Most Contentious Symbol. Retrieved December 15, 2020, from https://www.huffpost.com/entry/monument-to-joe-louis-fist-sculpture-25-years_n_1275709
Encyclopedia Of Detroit. (n.d.). Retrieved December 15, 2020, from https://detroithistorical.org/learn/encyclopedia-of-detroit/joe-louis-arena
Hill, A. (2016, October 21). Map: Reimagining the Riverfront 2012. Retrieved December 15, 2020, from https://detroitography.com/2016/10/21/map-reimagining-the-riverfront-2012/
Joe Louis. (n.d.). Retrieved December 15, 2020, from https://www.britannica.com/biography/Joe-Louis
Martin, K. (2020, April 08). Joe Louis: From Boxing Gloves to Combat Boots: The National WWII Museum: New Orleans. Retrieved December 15, 2020, from https://www.nationalww2museum.org/war/articles/joe-louis-boxing
Springhill Farm – Joe Louis. (2011, November 05). Retrieved December 15, 2020, from https://riverbendshollandpondsparks.wordpress.com/springhill-farm-joe-louis/
Tintype of Joe Louis, Taken at the Greenfield Village Tintype Studio, 1935. (n.d.). Retrieved December 15, 2020, from https://www.thehenryford.org/collections-and-research/digital-collections/artifact/183087/
Image Sources
Courtesy of the Detroit Riverfront Conservancy Photo Gallery.

Lars Graebner, 2012. Courtesy of Volume One Studio and the UM Taubman College.

Robert Graham, Marquette for Monument to Joe Louis, 1985. Courtesy of the Detroit Institute of Arts.

Robert Graham, Monument to Joe Louis, 1986. Courtesy of the Detroit Institute of Arts.

Joe Louis (left) and Max Schmeling at a photo session prior to their heavyweight world championship bout in 1938. AP Images

In the army Louis was known as Private Barrow. Courtesy of The National Archives.

Additional Information