Kavanaugh House
Introduction
Built in 1898 – 1899 for Judge William Marmaduke Kavanaugh, this intriguing structure is located on Arch Street in the southwest corner of the Quapaw Quarter. The Quapaw Quarter is a section of Little Rock which comprises its oldest and most historic business and residential neighborhoods. The name Quapaw comes from a corruption or mispronunciation of a word for a Native American Tribe which originally inhabited the area where the city of Little Rock is now situated. This name was informally applied to the land west of the original city of Little Rock in the nineteenth century. Then, in 1961 the name of Quapaw Quarter was more formally assigned. Now, it is a well-loved and treasured historic district featuring constructions of the Victorian, Queen Anne, Colonial Revival, Georgian Revival, Colonial Revival, Italianate, and Craftsman Styles.
Images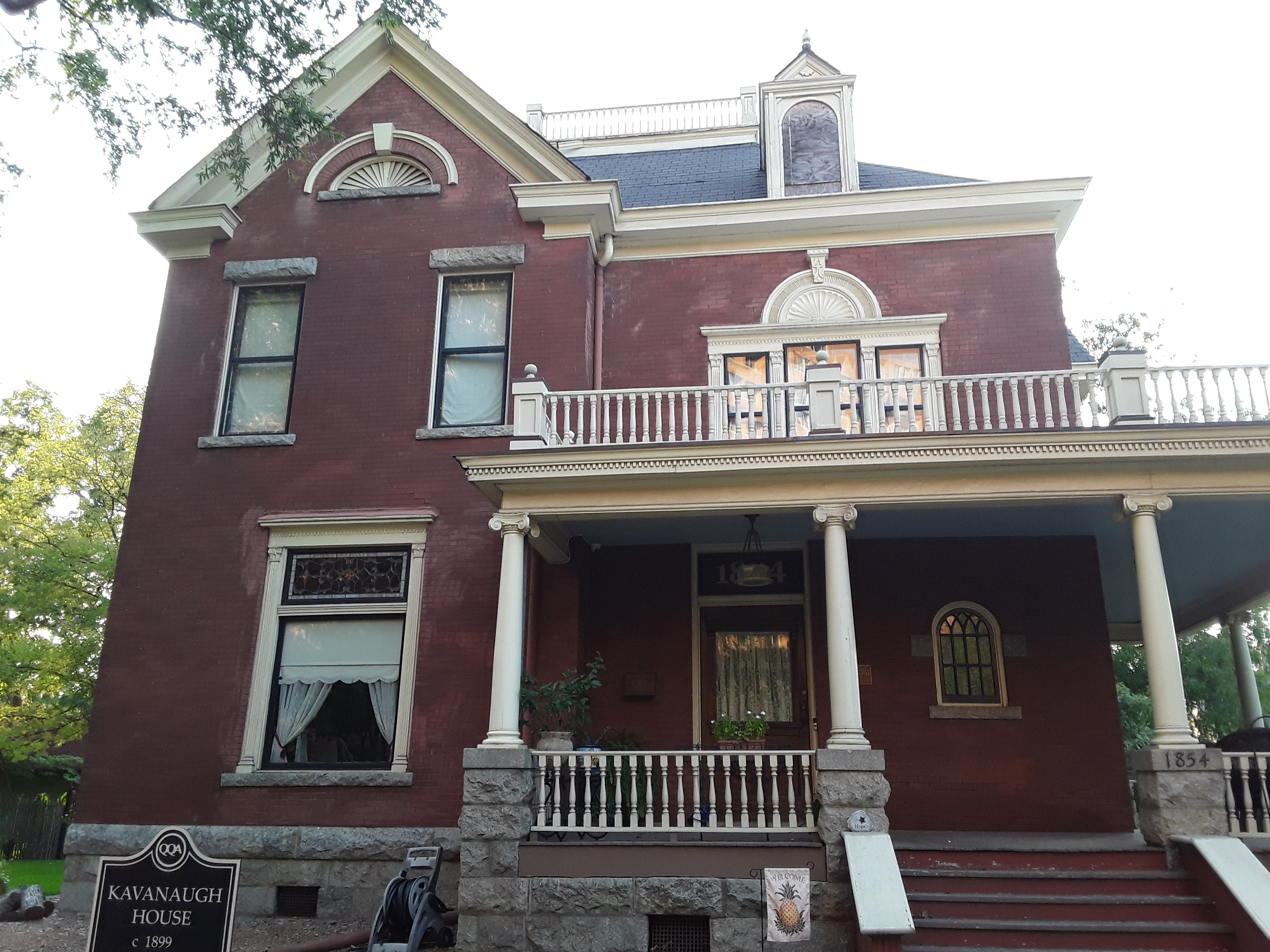 Backstory and Context
Kavanaugh House is distinctive in that it combines two architectural styles. The exterior expresses both the symmetry of the Colonial Revival Style, as embodied in the symmetrical porch and second floor balcony, and the asymmetry of the Queen Anne Style, as expressed in the division between the differing right and left sides. The inside of the house is modeled on an asymmetrical Queen Anne floor plan, while integrating the decorative embellishments of the Colonial Revival Style.
Queen Anne Style in the United States refers to a wide range of picturesque buildings which borrow freely from the architectural features of the Italian Renaissance and avoid the features of English Gothic. The Queen Anne Style dominated design from approximately 1880 to 1910, during which time frame the Kavanaugh House was designed and built. The Queen Anne Style includes architecture, decorative arts, and furniture. In architecture, the Queen Anne Style incorporates distinctive gables and turrets, asymmetrical facades, dominant front-facing gables which are often cantilevered out beyond the supporting wall, pedimented porches, balconies, overhanging eaves, leaded glass, dentils, balustrades, columns, multi-textured exterior skins, and wooden or slate roofs. The Kavanaugh House typifies this style with its evident balcony, asymmetrical front face, and leaded glass windows.
Colonial Revival Style is embodied in homes built from 1880 to 1950 which reflect a renewed interest in the earliest North American houses built by English and Dutch settlers. Colonial Revival architectural style includes gabled, hipped, and gambrel roof types. The dramatically-gabled roof of the Kavanaugh House embodies the Colonial Revival form.
Kavanaugh House is further distinguished by the fact that its first owner led the early twentieth-century development of the city of Little Rock in several ways. Kavanaugh was a newspaperman, a promoter of steam heating, a builder of roads, a sheriff, and a judge. Little Rock's picturesque Kavanaugh Boulevard is named after him for his efforts in initiating the development of the Pulaski Heights area of what was the far western edge of the city in his day
Sources
https://encyclopediaofarkansas.net/entries/quapaw-550/
http://www.quapawtribe.com/401/Tribal-Name
http://www.historicarkansas.org/exhibits/we-walk-in-two-worlds
https://www.littlerock.gov/!userfiles/editor/docs/planning/hdc/QQA%20tour%202014.pdf
https://encyclopediaofarkansas.net/entries/william-marmaduke-kavanaugh-3565/
http://www.askthearchitect.org/architectural-styles/queen-anne-style-architecture
http://www.askthearchitect.org/architectural-styles/colonial-revival-architecture