Holshouser Hall, UNC Charlotte
Introduction
Holshouser Hall represents the first phase of UNC Charlotte's residential building program. The last of four 11-story high rise facilities constructed between 1969-1973, Holshhouser Hall was designed to accommodate 500 students in two hundred and fifty student rooms. Holshouser, like the preceding high-rise dormitories before it, also featured air conditioning--distinguishing them as the first residence halls constructed with state funds to offer the amenity.
Images
South Villlage in its original inception. From left to right - Hunt Village, Holshouser Hall, Scott Hall, The Residence Dining Hall, Moore Hall, and Sanford Hall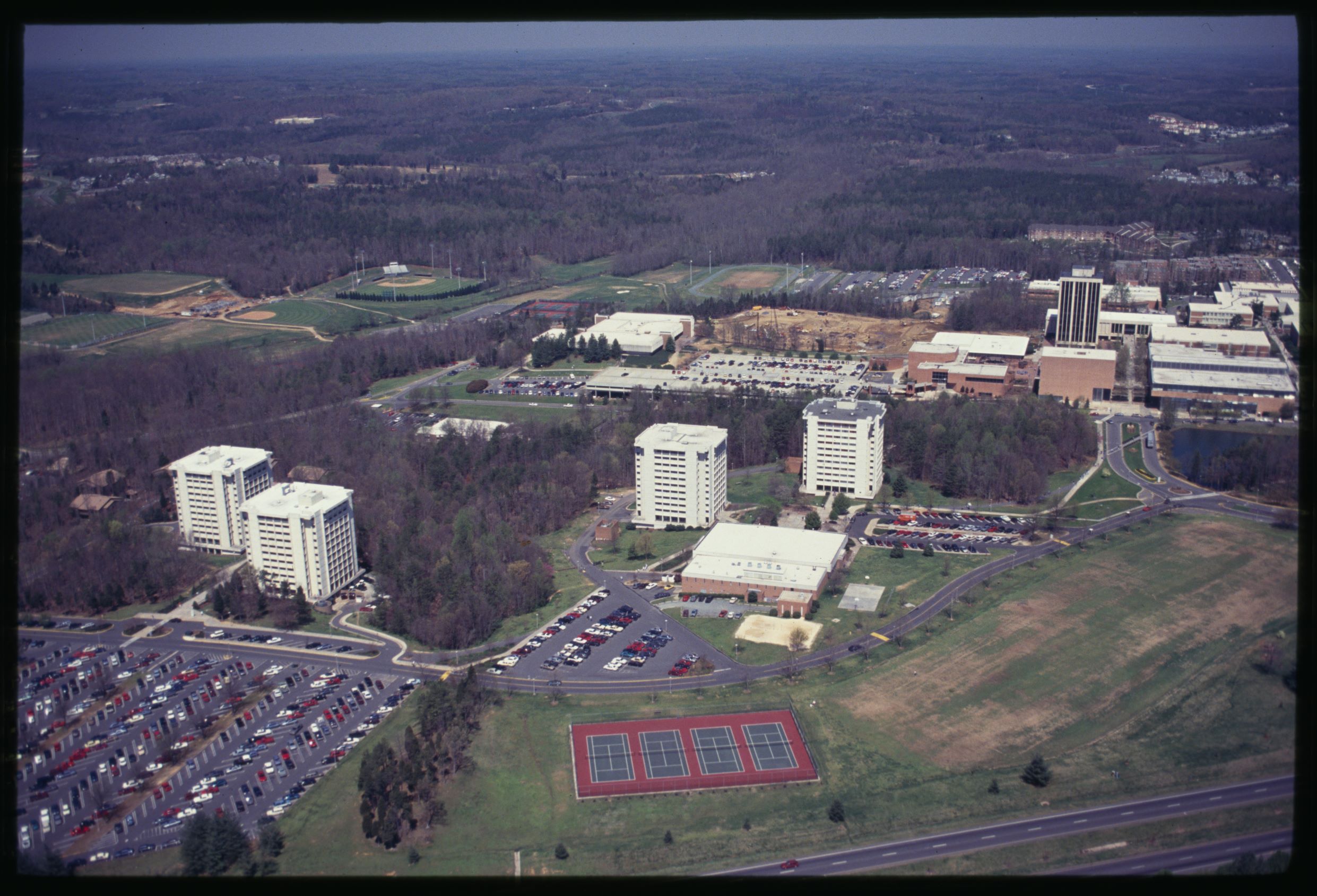 Backstory and Context
Originally known as "Dorm '73" for the year it opened, Holshouser Hall cost $2,102,000 to build and was officially renamed for North Carolina's 68th governor by the Board of Trustees in 1975. The high-rise dormitories were designed by architect Leslie Boney of Wilmington. 
Holshouser Hall was identical to the previous three high-rise buildings in terms of appearance. That is to say, they were "rather spartan, poured in place concrete buildings." Boney argued that the "raw" look of concrete would render the buildings attractive. However, student and public perception never came around to Boney's way of thinking, and consistently likened the building design to architecture more at home in the Soviet Union than in Charlotte. However, lost on many is the fact that the simple design of the high-rise dormitories lowered their overall construction costs, while also providing the funding necessary to equip them with air conditioning - a first for state-supported institutions in North Carolina.  
The appearance of the high-rise towers was improved slightly after they were painted cream, which offset the depressing drab gray look they wore after rainstorms, but no major change occurred to the buildings until 2004, when the interior of Holshouser was renovated over an eight-week span to provide "a more homelike feel for students."
A second more extensive renovation in 2015 in conjunction with the South Village development "added outdoor patio space, a game room, community activity space, floor lounges, community kitchens and a central laundry facility." But the most significant (and readily visible) improvement was to the exterior, where brick cladding was added, producing a more traditional collegiate look while also tying the building into the campus design motif of Morrocroft red brick.   
Nearby Scott Hall also underwent renovation, opening in 2018 as the new freshman dormitory. Moore Hall was demolished in 2019 to make way for new construction on the site. Sanford Hall's future is not yet decided - so stay tuned. 
Sources
Leanna Pough, "Holshouser Hall Honors State's 68th Governor," Inside UNC Charlotte, February 8, 2017, https://inside.uncc.edu/news-features/2017-02-08/holshouser-hall-honors-states-68th-governor
Lisa Shuford, "James Eubert Holshouser, Jr." From Query's Turnout to UNC Charlotte, UNC Charlotte College of Education and Allied Professions, University of North Carolina at Charlotte, 1989, p. 62
Ken Sanford, Charlotte and UNC Charlotte: Growing up Together, University of North Carolina at Charlotte, (Charlotte, NC: The University, 1996), pps.101, 119.
Jonnelle Davis, "Moore Hall Removal to Pave Way for New Residence Hall," Inside UNC Charlotte, August 22, 2019, https://inside.charlotte.edu/news-features/2019-08-22/moore-hall-removal-pave-way-new-residence-hall. 
Image Sources
J. Murrey Atkins Library Special Collections & University Archives, UNC Charlotte.