Belk Plaza, UNC Charlotte
Introduction
The Belk Plaza at UNC Charlotte opened to the public in October 2018, featuring a fountain and a large open area providing students a place to hold events and hang out. But from 1970-2015 where the plaza now stands, Belk Tower was an iconic structure on campus where students gathered to hold events and make their voices heard.
Images
Belk Plaza Dedication, UNC Charlotte, 2018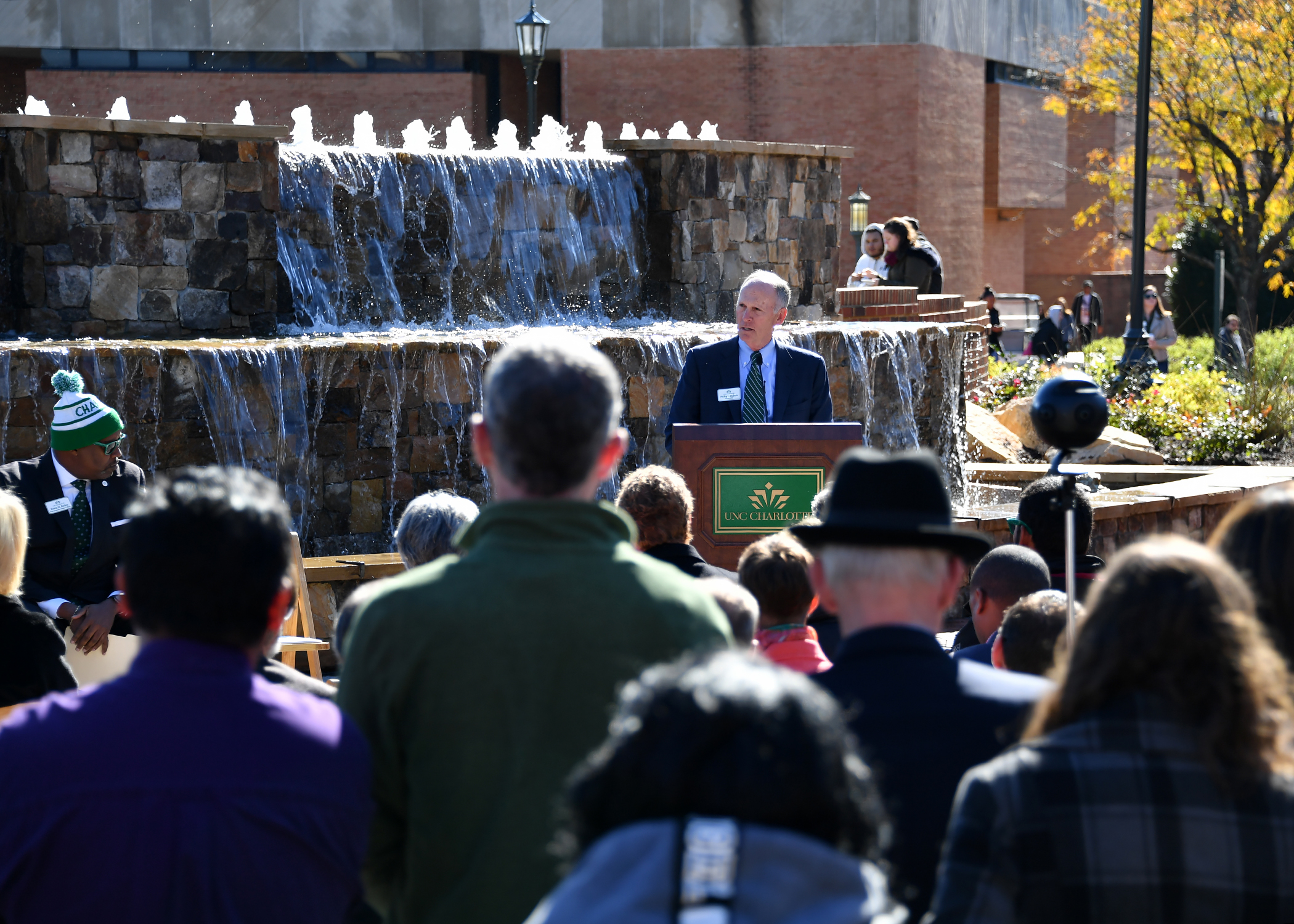 Belk Bell Tower, September 2007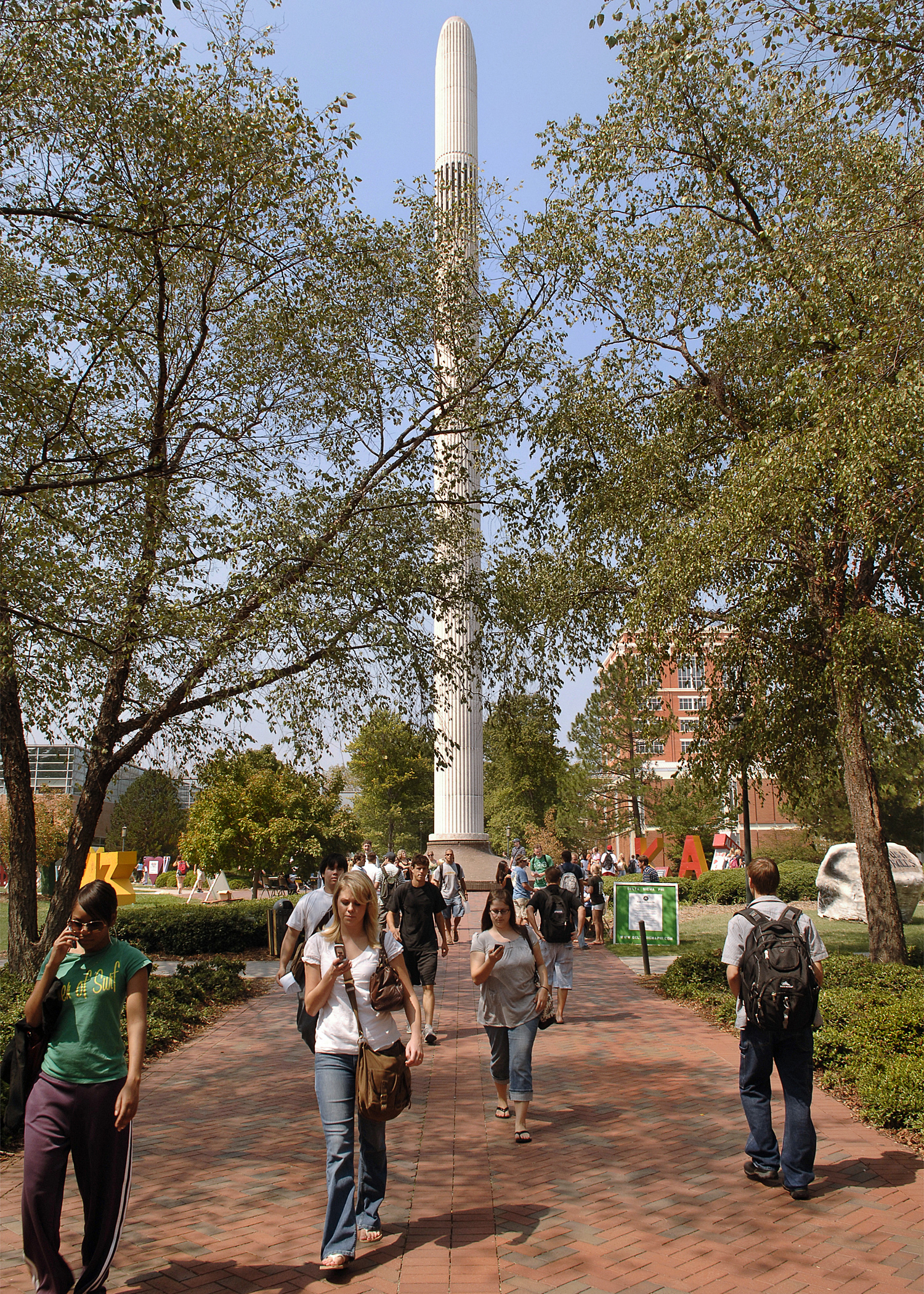 Base of the Belk Bell Tower, circa 1970s-1980s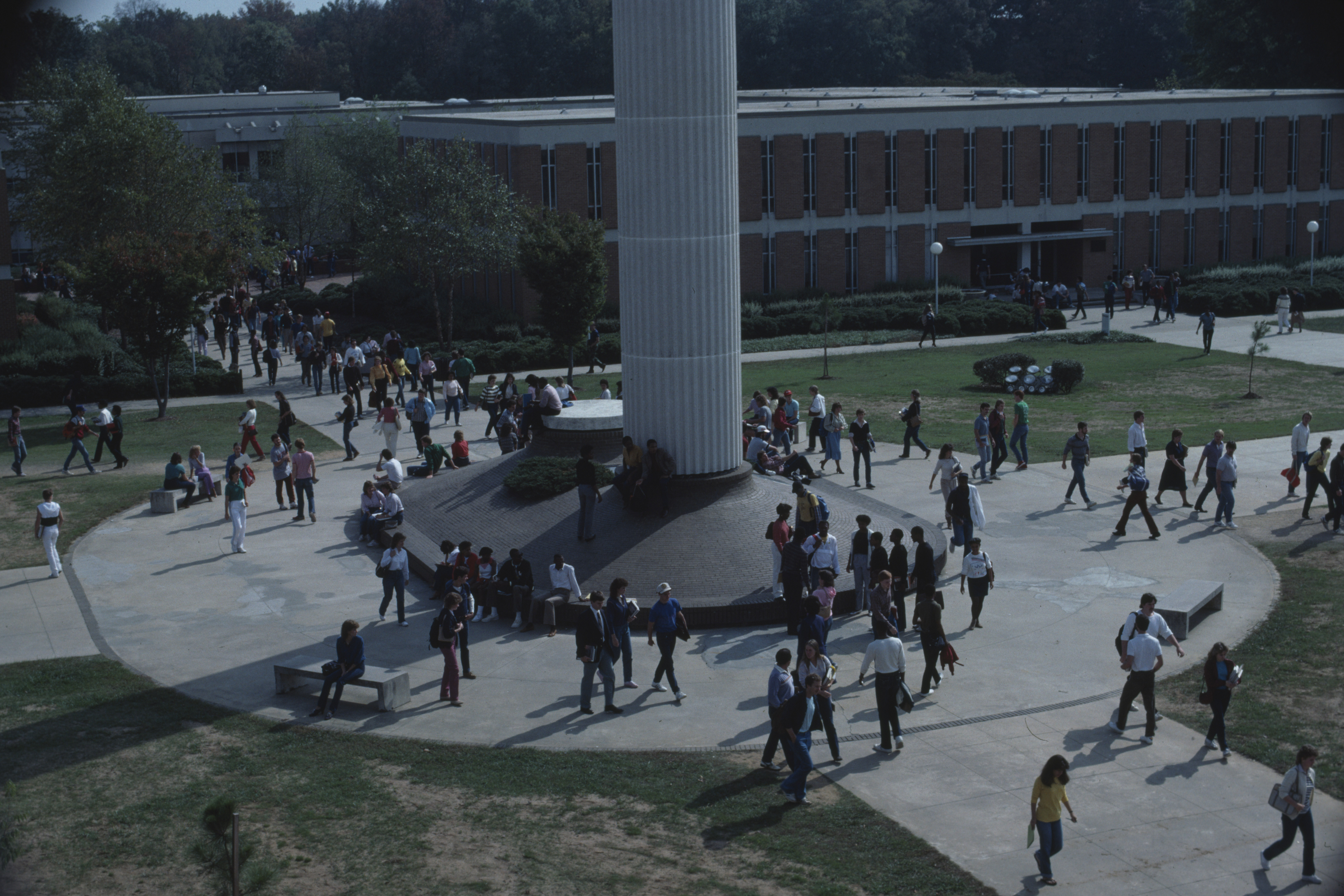 Aerial view of Belk Bell Tower and quad, circa 1970s-1980s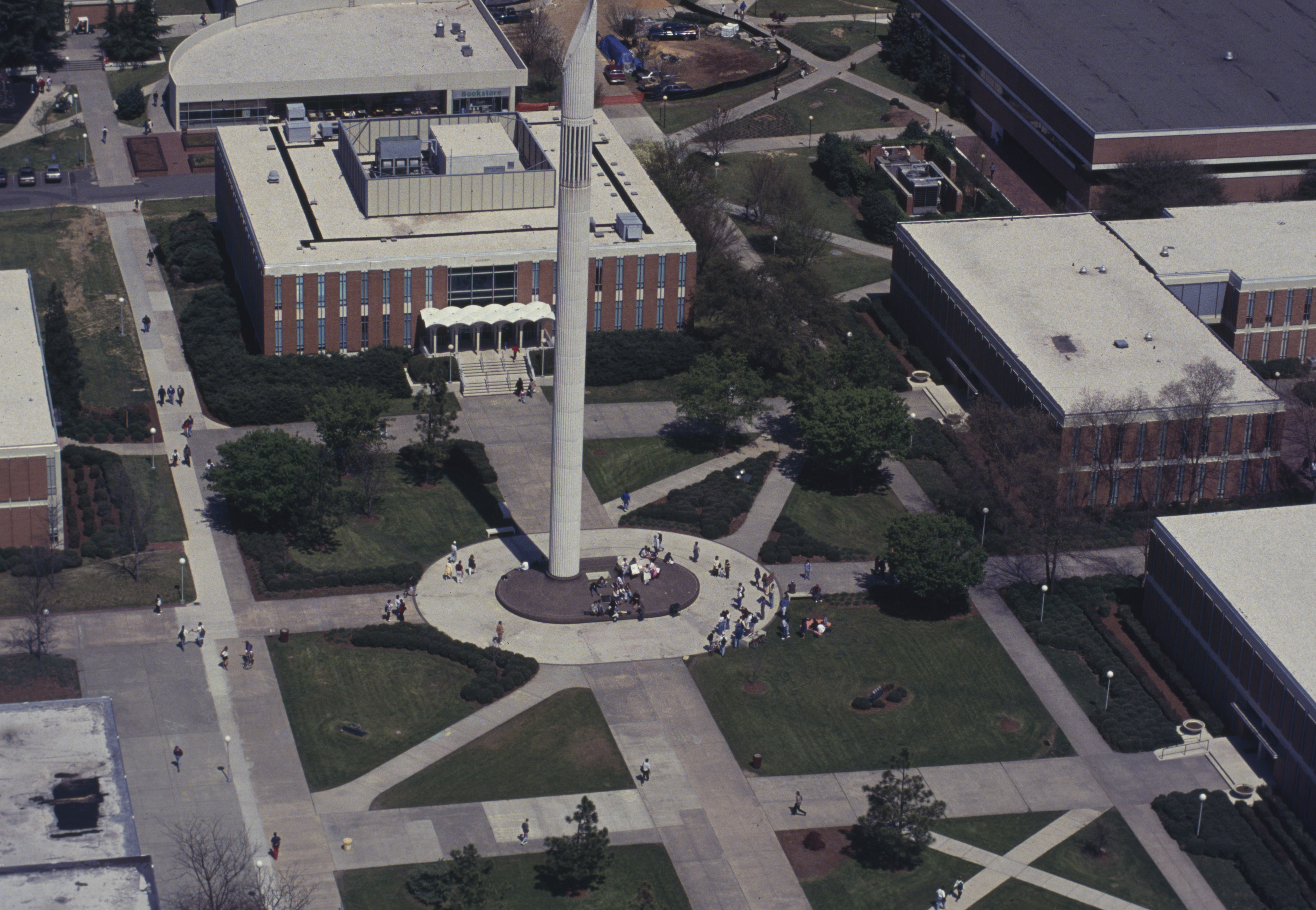 Backstory and Context
A.G. Odell first conceived the idea for a tower at UNC Charlotte where Belk Plaza now stands in the mid 1960s. He planned the tower to be in a classic style with a bell to give height to campus since at the time most of the buildings were only two or three floors, but Bonnie Cone decided not to go with that tower. Odell was designing the campus for St. Andrews Presbyterian College at the time (now St. Andrews University), another college in North Carolina, and she thought the campuses looked too similar. However, the idea of having a tower on campus stuck. 
In 1967 Irwin "Ike" Belk and his three brothers provided money for a tower and dedicated it to their father, William Henry Belk. William Henry Belk founded the first Belk department store, originally named the "New York Racket," in 1888 in Monroe, North Carolina; he opened a new location in Charlotte on September 25, 1895. Irwin Belk also gave generously to UNC Charlotte. He donated money for the track and field complex, the business school, and established several scholarships.
Little Lee & Associates designed the tower which was completed in 1970. Made by staking seven-foot round concrete drums onto each other, the tower stood 147 feet high with a diagonal slant at the top and held 183 electronic carillon bells. The tower stood on the top of a seven-foot brick platform with what looked like the base for another tower a few feet away, but was a maintenance hatch. The tower was often described as looking like a rocket on a launch pad, a fitting description considering that Odell meant the tower to represent UNC Charlotte's "upward reaching toward excellence."
The tower's height and location made it a center of campus life. The College of Arts + Architecture faculty took full advantage of the tower's location, using it for outdoor showcases. In the 70s, the dance department utilized the base of the tower and the maintenance hatch for one of their performances. Students also used the tower to make their voices heard; in 2012, after the murder of Trayvon Martin, students held a protest at Belk Tower. 
An inspection of the tower found that it was structurally not sound, which would cost a million dollars to repair, so Chancellor Phil Dubois decided it was time for the structure to come down. The news angered many employees, students, and alumni for whom the tower had been a focal point for their time at the university.
In December 2015, tower destruction began, and on April 11, 2016, Charlotte landscape architectural firm LandDesign revealed plans for the plaza to the public. 
Two years and ten months after the destruction of the tower in October 2018, the plaza was completed and open to the public. The finished Belk Plaza closely reflected the plans from LandDesign. A semi-circular courtyard sloped towards the Rowe Arts Building with a stone fountain on the opposite end. The designers switched from a tower to a plaza to create more space for students to build community. Since its creation, Belk Plaza has become a place for students and organizations to hold events, do homework, and just hang out.
Sources
Andino, Yesika Sorto . Students and alumni react to newly remodeled Belk Plaza, Niner Times. October 13th 2018. Accessed August 27th 2021. https://www.ninertimes.com/news/students-and-alumni-react-to-newly-remodeled-belk-plaza/article_b3ec0e40-1bb9-55df-a6e3-712ce16b8a96.html.
BELK PLAZA CONCEPTUAL DESIGN FOCUSED ON 'BRINGING PEOPLE TO THE SPACE', Inside UNC Charlotte. May 13th 2016. Accessed August 27th 2021. https://inside.charlotte.edu/news-features/2016-04-13/belk-plaza-conceptual-design-focused-%E2%80%98bringing-people-space%E2%80%99.
UNC Charlotte Photographs Collection, Box 29, Creative arts, Department 1971-1977, J. Murrey Atkins Library Special Collections & University Archives, University of North Carolina at Charlotte.
Sanford, Ken. Charlotte and UNC Charlotte: Growing Up Together. Charlotte, North Carolina. University of North Carolina Charlotte, 1996.
UNC Charlotte Belk Tower Demolition, D.H. Griffin Companies. Accessed August 27th 2021. https://www.dhgriffin.com/projects/demolition/unc-charlotte-belk-tower-demo.aspx.
Students hold protest at UNCC campus for Trayvon Martin, WCNC Charlotte. March 29th 2012. Accessed August 27th 2021. https://www.wcnc.com/article/news/local/students-hold-protest-at-uncc-campus-for-trayvon-martin/275-373407949
UNC CHARLOTTE REMEMBERS ITS LONGTIME CHAMPION IRWIN "IKE" BELK, Inside UNC Charlotte. February 25th 2018. Accessed August 31st 2021. https://inside.charlotte.edu/news-features/2018-02-25/unc-charlotte-remembers-its-longtime-champion-irwin-%E2%80%9Cike%E2%80%9D-belk
Wyche, Paul B. Belk, William Henry, NCPedia. Accessed August 31st 2021. https://www.ncpedia.org/biography/belk-william-henry.
Image Sources
UNC Charlotte

UNC Charlotte

UNC Charlotte

UNC Charlotte