Rowe Arts Building, UNC Charlotte
Introduction
The Rowe Arts Building was the first home for UNC Charlotte's departments of performing and visual arts. In addition to offices and classrooms, the building features a 350-seat theater, a recital hall, a scene shop, practice rooms, darkrooms for photography, a ceramics shop, and a large lobby that doubled as a gallery. Designed by Charlotte architect Murray Whisnant, the building was completed in 1972 and named for Oliver Reagan Rowe, who is remembered as "a major visionary in the development of UNC Charlotte."  
Images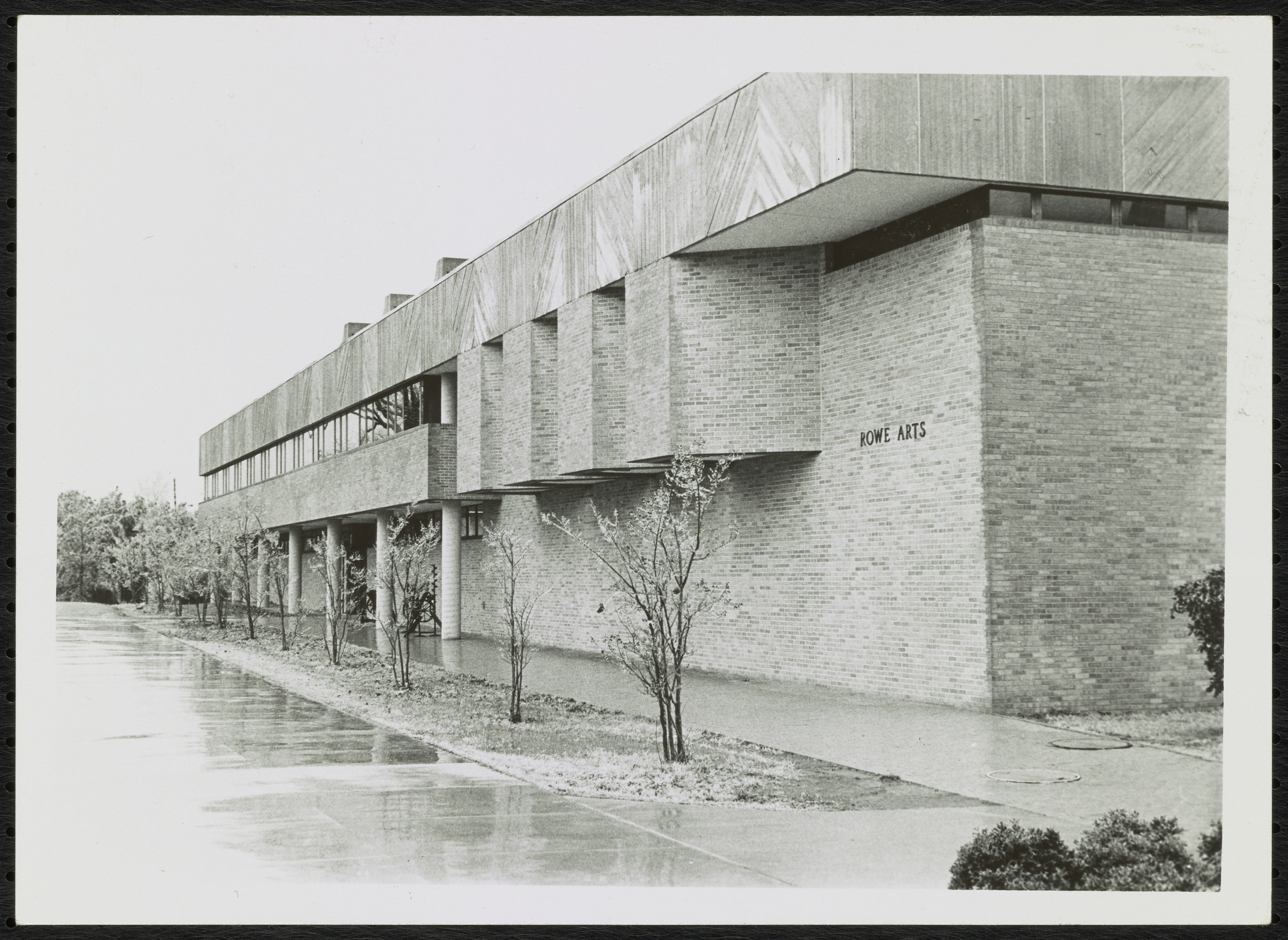 Rowe gallery, Keeping Watch: City of Creeks exhibit, 2018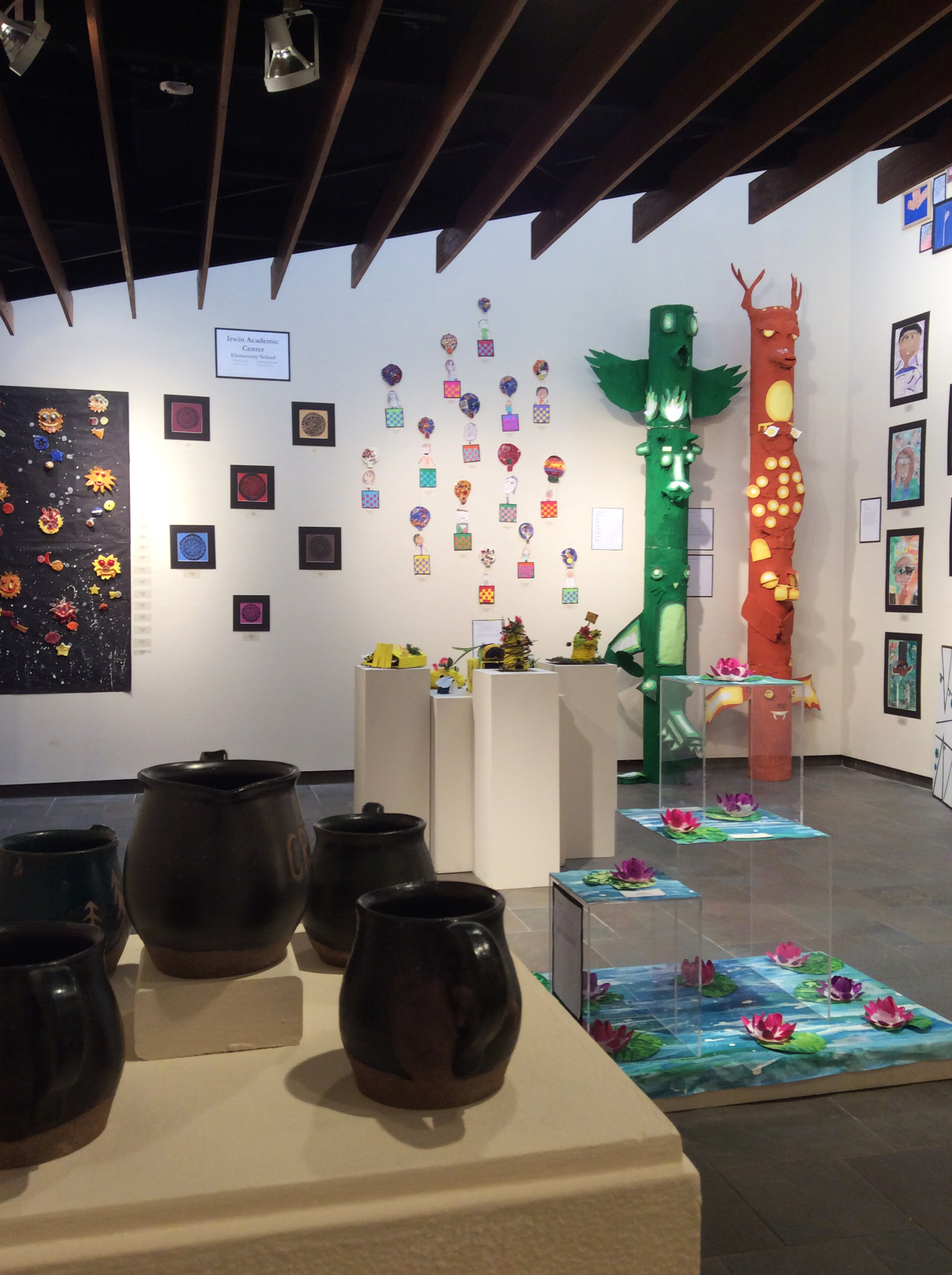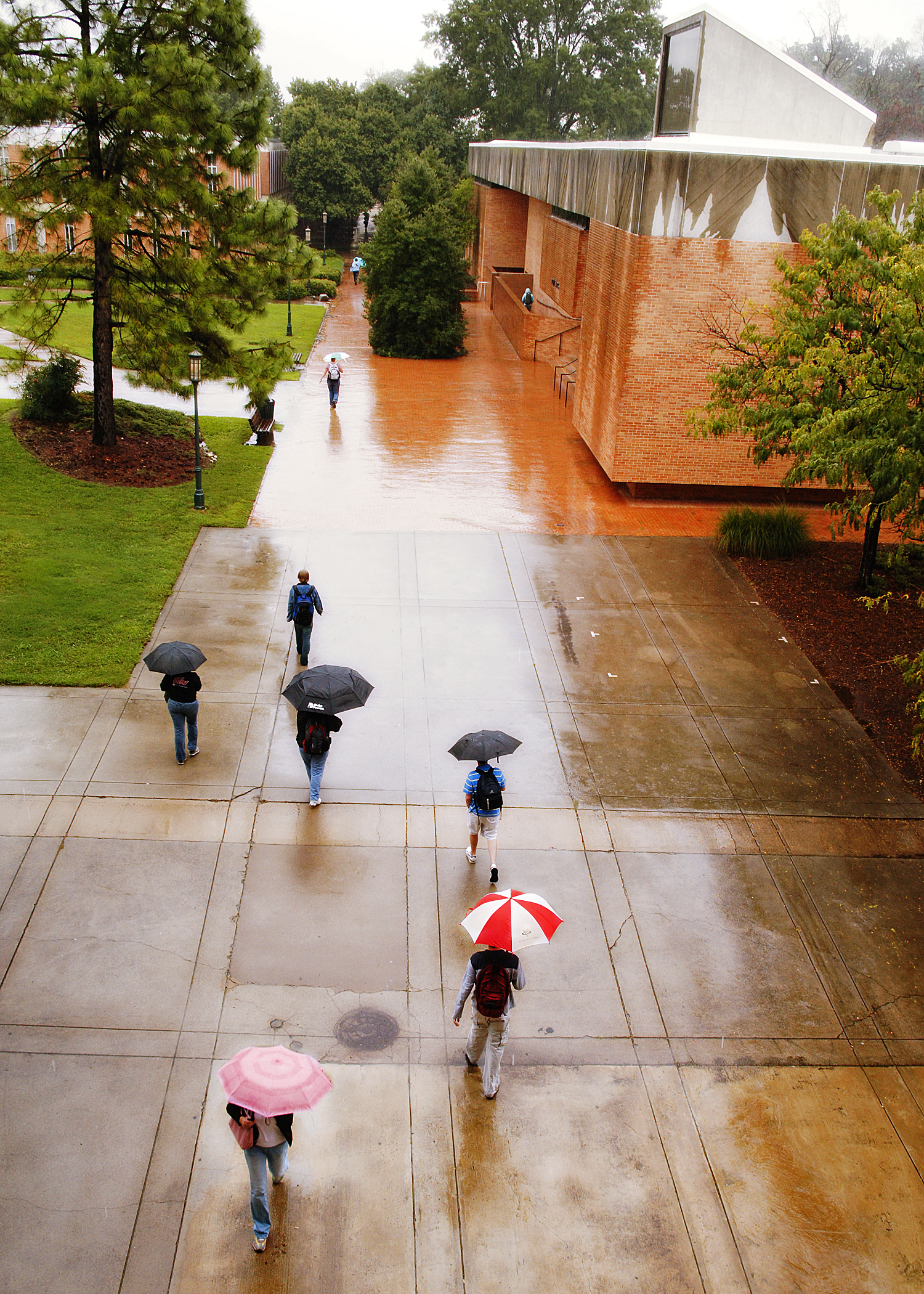 Backstory and Context
Oliver Reagan Rowe (1902-1988), a Charlotte resident and graduate of Central High School and UNC-Chapel Hill, began his career at the Charlotte engineering firm of R.H. Bouligny, becoming a vice president of the company in 1931. During Charlotte College's early years, Rowe became an ardent and eloquent supporter of the college, joining the Board of Trustees in 1957. 
Rowe had visions for the future of Charlotte College that outpaced early expectations for the school and regularly spoke of the "greater need" for higher education in the area whenever given the opportunity to do so. Rowe's ability to persuade others to the cause of Charlotte College helped the school land its first million-dollar gift when he encouraged the Celanese Corporation to donate an industrial facility in Burlington to the Charlotte College Foundation in 1963. 
Rowe became president of R.H. Bouligny in 1966, over time reorganizing it into the Rowe Corporation, "a worldwide enterprise of fourteen companies with construction, industrial, and agricultural divisions making products ranging from farm equipment to synthetic fiber machinery."   
Rowe and his wife Maria were both active in the Charlotte arts community, supporting the opera and symphony, as well as the many civic, service and cultural organizations tied to it. Rowe was elected president of the Charlotte Symphony Orchestra Society in 1964, and in 1973 he "established, nurtured, and financially sponsored the nationally and internationally famous 'Rowe String Quartet'" at UNC Charlotte. 
The building is also notable for its architect, Murray Whisnant (1932- ). Whisnant was also a Charlotte resident and graduate of Central High School. He studied architecture at the North Carolina State University School of Design under Dean Henry L. Kamphoefner, faculty member Eduardo Fernando Catalano, and Visiting Architect Buckminster Fuller - all of whom were proponents of Modernism. Whisnant returned to Charlotte after graduation and worked for several firms before partnering with Charles Wheatley in 1960. 
Whisnant focused primarily on private residences - one of which was Bonnie Cone's home in the College Downs neighborhood adjacent to campus, completed in 1968. However, the firm did not limit itself to residential architecture, as evidenced by the Rowe Arts Building,. Whisnant recalled working on its design to be a pleasant experience, describing the building as "a square doughnut" which featured an open courtyard and "a decorative fountain" as its primary focus. One of his most recognized buildings - the 1968 Van Hecke-Wettach Building at UNC-Chapel Hill School of Law - is another example of his work in the public sector. Whisnant was recognized by North Carolina State University in 1990 for demonstrating "a consistent integrity and devotion...to further the modern movement in architecture" by becoming the second recipient of the prestigious Kamphoefner Prize. 
Sources
Ken Sanford, Charlotte and UNC Charlotte: Growing up Together, University of North Carolina at Charlotte, (Charlotte, NC: The University, 1996).
Julie Sitton, "Oliver Reagan Rowe," From Query's Turnout to UNC Charlotte, UNC Charlotte College of Education and Allied Professions, University of North Carolina at Charlotte, 1989, p. 60.
"Celanese Gift Yields $40,000 Income," Charlotte Collegian, Volume 18, No. 1, October 1, 1963, p. 1
Oliver Reagan Rowe Papers, Manuscript Collections, J. Murrey Atkins Library Special Collections and University Archives, UNC Charlotte. 
Jessica Serrao, "Summary," Murray Whisnant Papers,1959 - 2017, NC State University Libraries Special Collections Research Center, https://www.lib.ncsu.edu/findingaids/mc00564/summary. 
William Jeffers, Interview with Murray Whisnant, April 19, 2018.
"HENRY LEVEKE KAMPHOEFNER, FAIA (1907-1990)," NC Modernist, https://www.ncmodernist.org/kamphoefner.htm. 
Image Sources
J. Murrey Atkins Library Special Collections & University Archives, UNC Charlotte.

UNC Charlotte

UNC Charlotte