Cyrillic Projector, Jim Sanborn, UNC Charlotte
Introduction
Cyrillic Projector is a sculpture located between the Friday and Fretwell Buildings on the campus of UNC Charlotte. It was created by American artist Jim Sanborn, and was purchased by the university in 1997. The bronze artwork is eight-feet tall and features two encoded messages. The codes remained a mystery until they were solved by a group of cryptographers in 2003.
Images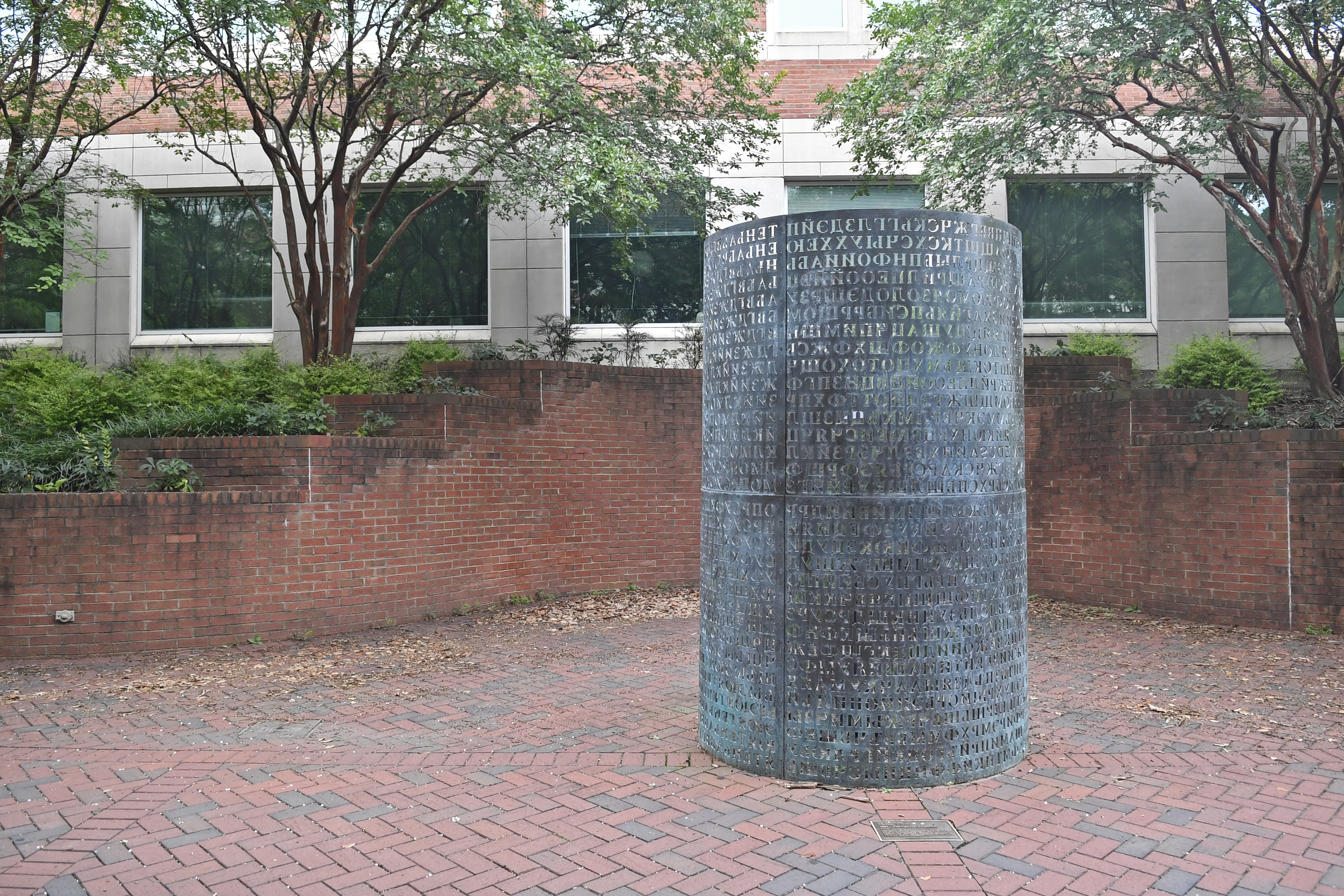 Cyrillic Projector at night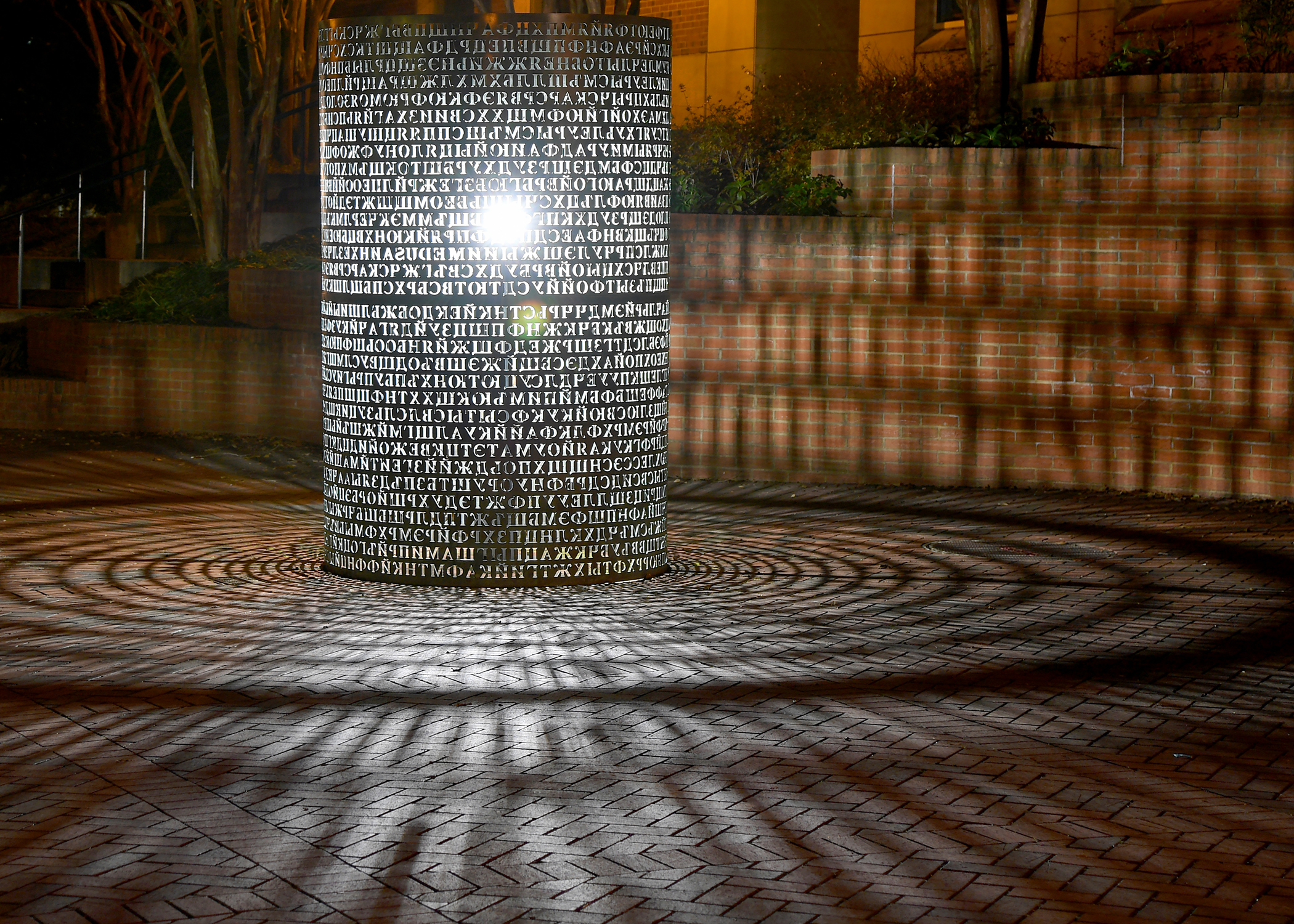 Cyrillic Projector details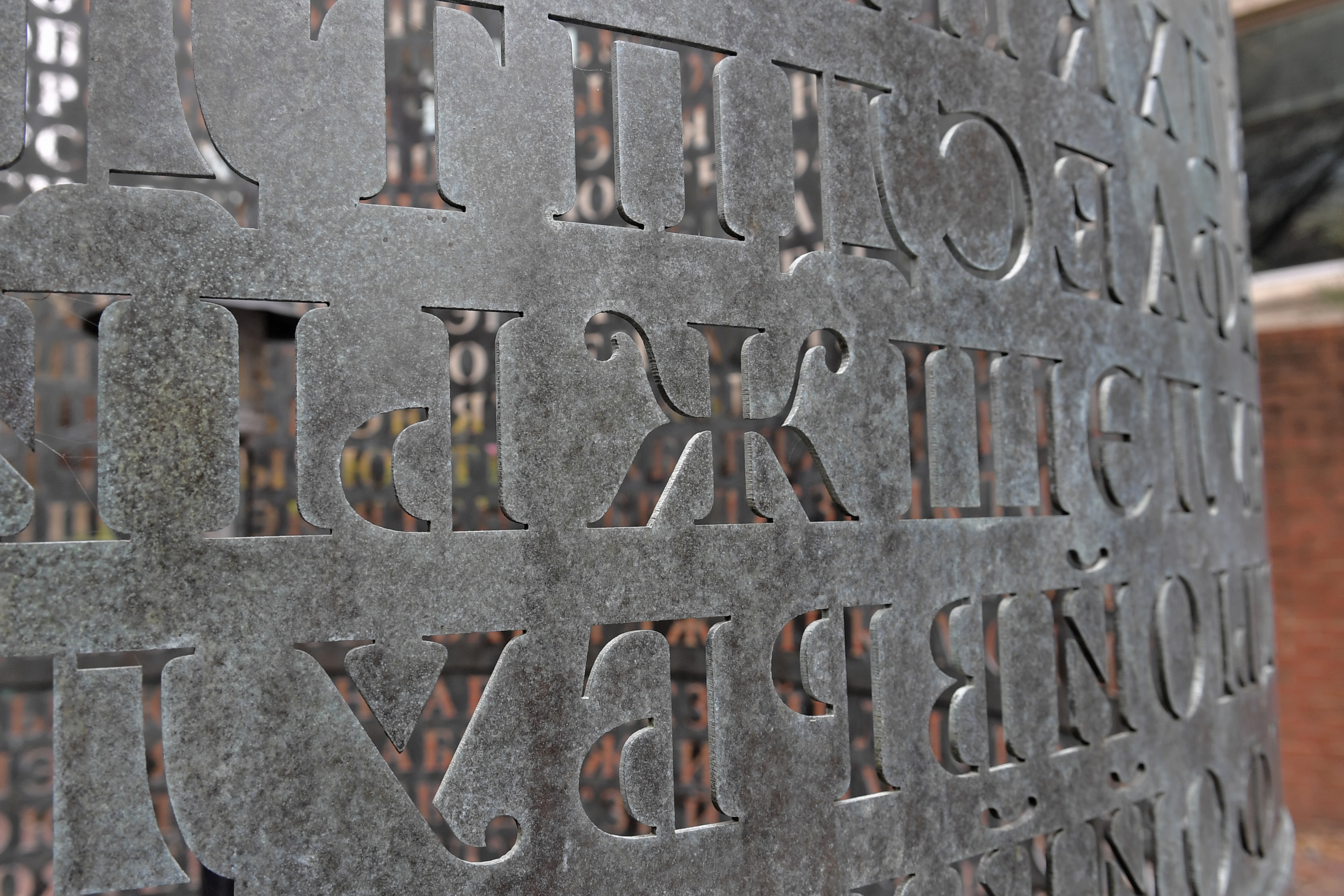 Backstory and Context
The Cyrillic Projector by Jim Sanborn was created in the early 1990s and purchased by UNC Charlotte in 1997 after a nationwide search for a new piece of artwork to bring to campus. It is eight-feet tall and sits between the Friday and Fretwell Buildings. The bronze sculpture features two encoded messages and can be illuminated from within. 
This artwork is one of a trio of similar sculptures created by Sanborn. Antipodes is located outside of the Hirshhorn Museum and Sculpture Garden in Washington, DC and Kryptos is located on the grounds of CIA headquarters in Langley, Virginia. Like the Cyrillic Projector, these two sculptures feature encoded messages using the Cyrillic and, in the case of Antipodes, Latin alphabets. Of Kryptos'  four encoded messages, three have been solved. The fourth remains one of the most famous unsolved codes in the world. 
In 2003 a group of codebreakers called the Kryptos Group solved the code of the Cyrillic Projector. The sculpture contains two excerpts from formerly classified Russian KGB memos. The first is about the importance of secret agents maintaining psychological control over their sources. The second is from KGB correspondence about Andrei Sakharov, a Nobel Peace Prize winning scientist and Soviet dissident. The text details how the KGB was concerned that his report to the 1982 Pugwash conference would be used by the United States as anti-Soviet propaganda. 
Though there is disagreement about what these messages were intended to convey, a plaque near the sculpture states that the code refers to the "dangers of suppressing intellectual and artistic freedom." 
The university also purchased a second piece by Sanborn, Adam's Spinning Top. It is located next to the Friday Building, across from the Cyrillic Projector.
Sources
Gonyar, Chris. Campus mystery solved, Campus News. October 7th 2003. Accessed September 17th 2021. https://web.archive.org/web/20060420211938/http://www.nineronline.com/vnews/display.v/ART/2003/10/07/3f832c69954c0.
Kelley, Pam. "Piece at UNCC is a Puzzle for Charlotte, Artist Says." The Charlotte Observer (Charlotte, NC) May 20th 1997: 1A.
Image Sources
UNC Charlotte

UNC Charlotte

UNC Charlotte

Additional Information