Cafe Society (1938-1950)
Introduction
Between 1938 and 1950, the basement of this unassuming wedge-shaped building at 1 Sheridan Square was home to Café Society, one of the few regularly and thoroughly racially-integrated clubs in New York City and the United States. In an era when social spaces like nightclubs drew the color line in both formal and informal ways, Café Society was one of the few upscale spaces where white and Black music lovers regularly gathered. Shortly after the club opened, twenty-three-year-old Billie Holiday performed "Strange Fruit" for a public audience for the first time at Cafe Society. The anti-lynching ballad would become one of the earliest and most powerful protest songs in American history. After Café Society closed in 1950, the building housed several other establishments, most notably the Ridiculous Theatrical Company, an innovative theater troupe led by Charles Ludlam.
Images
Billie Holiday performing at Cafe Society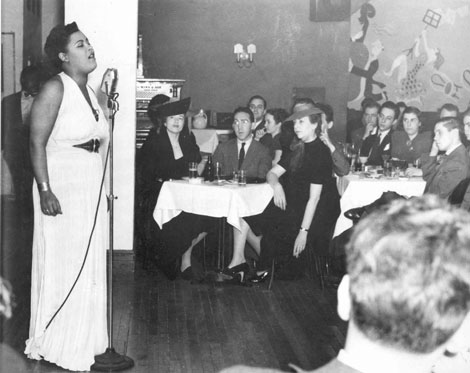 People waiting to get in the club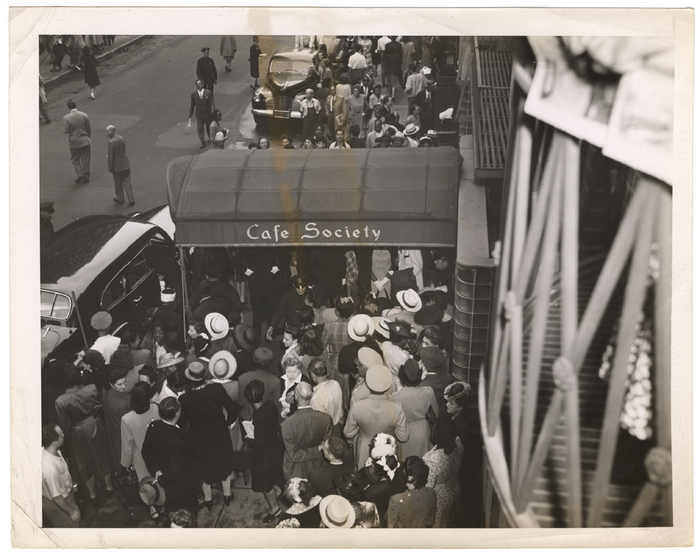 Backstory and Context
In 1938, Barney Josephson, a former shoe salesman with leftist proclivities opened Café Society in the basement of 1 Sheridan Square. Built in 1834, the building was remodeled in the late 1920s and during that remodel, the basement was combined with that of the adjoining building. Josephson had traveled in Europe and was struck by the racially integrated venues he saw there. A serious jazz fan, Josephson envisioned his club as a place that would showcase the best jazz performers and would do so in an integrated, diverse environment.
Often described as New York City's first integrated club—Josephson himself described it as such—that status is disputed as there were other spaces where white and Black patrons were known to gather. What made Cafe Society unique and significant perhaps was less the issue of whether it was first but rather they fact that Black patrons were often present in large numbers and seated throughout the club. Cafe Society was known for deliberately attracting a diverse (and often politically liberal) clientele. The club was famously billed as "the wrong place for the Right people," which was as much a jab at conservatives as it was a statement about the club's politics.
Café Society hosted some of the biggest jazz performers of the day, including Lena Horne, Sarah Vaughan, Art Tatum, and others. Gospel singer Sister Rosetta Tharpe was a regular performer. But the club's most legendary moment came when the then-unknown Billie Holiday performed the anti-lynching song, "Strange Fruit" for the first time. The song was inspired by a poem written by Jewish American high school teacher Abel Meeropol.
In 1948, Josephson's brother was called before the House Committee on Un-American Activities because of his support of leftist causes but refused to testify. Cafe Society was known to have hosted events with known Communists, and after his brother's trial, Josephson's business saw a pronounced decline. He was forced to close the club in 1950.
After Cafe Society closed, several establishments took up residence in the building, most notably the Ridiculous Theatrical Company, which was operated there from 1978 to 1995. Founded by Charles Ludlam in 1967, the company became one of the city's most highly regarded Off-Off-Broadway theater troupes. Ludlam wrote, directed, and starred in nearly production, many of which involved drag, poltiical satire, and gender-bending roles. Following Ludlam's death of AIDS in 1987, the street in front of the building was renamed Charles Ludlam Lane.
Sources
Roberts , Sam . The Clubs that Broke Barriers , New York Times . August 14th 2009. Accessed October 20th 2020. https://www.nytimes.com/2009/08/16/nyregion/16book.html.
Appman, Sarah Bean . Cafe Society, the Right Place for the Wrong People , Greenwich Village Preservation . December 30th 2015. Accessed October 20th 2020. https://www.villagepreservation.org/2015/12/30/cafe-society-the-wrong-place-for-the-right-people/
Cafe Society/Ridiculous Theatrical Company , NYC LGBT Historic Sites Project. Accessed October 20th 2020. https://www.nyclgbtsites.org/site/cafe-society-ridiculous-theatrical-company/.
Additional Information