Pike County's Lincoln Historical Marker
Introduction
This wayside exhibit is part of the Abraham Lincoln National Heritage Area. Visitors can find these exhibits in 43 Illinois counties. These exhibits tell the story of Lincoln's almost 30 years in Illinois in communities where Lincoln worked, traveled, and lived. This exhibit tells the story of Abraham Lincoln's personal connections to residents of Pike County, Illinois.
Images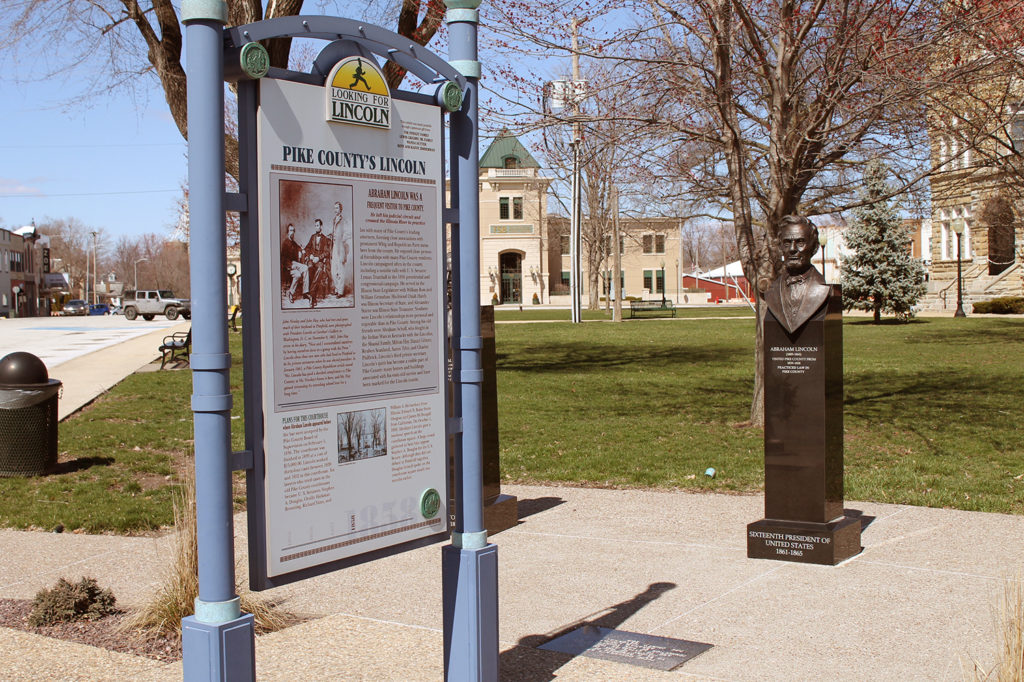 Backstory and Context
This wayside exhibit provides an overview of Lincoln's personal connections to residents living in Pike County.
The text on the wayside exhibit reads, "Abraham Lincoln was a frequent visitor to Pike County. He left his judicial circuit and crossed the Illinois River to practice law with many of Pike County's leading attorneys, forming close associations with prominent Whig and Republican Party members from the county. He enjoyed close personal friendships with many Pike County residents. Lincoln campaigned often in the county, including a notable rally with U.S. Senator Lyman Trumball in the 1856 presidential and congressional campaign. He served in the Illinois State Legislature with William Ross and William Grimshaw. His friend Oziah Hatch was Illinois Secretary of State, and Alexander Starne was Illinois State Treasurer. Nowhere was Lincoln's relationships more personal and enjoyable than in Pike County. Among his old friends were Abraham Scholl, who fought in the Indian Wars in Kentucky with the Lincolns, the Shastid Family, Milton Hay, Daniel Gilmer, Reuben Scanland, Aaron Tyler, and Charles Philbrick, Lincoln's third private secretary. Lincoln's spirit has become a visible part of Pike County: many homes and buildings associated with his visits still survive and have been marked for the Lincoln tourist."
(Upper Photograph Caption)
"John Nicolay and John Hay, who had met and spent much of their boyhood in Pittsfield, were photographed with President Lincoln at Gardner's Gallery in Washington, D.C. on November 8, 1863. John Hay wrote in his diary, "Nico and I immortalized ourselves by having ourselves done in a group with the Prest." Lincoln chose these two men who had lived in Pittsfield to be his private secretaries when he was elected president. In January 1861, a Pike County Republican article stated: 'Mr. Lincoln has paid a decided compliment to Pike County, as Mr. Nicolay's home is here, and Mr. Hay gained citizenship by attending school here for a long time.'"
"Plans for this courthouse where Abraham Lincoln appeared before the bar were accepted by the Pike County Board of Supervision on February 5, 1836. The courthouse was finished in 1839 at a cost of $15,000.00. Lincoln worked thirty-four cases between 1839 and 1852 in this courthouse. Six lawyers who tried cases in the old Pike County courthouses became U.S. Senators: Stephen A. Douglas, Orville Hickman Browning, Richard Yates, and William A. Richardson from Illinois; Edward D. Baker from Oregon; and James McDougall from California. On October 1, 1858, Abraham Lincoln gave a two hour speech on the courthouse square. A large crowd gathered to hear him oppose Stephen A. Douglas for the U.S. Senate. Although they did not debate in Pittsfield together, Douglas himself spoke on the courthouse square nearly two months earlier."
Text used with permission from Looking for Lincoln.
Sources
https://www.hmdb.org/m.asp?m=68918
Additional Information