Fulton House
Introduction
The Fulton House is a stone tavern built c. 1793 and located on Lincoln Way East in McConnellsburg, Pennsylvania. Originally known as the Union Hotel, the inn has boarded four governers and four presidents, and has been an important stop for travelers along the road it sits (first the Pennsylvania Road, and then the Lincoln Highway)
A fire in 1944 destroyed much of the 18th centiry interior, but has been restored to much of its original condition. It also currently houses the offices of the Fulton County Historical Society.
Images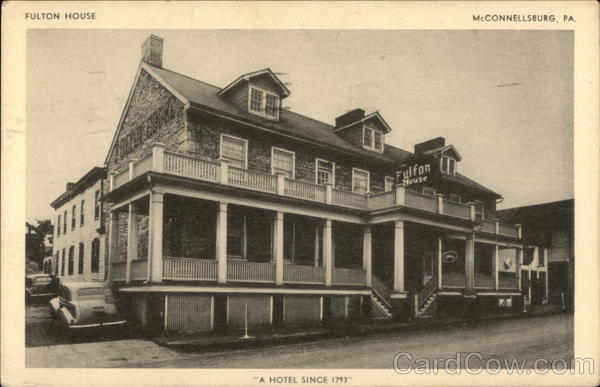 Fulton House on the NRHP since July 20, 1977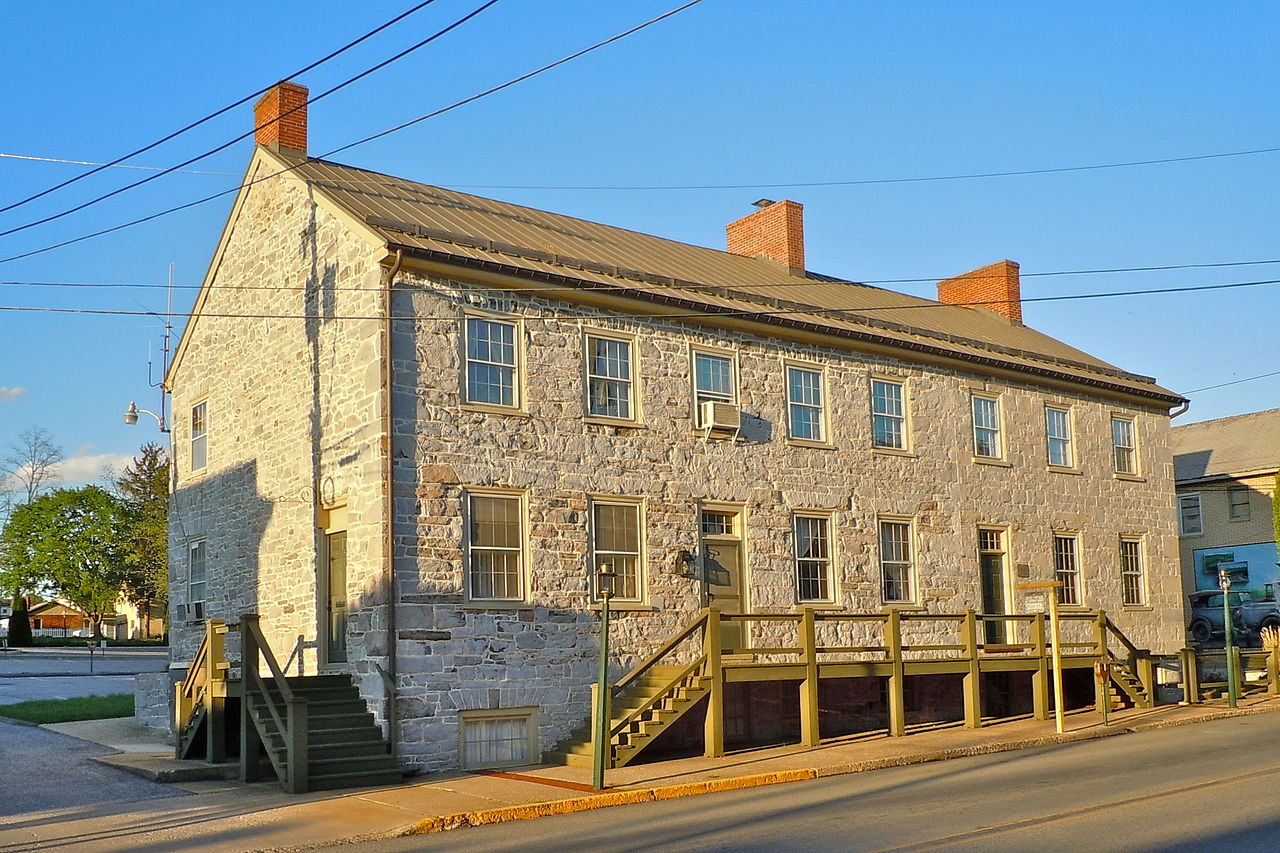 Backstory and Context
The original Fulton House structure was built in 1793 of native limestone, with an addition added in 1820. Almost all of the interior woodwork is original to the house. Several porches have covered the façade over the years. The current frame landing with two flights of steps is a restoration of the original arrangement.
McConnellsburg was an important stop on the main east-west road—first on the Chambersburg-Bedford Turnpike, and later on the Lincoln Highway. The town itself town was established in 1786 by Daniel McConnell. By 1800 the town had approximately 50 houses and 4 taverns.
The Fulton House, one of the oldest surviving inns in the area, is an excellent example of the inns which lined the early wagon roads and turnpikes. The interior of the 1793 section are mostly original. Some of its guests include John and Abigail Adams, William Henry Harrison, Zachary Taylor, James Buchannan, and Eleanor Roosevelt.
The building has been restored starting in the 1970s by the Borough of McConnellsburg and the Fulton County Historical Society. Currently the Fulton County Historical Society uses the rooms on the east side of the Fulton House as museum and display rooms to show furnishings, tools, utensils, and decorative items relating to the history and heritage of Fulton County from the 18th, 19th, and 20th centuries. Rooms are open during special events and by appointment. A museum exhibit is planned for the Fulton Fall Folk Festival, the third weekend each October.
Sources
Fulton County Historical Society. Accessed December 31st 2021. https://www.fultonhistory.org/index.php.
National Register of Historic Places. Accessed December 31st 2021. https://www.fultonhistory.org/index.php.
Image Sources
https://www.cardcow.com/486120/mcconnellsburg-pennsylvania-fulton-house-hotel-since-1793/

https://commons.wikimedia.org/wiki/File:Fulton_House_McConnelsburg_PA.JPG