Historic Syrian Quarter (1890-1920)
Introduction
Known as Indianapolis' first Arabic-speaking neighborhood, the Syrian Quarter was located in a part of downtown now occupied by Lucas Oil Stadium. The current home of the Indianapolis Colts sits on top of what used to be Willard Street, where in 1900 Sundays were filled with the sounds of Arabic-speaking children learning the art of fencing and the smells of roasted lamb, Turkish coffee, and tobacco water-pipes, all of which were shared on the small patios of narrow "shotgun" townhomes. African Americans, native-born white people, and immigrants from Italy, Poland, Greece, and Hungary also lived on Willard Street. Some of the city's best-known Syrian and Lebanese families, including the Freijes, Haiders, Josephs, Kafoures, and Trads, got their start here. In 2023, the Indiana Historical Bureau recognized the historical importance of the Syrian Quarter with the placement of a State of Indiana marker on the northeast corner of the Lucas Oil Stadium grounds.
Images
Map of Abraham Frieje's Willard Street Grocery with Lucas Oil Stadium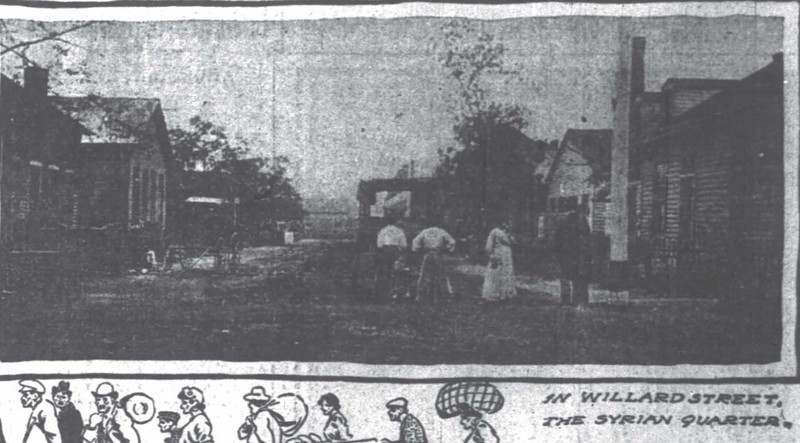 The Syrian Quarter Historical Marker Side A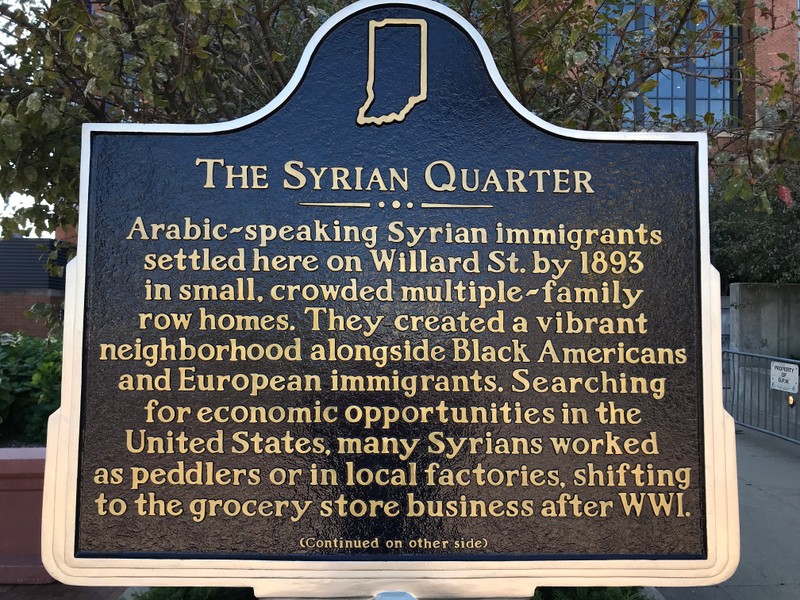 The Syrian Quarter Historical Marker Side B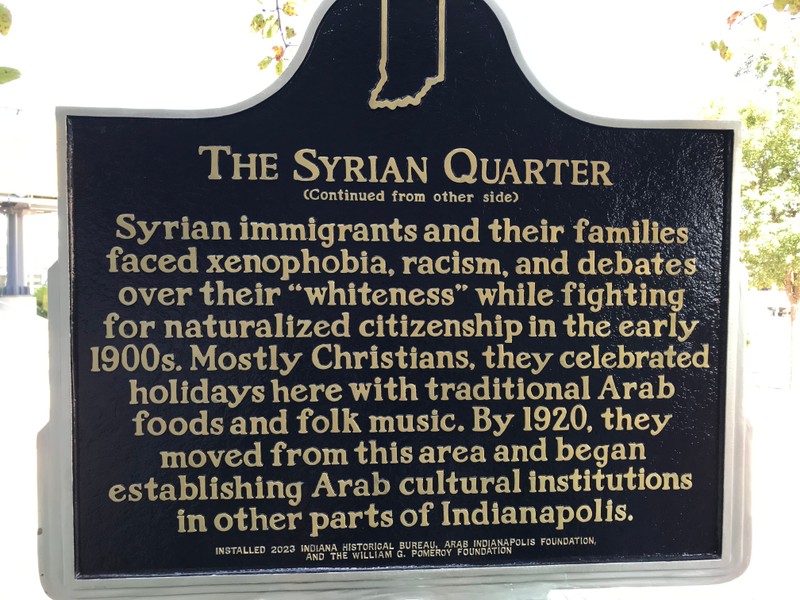 Backstory and Context
Over half a million Arabic speakers from the Ottoman Empire, mainly from what today are the countries of Syria and Lebanon, immigrated to North and South America in the late eighteenth and early nineteenth centuries. About 300,000 of them settled in Argentina, Brazil, and the United States. Tens of thousands eventually made their homes in the American Midwest, which was experiencing an economic boom at the time due to industrialization along the Great Lakes and the settlement of Native American lands in the Great Plains, among other factors.
In Indiana, a large number of these immigrants started out as industrial laborers and peddlers. They settled in cities and towns such as Fort Wayne, Michigan City, Terre Haute, and Indianapolis, where they congregated along Willard Street, a road about a hundred yards long that ran over Pogue's Run creek between better-known Senate and Capitol. The Indianapolis Journal described the street as a "short thoroughfare divided into two parts by a dirty little stream whose banks in this particular vicinity were laden with tin cans, old shoes and other rubbish." Though the U.S. Census listed Syrians as "white," the Journal called them "Orientals." It would take some years before the city's opinion makers would think of most Syrians as white.
The majority of Syrian men on Willard Street made their living as peddlers, which means that that they were gone for long stretches at a time. Some temporary residents stayed for only a short while in other people's houses--perhaps up to 10 people would lodge in these small abode--before moving on or finding a place of their own. Since most of the men were out peddling, often far away from Indianapolis, it was the women who gathered scraps from a nearby lumber yard to fuel their stoves. "Their daily work is quite enough to dispel all preconceived ideas regarding the indolence and helplessness of Oriental women," wrote the Journal. The writer couldn't believe that such small women could carry such large loads of lumber.
On Sunday the men of the colony, back from their peddling, would sit in front of their houses. The residents would dress in their finest clothes. Mutton would be cooked and shared with all. The Journal thought that the residents were participating in "some kind of joyous Mohammedan celebration," but most of the people on the street likely belonged to Orthodox or other Arab Christian communities. Many of them celebrated Christmas and Easter at different times than Western Christians, and their Arab feasting traditions were likely mistaken as Muslim by the reporter.
In 1906, a Willard Street resident who went by the moniker of Romanos made headlines in the city as the city's premiere Syrian fencer. "He has been the year's one sensation on Willard Street," wrote the Indianapolis News in 1906. "On Sunday mornings, Romanos, with long, white hair streaming over his shoulders, would get the young men of Willard street into the roadway. There he taught them the art of fencing and the entire colony gathered to watch him."
The Syrian Quarter spilled beyond Willard Street itself to several nearby streets. Though Sadie Hider's house on West Norwood no longer exists, there are wood-framed dwellings from the same historical period nearby. Visitors can walk around the stadium in order to see these houses and get a better feel for what this Arabic-speaking neighborhood was like around 1900.
By 1920, no more identifiably Arab people lived on Willard Street. Syrian families moved north, west, and east of downtown, often settling in larger homes or apartments in residential areas removed from the industrial and often foul-smelling part of the city in which where many of them first moved. After World War I, most of them left behind peddling to establish corner grocery stores, and some of their children, both men and women, attended college and became professionals.
Sources
Curtis IV, Edward E.. Indianapolis' Syrian Colony, Buried under Lucas Oil Stadium, Arab Indianapolis. January 1st 2021. Accessed February 9th 2022. https://arabindianapolis.com/indianapolis-syrian-colony-buried-under-lucas-oil-stadium/.
Image Sources
Chitwood Media

Indianapolis Journal

https://arabindianapolis.com/monument/

https://arabindianapolis.com/monument/

Additional Information