William K. Nasser, MD, Healthcare Education and Simulation Center
Introduction
Named for the man sometimes called Indiana's father of cardiology, the Nasser Center on the campus of St. Vincent Hospital commemorates one of the most successful cardiologists in the United States. Trained at the Indiana University School of Medicine, Dr. Nasser co-founded St. Vincent's cardiology center in 1972 and was later given an American Heart Association Lifetime Achievement Award for his contributions to the field. Though the building honoring his legacy was built largely to train health care providers through high-tech simulations and other educational activities, it became better known during the era of the COVID-19 pandemic as a vaccination center. After being used in this capacity, in 2022, the building, which features glass displays of Dr. Nasser's sayings and achievements, resumed operations as a training and simulation facility.
Images
Near to My Heart: An American Dream by William K. Nasser, MD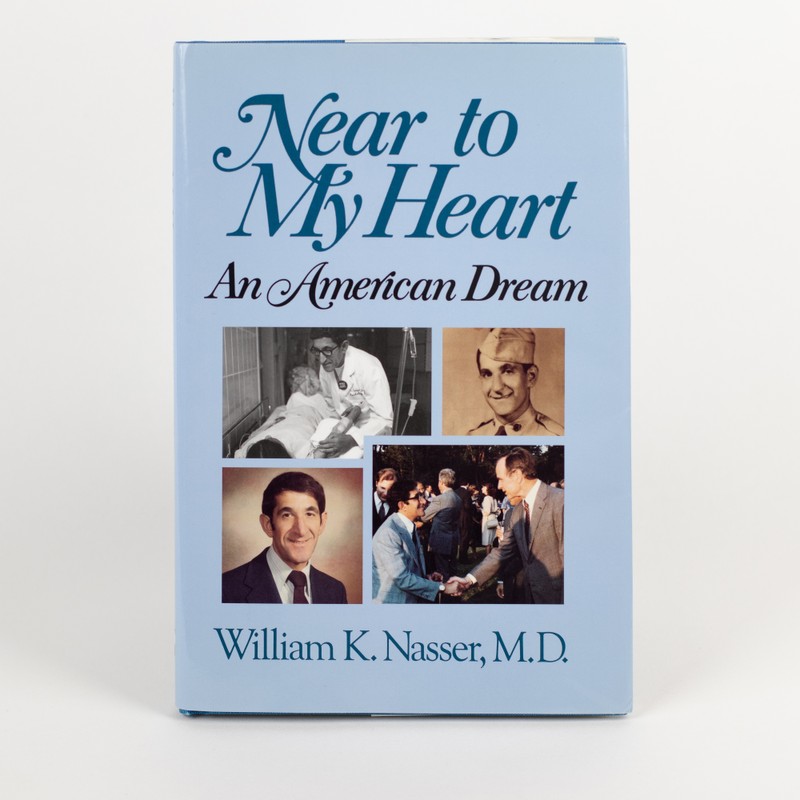 Backstory and Context
Born in Terre Haute, Indiana, Dr. Bill Nasser (1933-2003) was the child of Toufaike Kaleel "T.K." and Mahmoudy "Maude" Nasser, who were Christian immigrants from Damascus, Syria. They made their living as owners of a grocery store. He later credited his parents' entrepreneurial spirit for helping him develop his cardiology practice into a large, successful business.
Dr. Nasser, the author of Near to My Heart: An American Dream, was a self-described "late bloomer" who chronicled the discrimination that he faced while growing up as the child of Arabic-speaking immigrants. His father was not permitted to join certain town clubs, and he was shunned by the parents of other children when he attempted to visit them at their homes. He also remembered not being allowed to sit in certain sections of the bus. The picture that he paints of the 1940s and 1950s is important since it indicates that, even though discrimination had lessened and opportunities had increased for many Arab Americans after World War II, there were still significant impediments to full social citizenship in the United States. Terre Haute was also the city in which Indiana Reporter of the Supreme and Appellate Courts Helen Corey was raised. Because it was a small city, Arab Americans loomed large in the public's consciousness there, perhaps attracting more attention and even discrimination.
For whatever reason, Nasser was also discouraged by some to seek a college degree. After graduating from high school in 1951, he served instead for two years in the U.S. Army in Korea, and then finished his undergraduate degree at Indiana State University in 1957. At Indiana State, he says, he worked hard and received hard marks, surprising many of his naysayers when he gained admission to the Indiana University School of Medicine. In 1961, he completed an M.D. at this school in Indianapolis, where he also did a fellowship and taught cardiovascular medicine until the early 1970s. His specialized in coronary angiography and valvular heart disease.
Bill Nasser was not only a pioneering heart surgeon. He was also a pioneering heart patient. In 1960, while in medical school, he developed an infection in his aortic valve. The next year, he underwent open heart surgery to fix the valve. He had the same aortic valve replaced in 1967 and in 1979. He also underwent liver replacement surgery.
In addition to co-authoring numerous scholarly articles on cardiology, Bill Nasser became well-known as an enormously successful businessman and a generous philanthropist. Through a series of acquisitions, his cardiology practice, later called The Heart Center, became one of the largest in the country. But as the more than dozen awards he received attest, he was often as quick to give away money as he was to earn it, and he focused especially on health-related charities, and institutions of higher education, the places he often credited for his success.
As remarkable as Bill Nasser was, he was one of many physicians of Arab descent in Indianapolis. From the 1920s until today, Arab Americans have been prominent practitioners of medicine in the city. In the last several decades, these physicians, including first-generation immigrants from the Middle East and North Africa, have become even more numerous in the health care industry that Bill Nasser did so much to build.
Sources
Curtis IV, Edward E.. Healing Hoosiers for a Century: The Doctors, Arab Indianapolis. January 1st 2021. Accessed February 9th 2022. https://arabindianapolis.com/healing-hoosiers-for-a-century-the-doctors/.