Shaheen Oriental Rugs (1929-1930)
Introduction
Today, it is the entrance to Hilbert Circle Theater, home of the Indianapolis Symphony Orchestra. But in the 1930s, it was likely the most public physical manifestation of Arab American contributions to Indianapolis. In 1929, Nicholas and Julia Shaheen moved their Oriental Rug shop from 2204 North Meridian, near today's IU Methodist Hospital, to 45 Monument Circle.This store, located in the center of the city on the circle around which so many of Indiana's most important public events have occurred, prominently broadcast the ethnic identity of its owners: it sold oriental rugs and linens, which were associated in American popular culture with Arabs, Turks, and Persians. The Shaheens saw their ethnic identity as a way to market their goods, an entrepreneurial passport to the American dream.
Images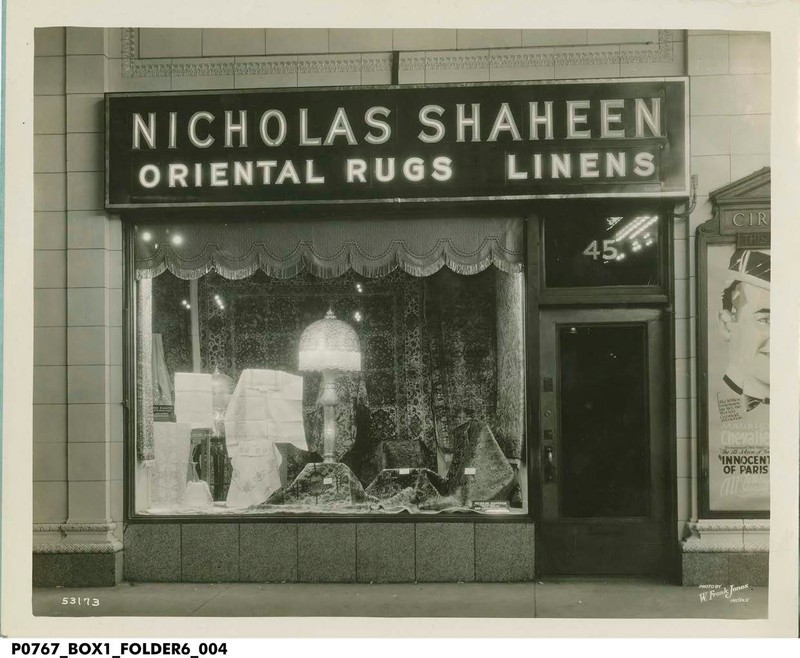 Backstory and Context
An Arab American-owned shop on Monument Circle was perhaps the most prominent physical manifestation of the second generation's success in Indianapolis. But it was only one example of how Arab Americans once concentrated in the Syrian Quarter now lived all over the city. By the 1920s, every known Arabic-speaking immigrant had left Willard Street. Arab Americans were purchasing or renting homes and apartments all over the city. Similarly, their grocery stores and other businesses could be found from the Brightwood to the Houghville neighborhoods.
Julia David, who married entrepreneur Nicholas Shaheen, was an excellent example of this upward mobility. Her parents lived on Capitol Avenue around other Arabic-speaking immigrants in the Syrian colony; their house was located just across the street from today's Lucas Oil Stadium. Her father started out as a peddler. He also devoted many hours to public service, raising money for charity and participating in performances at the Murat Theater as a member of the Shriners. Like her father, Julia David became involved in non-profit work as a teenager, volunteering at the Young Women's Christian Association. She attended DePauw University in Greencastle, Indiana, and then came home to marry Nicholas Shaheen.
Shaheen was born in Qatana, then part of Ottoman Syria, and moved to Ohio with his parents at a young age. In 1912, this family of entrepreneurs relocated to Indianapolis, where they sold clothing, linens and other merchandise. In 1924, Shaheen married Julia David, and they moved to the city's east side. Over the next six years, they had three daughters. All of them went to college like their mother.
In 1930, Shaheen's "House of Quality," as it was called, offered customers charge accounts and "easy payment terms to all reliable people." Many small shop owners regularly extended credit to consumers, who were often short on cash during the years of the Great Depression. In addition to selling more expensive oriental carpets, the store offered "pure linen, hand-stitched 62 x 90" tablecloths with twelve matching napkins for $8.75. Rose, blue, green, and gold silk bedspreads were also available for $7.75. Table lamps could be purchased for just $2.95.
There is no physical sign left that this Syrian-owned store once occupied public space in the city's center, but the historical evidence allows us to remember how this immigrant-owned store, like so many others, contributed to the economic and cultural vitality of Indianapolis in the 1930s.
Sources
Curtis IV, Edward E. . Julia David, Nicholas Shaheen, and Monument Circle, Arab Indianapolis. January 1st 2021. Accessed February 9th 2022. https://arabindianapolis.com/juliadavidandnicholasshaheen/.
Image Sources
Bretzman Collection, Indiana Historical Society