Warren Central High School Football Stadium and Jeff George
Introduction
Warren Central's reputation as a fearsome competitor in football rests in no small part on the legacy of National Football League quarterback Jeff George and his sons. In 1984 and 1985, Jeff George quarterbacked the school to consecutive state championships. He went 28-0. In 2013, Jeff George, Jr. brought home another state championship for the school, and then, almost unbelievably, his brother, Jayden George, did it again in 2018. Though the George family is well-known for its success on the gridiron, there is less awareness in Indiana and the United States of their Syrian roots.
Images
Yearbook Page Celebrating Warren Central's State Championship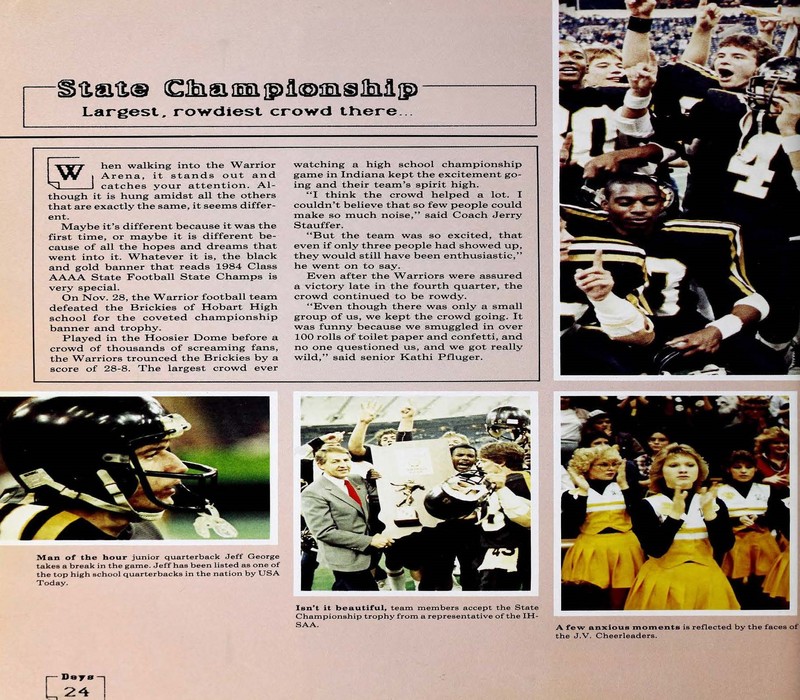 Backstory and Context
Born to David George and Judith Smith George on December 8, 1967, Jeff George is perhaps the most important professional Arab American athlete in Indianapolis sports history. On his father's side, part of the family traces its roots to the city of Saidnaya, located less than twenty miles north of Damascus, the capital of Syria. It is a mountain town about 5,000 feet in elevation. Snowy in the winter, warm in the summer, Saidnaya has been a center of Christian religious life in the Middle East for more than a thousand years.
There was a whole group of Christians from Saidnaya and the greater Damascus area that arrived in Indiana at the beginning of the 1900s. They were among the most important figures in the establishment of St. George Syrian Orthodox Church. Jeff George's great-grandfather, Sam Risk Corey, was one of them. Like many other Syrian immigrants to Indianapolis, he became a grocer, operating Corey's Food Market at 2128 North Olney with his wife, Mary. Jeff George's other Arab grandparents were John and Rose (Ramsa) Khalil George. They also ran a grocery store, located at 521 East 21st Street in today's Kennedy King neighborhood. When they first arrived, they were sometimes known by a different last name, Ozman. The Corey and George families came together in the marriage of their American-born children, Joe George and Ruth Corey, who were the grandparents of the future NFL quarterback.
After graduating from Warren Central, George played in college for Purdue and the University of Illinois, and then in 1990, he was the very first person selected in the National Football League draft. His hometown team, the Indianapolis Colts, signed him to a contract worth about $15 million, reportedly the most money ever offered to a rookie at the time. The Colts, who played during that era at the Hoosier Dome, had a 7-9 record that year, but George threw for 16 touchdowns and 2,152 yards, enough to earn him honors as the quarterback on the NFL's all-rookie team.
In twelve seasons, Jeff George played for five NFL teams. In 1995, he led the Atlanta Falcons to the playoffs, throwing for a total of 4,143 yards during the regular season. In 1997, as a member of the Oakland Raiders, George threw more yards than any other quarterback in the league. He also tossed 29 touchdown passes–the most in his career. Two years later, George began the season as the backup quarterback for the Minnesota Vikings' Randall Cunningham, but he took over as starter with ten games left in the regular season. Under George's leadership the Vikings went 8-2 and George won his first ever NFL playoff game.
The George family is one of several Arab American families who have made their mark on the history of football. Just consider this list of Arab American NFL players, coaches, and owners: Abe Gibron, Bill George, Joe Robbie, Rich Kotite, John Elway, Doug Flutie, Brian Habib, Drew Haddad, Robert Saleh, Gibran Hamdan, Ryan Kalil, Matt Kalil, and Oday Aboushi. In the George family, Arab Indianapolis has a claim on that rich history, too.
Sources
Curtis IV, Edward E.. NFL Quarterback Jeff George, Arab Indianapolis. January 1st 2021. Accessed February 9th 2022. https://arabindianapolis.com/nfl-quarterback-jeff-george/.
Image Sources
Warren Central High School Yearbook