Syrian American Brotherhood Hall (1936-1958)
Introduction
Starting in the 1930s, this building was the center of Arab American social life and civic activities in Indianapolis for more than a decade. It was also the site where, in 1936, the Midwest Federation of Syrian and Lebanese Clubs was established. It was where the first and second generations of Syrian and Lebanese Americans in Indianapolis came to raise money for charity, enjoy Arabic poetry, dance to American bands, and share Levantine feasts with one another and the community at-large.
Images
In 1936, the Midwest Federations of Syrian and Lebanese Clubs was established at the Syrian American Brotherhood building in Indianapolis.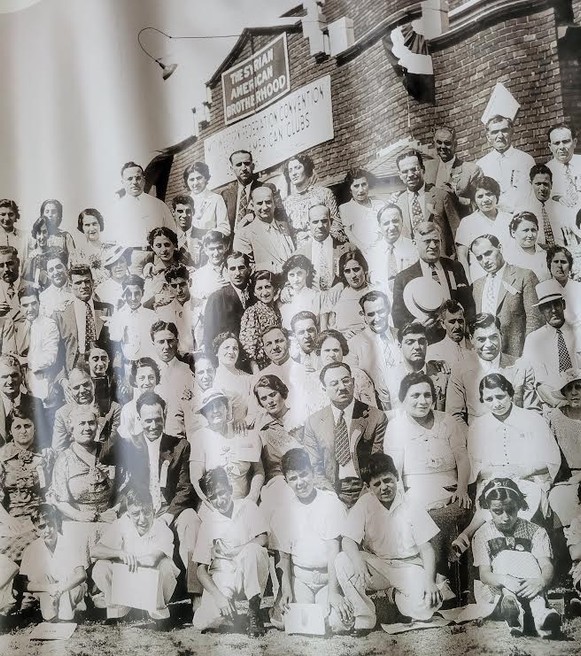 Backstory and Context
In 1930 Syrian Americans in Indianapolis decided to raise money for their own social club. St. George Church, built in 1926, was an Orthodox religious space. The Syrian American Brotherhood was a secular organization, many of whose most members were Catholic.
By the middle 1930s, the Syrian American Brotherhood purchased the former Temple Baptist Church at 2245 East Riverside. Located in a beautiful spot across the street from Riverside Park, the building looked out on the park's South Grove golf course, one of three different courses developed on the huge 953-acre property. Riverside Park stretched along the White River from 18th to 38th Street. To this day, it is still larger than New York's Central Park. It was home to a popular amusement park. Before World War II, it also featured attractive, well-kept Spanish Mission-style architecture, a zoological department, baseball fields, bicycle and pedestrian paths, and tennis courts. Visitors paddled canoes and row boats that were stored in the park's boat house on the river. The purchase of a building on the park signaled the rise of Syrian and Lebanese immigrants and their children in the city's racial hierarchy. Black people were not welcome at Riverside Park. The city refused to issue event permits to African American groups, and the privately-run amusement park explicitly barred their entry.
The Syrian American Brotherhood hall played a significant role in the history of Arab America when, in 1936, it hosted the organizing conference for the Midwest Federation of Syrian and Lebanese Clubs. Hundreds of club members from Illinois, Iowa, Kansas, Kentucky, Michigan, Minnesota, Missouri, Nebraska, Ohio, and Wisconsin came at the beginning of August to organize the federation, tour the Indianapolis War Memorial, and enjoy each other's company. All the events occurred at the club. Mayor John Kern was invited to address the delegates at a grand banquet where the entertainment included Arab music and dancing. W. S. Zarick was chosen as head of the federation.
It was a place where Arab Americans had a lot of fun. The Syrian American Brotherhood was one of many social and civic organizations that enlivened the social scene in Indianapolis during the years of the Great Depression. In 1938, the hall joined seven other venues in Indianapolis to host a benefit celebrating the birthday of President Roosevelt. The funds raised went to Riley Hospital and City Hospital, among other charities. So many Arab and non-Arab performers appeared there during this decade: Julia Taweel, a professional dancer inspired by Arab folk dancing; Dick Jurard and his orchestra; the Rosayln Dancers; and the High Hat Orchestra.
By 1940, the history of Arab Americans in Indianapolis was already more than two generations old. The first and second generations had found a lot of economic and social success in the circle city. In spite of anti-immigrant policies that discriminated against people from Syria and Lebanon, and in spite of cultural and religious prejudices, they did not hide their Arab heritage. They bought a building in a prominent spot for all to see. They danced their Arab dances, served their "oriental" food to guests, and recited their Arabic poetry. Their path to integration into white America was to insist on the public recognition and respect of their ethnic identity.
Sources
Curtis IV, Edward E. . Syrian American Brotherhood on Riverside Park, Arab Indianapolis. January 1st 2021. Accessed February 9th 2022. https://arabindianapolis.com/syrian-american-brotherhood-on-riverside-park/.