Governor's Residence and Gov. Mitch Daniels (2005-2013)
Introduction
Though he did not actually live there, the Governor's Residence was the symbolic home of Indiana's first executive of Arab descent, Mitchell Elias Daniels, Jr. The grandson of Syrian immigrants, Daniels grew up on the city's north side, where he attended Washington Township schools. He served as Sen. Richard Lugar's chief of staff and director of President George W. Bush's Office of Management and Budget, and in 2004, was elected Indiana's 49th Governor. Retiring from electoral politics, he then became President of Purdue University.
Images
Mitrh Daniels accepts the gavel as newly-elected Student Council President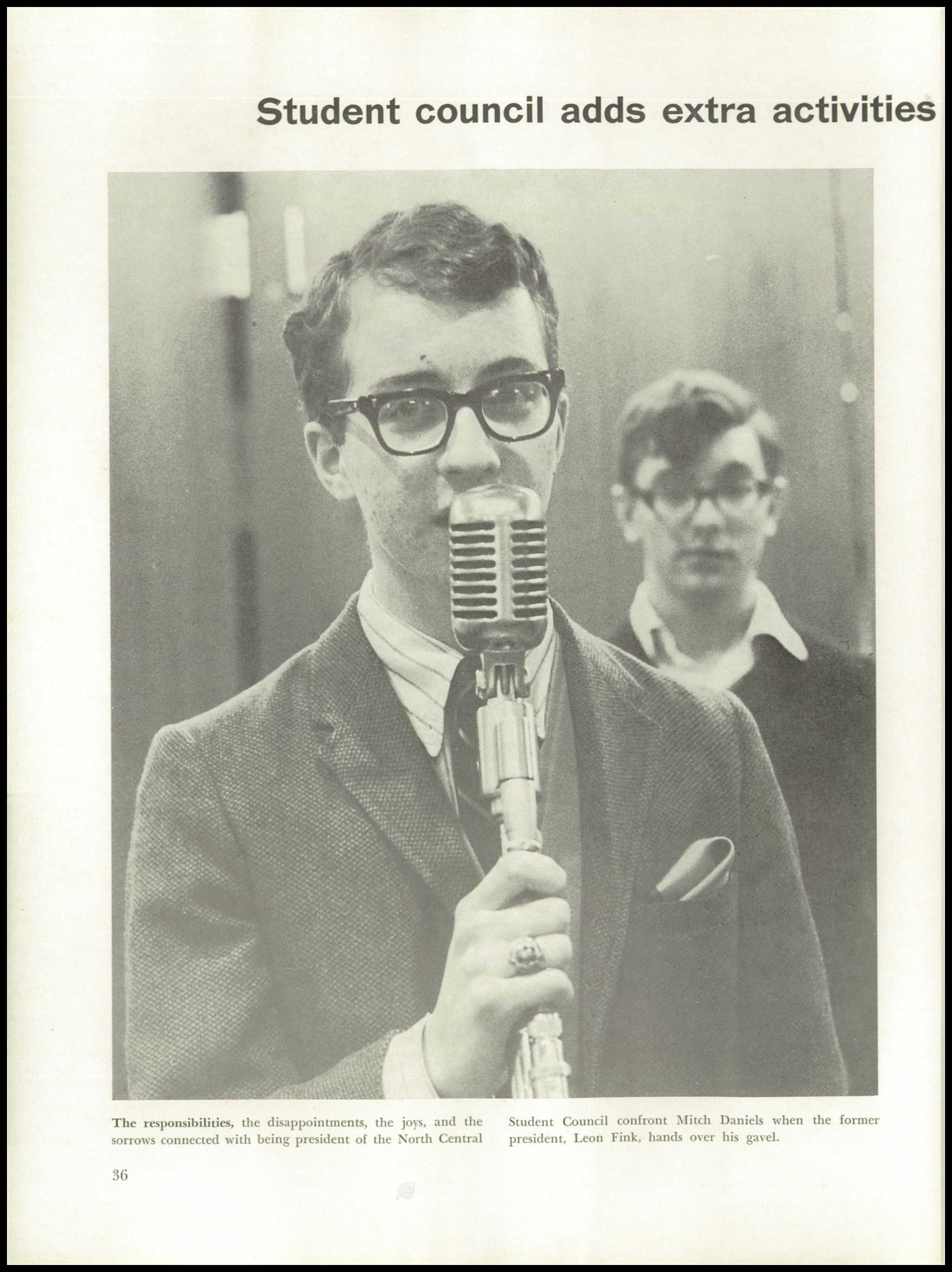 Backstory and Context
Mitch Daniels Jr. traces his Arab roots to immigrants who arrived in the United States in the early twentieth century. His grandfather, Elias Daniels, immigrated to the United States from Qalatiyah, Syria, on June 15, 1905. Qalatiyah is a small, historically Christian village built on rocky, but fertile hills about 1,500 feet in elevation. Thirty miles east of the Mediterranean coast, the town's most spectacular attraction is located five miles south, the Krak des Chevaliers. A crusader castle dating from the twelfth century, the impressive ruin is listed as a UNESCO World Heritage Site.
Elias Daniels' destination in America was less bucolic. He settled in Monessen, Pennsylvania, arriving just as this small town close to Pittsburgh became a major site of U.S. steel production. Eventually opening a pool hall on Donner Avenue across the street from several factories, including Pittsburgh Steel, National Tin Plate, and Page Woven Wire Fence Company, Daniels chose an advantageous spot. He was not only the merchant who figured out that he could supplement his income by giving factory workers a chance to play the numbers. In Monessen, Elias Daniels was also part of an Arabic-speaking community of Christians large enough to establish and maintain their own Orthodox church.
In 1921, Elias Daniels returned to the old country to find a bride. Mitch Daniels' grandmother, Afife, was around nineteen years of age when she wed the 36-year-old. They settled down in Monessen, and in 1923, Afife gave birth to Mitchell Daniels, Sr. She died just a few years later, and Elias brought up his two boys, Mitchell and Russell, on his own. Mitchell, Sr. later attended Allegheny College, served in World War II, and then married Dorothy Wilkes in 1948.
Mitchell Daniels, Jr. was born the year after his parents were married. The family moved to Atlanta and Bristol, Tennessee, but in the late 1950s, they came to Indianapolis. Their first home around 73rd Street and Spring Mill Road, where the Jewish Community Center and several synagogues are located today. The man who would become governor was largely educated in Washington Township schools, including Delaware Trails Elementary, Westlane Middle School, and North Central High School, where he served as student body president. He was already obsessed with politics when he won "Outstanding Citizen" at the annual meeting of Hoosiers' Boy State. He attended Princeton University, and then formally launched his political career.
In 2011 he was awarded the Najeeb Halaby Award for Public Service by the Arab American Institute. Though Daniels did not identify with Arab American political causes during his career, his acceptance of the award is an important reminder that there is no one way of being Arab American. Arab American political ideologies and affiliations are diverse. 
Sources
Curtis IV, Edward E.. Mitch Daniels' Syrian Roots, Arab Indianapolis. January 1st 2021. Accessed February 9th 2022. https://arabindianapolis.com/mitch-daniels-syrian-roots/.
Image Sources
North Central High School Yearbook