The Bost Building
Introduction
The Amalgamated Association of Iron and Steel Workers was one of the earliest steel worker labor organizations in Pittsburgh. This organization heavily used the Bost Building as a meeting place and as a watchtower over Homestead mill. During the Homestead Strike, the AAISW played a major role in acting against the Carnegie Steel Company.
Images
Button for Amalgamated Association of Iron and Steel Workers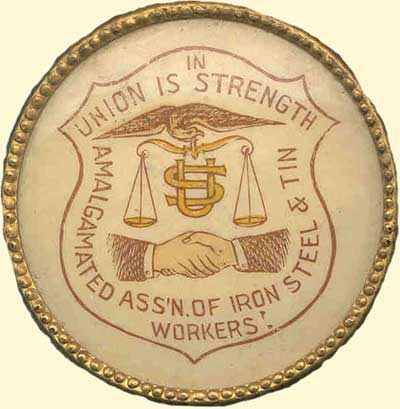 Headquarters of the Advisory Board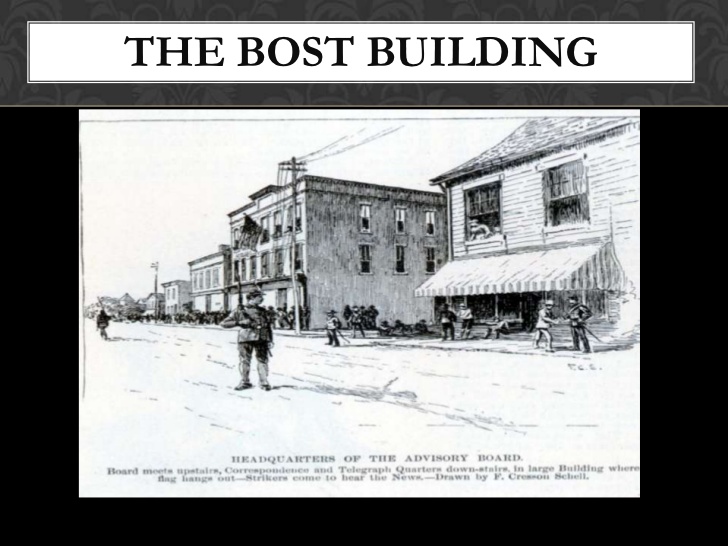 Plaque naming the Bost Building a National Historic Landmark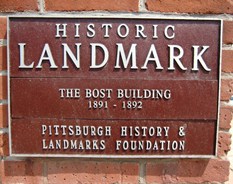 Backstory and Context
The Bost Building was built in 1892 as a hotel for the increasing working population coming from Europe to labor the mills. That summer, the building became the headquarters for the Amalgamated Association of Iron and Steel Workers. Union leaders used the third floor of the building as a watchtower to monitor the Homestead mill and Monongahela River. Below the watchtower was the base for an American and British newspaper. They printed stories mostly after the episodes of conflict at Homestead concerning the labor union and Carnegie Steel Company. After a $4 million renovation, the National Historical Landmark became a visitor's center for the Rivers of Steel National Heritage in 2002.
The Amalgamated Association of Iron and Steel Workers was a successful strong union in Homestead formed in 1876. By 1890, the organization had 1,123 men on their membership roll at the mill. A committee was formed for the Homestead strike, consisting of forty men with similar ideas concerning the Carnegie Steel Company. Hugh O'Donnell was the chairman of the Amalgamated Associations Strike Committee and had five advisees as representatives for each of the union's 8 lodges. Together, they revealed the weakness of the trade union in steel. Because of the terrible working conditions at the Homestead mill, the committee asked for support from all employee; 3,000 voted to strike.
Many of their supporters were English-speaking, white, and skilled workers looking for better conditions. Throughout the 1880s, they lost many of their members during strikes. However, it was after joining the American Federation of Labor in 1887 that they regained their strength. It was this power that played a central role in the strike efforts during Homestead in 1892, causing their number of members to rise to 24,000. After the Homestead strike, the organization was weakened and their members were mostly from steel mills in the West. By 1935, the AAISW total number jumped down to 8,600. The organization soon became dependent on the Congress of Industrial Organization.
Sources
The Bost Building. Rivers of Steel. Accessed April 27, 2017. https://www.riversofsteel.com/preservation/heritage-sites/bost-building/.

Bost Building [1892 Homestead Strike] Historical Marker. Explore PA History. 2011. Accessed April 27, 2017. http://explorepahistory.com/hmarker.php?markerId=1-A-24F.

Amalgamated Association of Iron, Steel, and Tin Workers Records, 1933-1934. Penn State University Libraries. Accessed April 27, 2017. https://www.libraries.psu.edu/findingaids/1865.htm.


Additional Information