A.T. Smith/John J. Tootle House
Introduction
Constructed in the 1890s, this Chateau-Romanesque home was designed by the firm of Eckel and Mann. Alfred Smith, a local shoe merchant, commissioned the home, but lost his fortune in the panic of 1893. His family never resided in the home which bears his name, but by 1920 802 Hall Street was the home of John J. Tootle, son of multi-millionaire Milton Tootle.
Images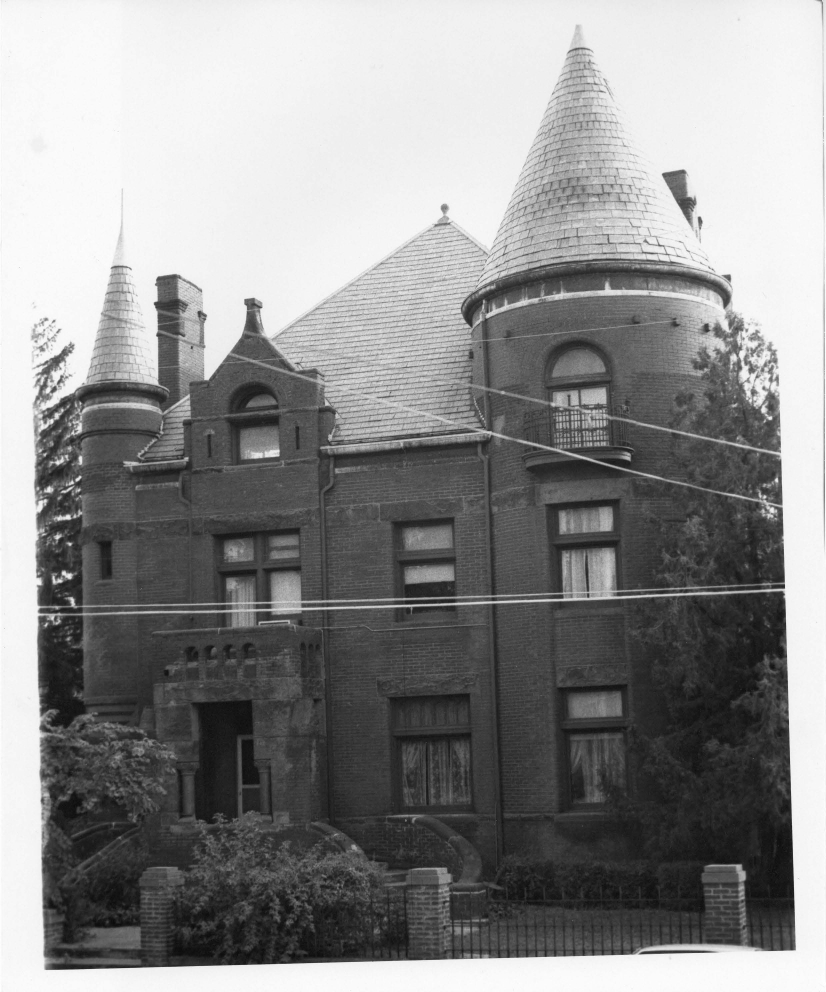 Backstory and Context
Alfred Thomas Smith was the son of Spotswood and Mary Ann Thompson Smith. He was born in 1839 in Cooper County, MO and came to St. Joseph in the 1860s where he established a boot and shoe wholesale business. He married Corrine Cordell Stevens in 1889 and they had four children. With his shoe business booming, A.T. Smith hired Eckel and Mann to craft a home for him at 802 Hall Street. Unfortunately, his business collapsed in the panic of 1893 and the Smith family was never able to live in the home they had constructed. A.T. Smith joined his brothers in the business of Smith-McCord-Townsend Dry Good Company and worked for them until his death in 1907.
John James Tootle was a second generation multi-millionaire. His father, Milton Tootle, came to Missouri in 1842, settling in Andrew County. Milton Tootle began his rise to fortune as a clerk at the store of George Smith in Savannah, MO, alongside his two brothers, Thomas and Joseph, and William Fairleigh. In 1849 these partners moved to St. Joseph, establishing Tootles & Fairleigh.
In 1860, Milton's brother Joseph passed away and Thomas withdrew from the company. Milton and William Fairleigh married the sisters, Katherine and Alice O'Neill. Katherine and Milton had three children; a daughter Frances, and two sons, Milton, Jr. and John J. In 1887, the family purchased the Wyeth Mansion at Eleventh and Charles Streets, but Milton, Sr. passed away before they could move into the home. The teenaged children grew up in the mansion and Milton, Jr. resided there with his family for the remainder of his life.
John J. Tootle married divorcee Ella Parker in 1896 and adopted her two daughters as his own. They made their home at 1912 Clay Street with a country home at the corner of Thirty-Sixth and Asylum Road called Cloverly (currently the site of the Bishop LeBlonde High School). They had a daughter of their own, Katherine and in 1919 they moved into the former A.T. Smith home at 802 Hall Street.
John J. Tootle founded the Missouri Valley Trust Company in 1899, constructing the historic building at Fourth and Felix. He was president of the company until 1919 when he sold it to Frank Boder. After the death of his uncle, Thomas Tootle, in 1908, John J. took over the Tootle Dry Goods Company until his retirement in 1949, one hundred years after the Tootle family business was founded.
The home at 802 Hall Street was not completed according to Ellis' original design, though elements of his style remained. The main facade is asymmetric, as with many of Ellis' works. There is a mixture of Chateauesque and Romanesque styles with towers and dormers, chimney stacks and steeply pitched roofs. Ornate finials accentuate its roofline. Similar to the McNeely home, the A.T. Smith home featured curved windows accented by heavy columns, tiled fireplaces with marble fronts, a rich woodwork in the interior.
Sources
Carneal, Thomas W. "Hall Street Historic District" National Register of Historic Places Department of Natural Resources. March 12, 1979. 
Image Sources
National Register of Historic Places Inventory

Additional Information