Clara Barton School
Introduction
Author-Uploaded Audio
Once located around 2500 Cheyenne Avenue in Kansas City, Kansas, the Clara Barton school was in operation from 1924 through the Flood of 1951. Clara Barton belongs to a less remembered chapter of Kansas City history, the segregation of Mexican Americans in educational institutions. Mexican immigrants arrived in the Kansas City area around 1910 following the outbreak of the Mexican Revolution the same year. The immigrants, often single Mexican men, found work in the railyards and meatpacking plants in the West Bottoms. By the early 1920s, there were over 10,000 people of Mexican descent living in Kansas City. Many gravitated towards Kansas City, Kansas, as it held a larger population of Mexican Americans than the Westside neighborhood on the other side of the stateline.
Images

Photograph of student at Clara Barton dressed for a school play. He appears to be wearing an Uncle Sam costume.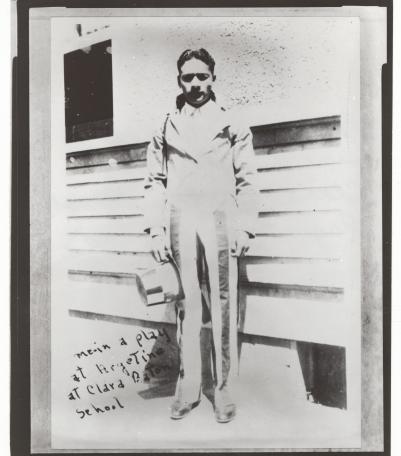 Backstory and Context
Once settled near railways and stockyards, many Mexicans sent their children to schools such as John J. Ingalls in Armourdale and Emerson School in the Argentine neighborhood of Kansas City, Kansas. Although Mexican children were often relegated to the basements of these schools. Racist ideas about immigrants carrying diseases, particularly the Spanish flu, also kept Mexican students separated from white children. In 1924, Clara Barton was established as the first all-Mexican segregated school in Kansas City, Kansas. It did not take long for the school to become overcrowded with students. Additionally, high schools did not make accommodations for Mexican American students since many whites assumed that Mexican children would begin working after 8th grade. Soon Mexican families reached out to the Mexican Consulate and federal government to advocate for their children's right to attend school with white children. The flood played a major role in the end of segregated schools in Kansas City, Kansas, as Clara Barton was destroyed by the waters. Shortly after the school was destroyed, for the first time since 1918, Mexican American children were able to return to Emerson; this time not in the basement.
Sources
Photographs of Mexican Americans (Kansas City, Kansas Spanish Speaking Office). Kansas Historical Society, Topeka, Kansas.
Loretta Chavez, interview by Christina Loya, August 31st, 2021.
Image Sources
Kansas Historical Society

Kansas Historical Society

Additional Information