Public School 108
Introduction
Public School 108 was built in the Cypress Hills neighborhood of Brooklyn in 1895. The Romanesque Revival massive building is one of the few school buildings designed by James W. Naughton for Brooklyn public schools that continues in use as a public school. The school was renamed the Sal Abbracciamento School in 1981 for one of its early twentieth-century graduates who fought to keep the school from closing in the 1960s. The building was added to the National Register of Historic Places in 1982 and was named a New York City landmark in 1981.
Images
Central block of P.S. 108 in 2013 photo, view across Linwood St. (smallbones)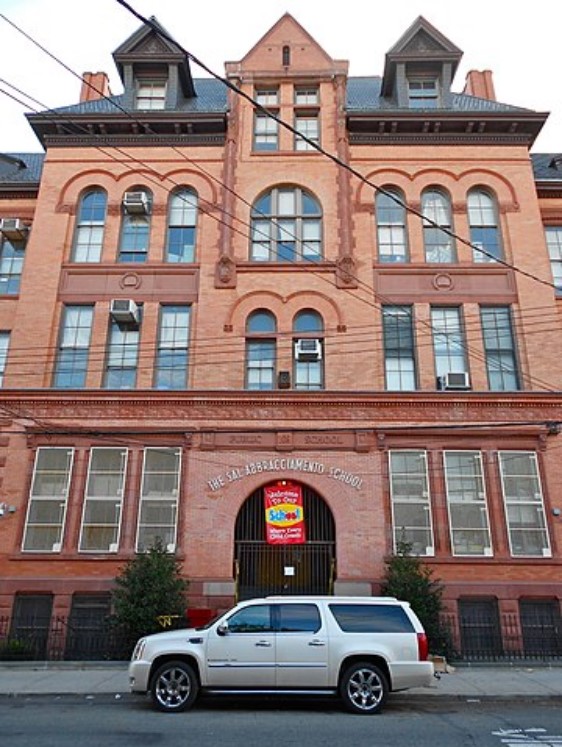 View across Linwood/ Arlington intersection to P.S. 108 circa 1981 (NYC LPC)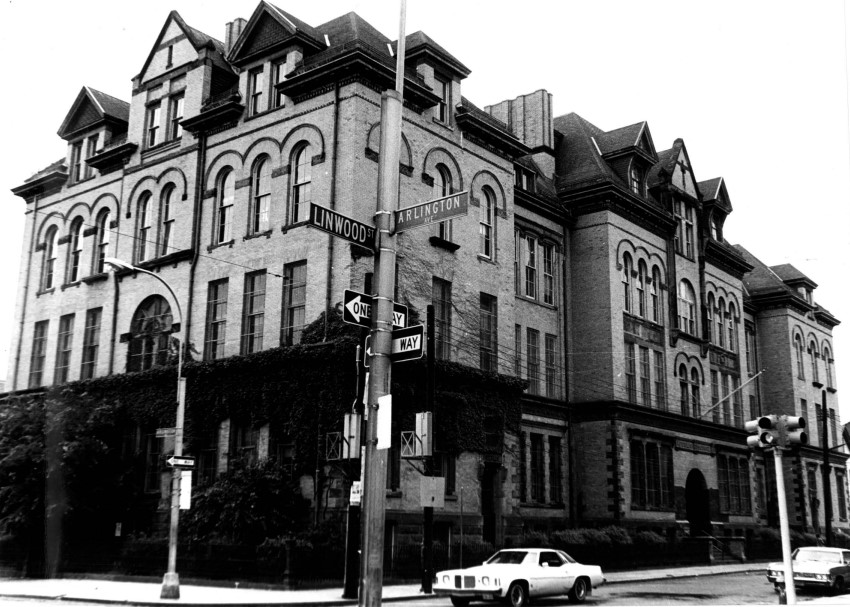 Backstory and Context
The Cypress Hills neighborhood was in the eastern part of the Dutch Township of Flatbush that was split off as the Village of New Lots with its own school district in 1740. The first school in New Lots stood near the intersection of Schenk and New Lots Avenue. In 1810, the school building was replaced by a larger structure next to New Lots Reformed Church (also a Clio entry). A second local school district was formed in New Lots in the 1840s including Cypress Hills and East New York; a new school was built on Vermont Ave. near Fulton St. In 1856 another division placed Cypress Hills in its own school district, but it wasn't until 1870 that a new school was built for the Cypress Hills district; the red brick school building on Richmond St. (P.S. 65, also a Clio entry) was added onto in 1889.
James W. Naughton was the architect for Public School 108 in 1895, and dozens of other Brooklyn schools during his tenure as Superintendent of Buildings for Brooklyn's Board of Education, from 1879 to his death in 1898. Brooklyn's population was growing at an incredibly fast rate in the 1880s and 1890s and building new schools to relieve overcrowding barely kept pace with enrollment. Of the remaining Naughton-designed school buildings in Brooklyn, most are no longer public schools (having gone private) or have been converted into housing or other functions. P.S. 108 is an exception and is still a New York City public school. When the City of Brooklyn became a borough in the City of New York in 1898, the school became a New York City public school.
P.S. 108 is a Romanesque Revival style building with Second Empire elements, designed and constructed in 1895 of brick ornamented with Lake Superior sandstone and terra cotta. The massive, 3-1/2-story building has three-bay-wide pavilions on either side of a seven-bay wide central projecting pavilion. Large windows and multiple dormer windows brought in daylight and air with multiple chimneys in an elaborate pitched roof. Maybe the windows did too good of a job bringing in daylight - the Brooklyn Board of Education's Committee on School Houses put out a request for proposals in late September 1895 to supply window shades for P.S. 108. Lyman A. Best served as the principal of P.S. 108 by 1903 and still held the post in 1913. Dr. Best was the president of the Brooklyn Teachers' Association in 1903.
When the City of New York sought to close P.S. 108 in the 1960s, a local graduate named Sal Abbracciamento organized a group of other graduates, local residents, politicians, teachers, and students to fight the closure. Sal's group won out, and the school was renamed for him posthumously (he died in 1966) in 1981. Abbracciamento was a restaurant owner and an officer in the Kiwanis Club; he founded a police auxiliary for the 75th Precinct and the Council for the Better East New York. The school celebrated its 100th anniversary in 1995 with a parade and awards ceremony, attended by Sal's widow, Frances. A time capsule was placed in the school by Principal M. Robert Ciccone, with videotape and paper stories of the school in 1995.
Sources
Anonymous. Preliminary Announcement of the Fifty-Ninth Annual Meeting of the New York State Teachers' Association...1904. New York State Teacher, vol. 1, no. No. 1069 - 69. Published June 1st 1904. Google Books.
Anonymous. "Centennial Celebration Planned for Abbracciamento Landmark School." Canarsie Courier (Brooklyn) May 18th 1995. 4-4.
Arrington, Jean. From Factories to Palaces: Architect Charles B. Snyder and the New York City Public Schools. New York, NY. Fordham University Press, 2022.
East New York Project, The. P.S. 108, The East New York Project. Accessed April 20th 2022. http://www.tapeshare.com/PS108.html.
Matthew Bender & Company. Bender's Lawyers' Diary and Directory for the State of New York. Edition 1913. Albany, NY. Matthew Bender & Co., 1913.
McNamee, John. "Proposals." Standard Union (Brooklyn) September 24th 1895. Classifieds sec, 4-4.
NYC Landmarks Preservation Commission. Designation Report, Public School 108, Brooklyn, LP-2008. NYC landmarks. New York, NY. NYC government, 1981.
Spellen, Suzanne. A Romanesque Revival Landmark by Brooklyn's School Architect in Cypress Hills, Brownstoner. April 30th 2019. Accessed April 21st 2022. https://www.brownstoner.com/architecture/east-new-york-brooklyn-public-school-108-james-naughton-200-linwood-street-landmark-sal-abbracciamento/.
Image Sources
https://en.wikipedia.org/wiki/Public_School_108#/media/File:PS_108_Brooklyn.JPG

NYC Landmarks Preservation Commission: http://s-media.nyc.gov/agencies/lpc/lp/2008.pdf

Additional Information